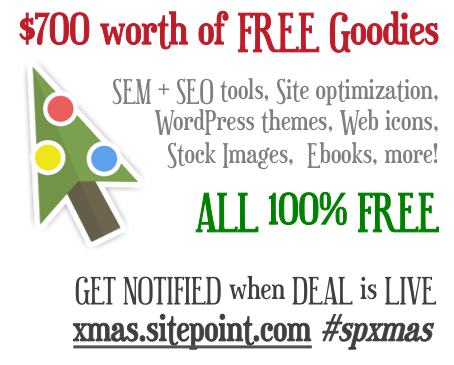 Anyone who delved into the SitePoint Christmas Sale last year knows that it is a fantastic way to pick up some extraordinary bargains.
For the duration of the Sale, we create packages of SitePoint products for up to 96% off the usual price: web dev & design books, ebooks, videos, courses and more.
The products might be bundled together because they share a topic, or a format, or an outcome, or just because when put together they present an irresitible bargain.
Some time during the Sale, we will also be having a MASSIVE Freebie Day, where we will offer a bundle of goodies worth $700.00 absolutely free. Included will be:
SEM + SEO Tools
Site Optimization Stuff
WordPress + Design Themes
Web Icons
Stock Images
Ebooks
The Sale doesn't actually start until November 29th, but you can sign up now to be notified as the bargains start appearing.

Ricky Onsman is a freelance web designer, developer, editor and writer. With a background in information and content services, he built his first website in 1994 for a disability information service and has been messing about on the Web ever since.