WordPress Plugins for Graphic Designers and Photographers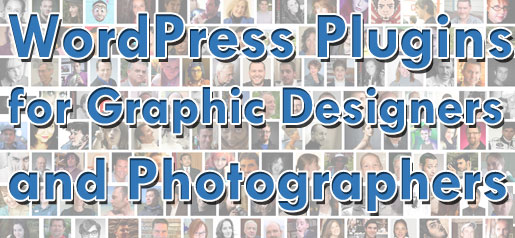 If you are a freelance graphic designer or photographer, then you need a way to show off your work. WordPress is hands down one of the best ways to manage your own website. You can easily update content in minutes and the high degree of customization means you can make your WordPress site look exactly the way you want it. We broke down the three main plugin categories into gallery plugins, share/bookmark plugins, and social media plugins.
If you're new to WordPress, plugins are one of the many awesome ways you can modify a WordPress site. They add extra features — much like downloading an app on your smartphone or loading a new brush set into Photoshop.
This collection of plugins have been tested on WordPress 3.3, released on December 10th, 2011. They all have solid reviews, and we give you some guidelines on implementing each so you can quickly get these plugins working for you. Best of all, they're all FREE!
Gallery Plugins
These plugins help you build out either a home page or portfolio page so you can show off your graphic design or photography work. A great way to do just that is to demo your graphics or photos in a gallery or slideshow format. These plugins give you an easy way to put your graphics and photos on the front page of your site or in posts.
WordPress [ gallery ] Feature
Many people don't know that WordPress has a built-in feature just for displaying images. If you want a no hassle method of showing off lots of graphics fast, just add your images to the post and use the [ gallery ] shortcode in your post and you're done. The default settings set up a nice little grid system with thumbnails of each image you add to the post. If you want to tweak the look and functionality, head on over to the WordPress Codex page just for the [ gallery ] feature.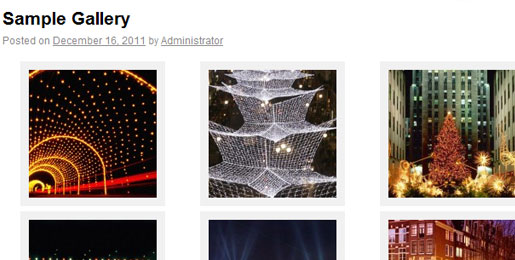 ---
Featured Content Slider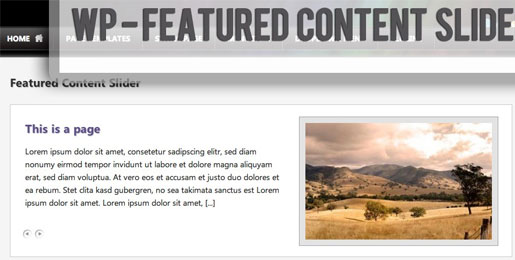 This plugin is a solid choice if you want to put a short summary of each piece on your home page — and it's pretty easy to get going. Just make a post with a single graphic, make that graphic your "featured content," check a box on the bottom of the post editor, and the plugin does the rest. You simply put the short code [ featslider ] wherever you want the slider to appear or use the PHP code snippet provided in the documentation to hard code the slider into your site header or other location.
---
NextGEN Gallery
If you are ready for a plugin that lets you tweak every detail of a slideshow presentation, then NextGEN Gallery is for you. This is not your quick fix option. While you can get a nice looking gallery up and running quickly, the extra options like rounded corners, number of columns, and other details are what make this plugin special.
Once the plugin is installed, you will have a new option in your sidebar. You manually create each gallery and can control a multitude of options. Once you've tweaked to your heart's content, you can add the gallery to a page or post using shortcodes. Everything from watermarks to rounded corners to randomized slideshows are available.
---
Yet Another Photoblog (YAPB)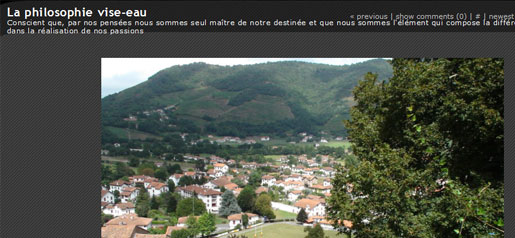 This is a plugin that will convert your WordPress site into true Photoblog, but it's not for the tame of heart. You will likely need to select an initial WordPress theme that is either designed or compliant with YAPB and then add the plugin.
The way you use YAPB is by uploading a single image per post and using the post to give it a description. Posts designated as YABP posts show up either on your home page or other location you have to manually create (or use one of the pre-fab themes). Once in place, YABP is a wonderful tool that lets you very quickly add tons of graphics and images. You can pair down your site to almost nothing but graphics and images if you want.
Further, there are a number of plugins that have been developed just for YABP. Examples include bulk uploaders, sidebar widgets, and exporters to name a few. It's very robust, but takes a learned hand to make it functional unless you're willing to start over.
Source | Download | Demo | Themes
---
Share/Bookmark Plugins
You got the portfolio, your site looks great, now it's time to let the world share your glorious art. The easiest way for people to share is through social sharing. Twitter, Facebook, Google+ and others are common. These plugins make it easy for your website visitors to click and share.
Twitter Facebook Social Share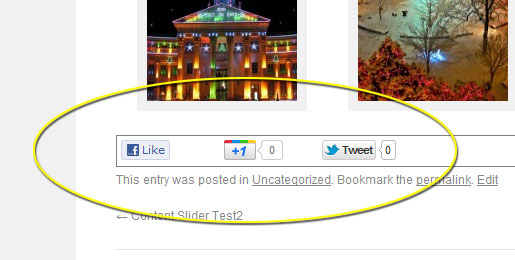 If you just want the basics — Facebook likes, Google +1's, Twitter, and StumbleUpon — then this is your best bet. It has all the basic features you need and can be customized if needed. Most people don't need the dozens of social sharing options, so the four big sharing sites are just fine. You can put the social icons at the top, the bottom, both, or on the sides. It's easy to use and fool-proof.
---
Shareaholic/SexyBookmarks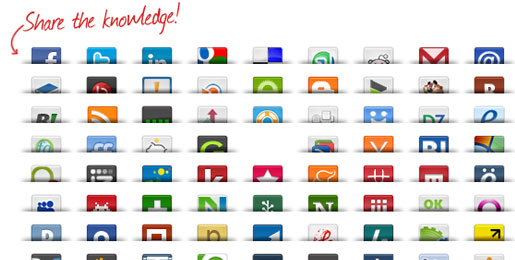 This plugin puts a tool at the bottom of a post (or other assignable location) where the icons look like they're peeking out from behind a background. Prior to hovering over the buttons, only the top row is visible — and you can order which icons appear on the top row. In this example we put Facebook, Twitter, LinkedIn, and Google+ at the top to make sure those brands get seen.
You can select as many or as few as you want. The "Share the knowledge" graphic can be edited and the plugin has several versions to choose from as well.
---
ShareThis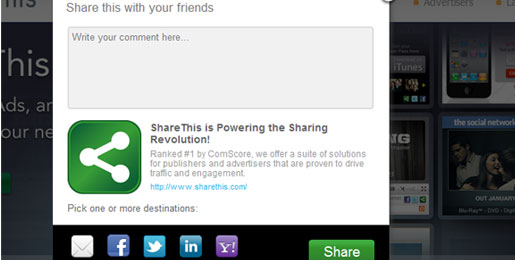 The ShareThis button has been around for awhile and it has one big advantage: it makes it easy for a user to publish your content across multiple sharing sites. You can tweak it to choose where you want it to appear, but for the most part it's low profile until the user clicks or hovers over the ShareThis button.
It's probably the easiest plugin to install, too. Just search for ShareThis in the plugins menu and install. Nothing else is needed.
---
No Plugin Version (Advanced)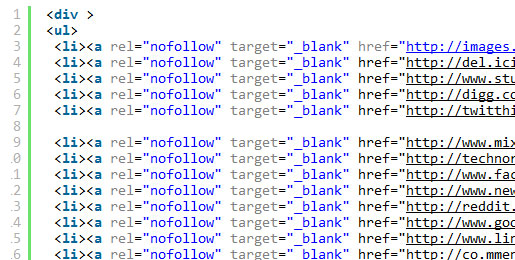 Want a way to hard-code social media links into a certain section of your site, whether that's at the end of a post, in your navigation bar, or in a widget? The folks over at WorpdPressAPI put together an elegant method of loading social media icons and links with a simple walk-through of how to install. The advantage is that this method is "lighter" in terms of page load and server load and you can tweak it directly.
---
Social Media Plugins
Every designer should take advantage of building long-term relationships, and social media like Twitter and Facebook allow you to create the potential for daily contact with customers, fans, and friends. These plugins make it easy to quickly add social media links to your WordPress site.
Social Media Widget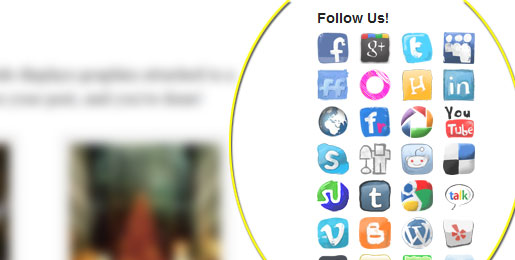 If you have dozens of social media pages like a Facebook Fan Page, Google+ Page, Twitter, LinkedIn, etc — this plugin puts your link to each of these social media pages in your sidebar. This plugin has several social media icon packs to choose from and several sizes: 16px, 32px (default), and 64px. Oh yeah, and you can add custom icon packs, too!
Just install, go to your Appearance -> Widgets and drag it into the widget-enabled area of your choosing. Then you have to paste each link from your social media sites into the available fields. It's easy to use and you can even add custom sites!
---
Follow Me Plugin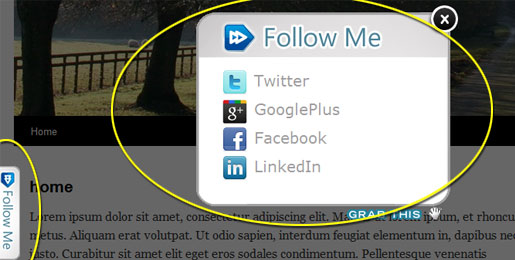 This cool little plugin adds a small pop-out along the left or right side of your site. If the user clicks it, a window opens and they can click on one of dozens of social media sites on which they can follow you. You can configure one or dozens.
After installation, go to the Settings -> Follow Me Options screen to add sites. You can configure where the tab shows up on the page — left or right — as well as a few other tweaks. It's a straightforward way to keep your site uncluttered.
---
What else should every designer have? Any critical plugins missing for showing off your work and sharing it with the rest of the world?