10 Awesome
jQuery Video Plugins
that can help stream videos from your favorite websites easily. Display videos and video playlits in style with these 10 jQuery video plugins. Enjoy! :)
Video Gallery WordPress Plugin /w YouTube, Vimeo
RESPONSIVE, LOCALIZED, AWESOME, FULLY FEATURED, FAST. THE MOST ADVANCED STOCK VIDEO GALLERY IN THE WORLD!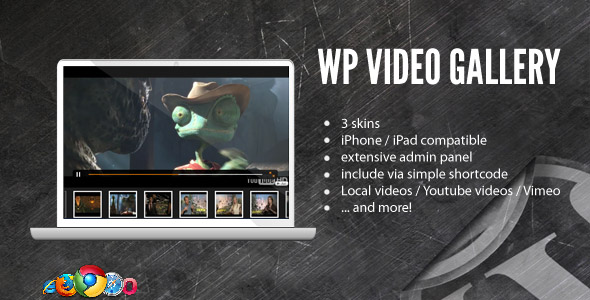 A jquery port of Videobox lightbox for videos Youtube, Metacafe, Google Video, iFilm and custom flash.



Source
This jQuery plugin will help you add StreamPlug player on your web contents. StreamPlug is a media player for the web – It decodes mpeg4 video streams such as h264, and vorbis audio from a remote file hosted on a simple http server.



Source

This is a plugin I made to embed divx throught dvix web player using jquery. it is my first jQuery plugin but maybe someone could find it useful.



Source
A small and simple jQuery plugin that you can use to load in video players from your favorite video sites.


Source
A jQuery plugin that helps you embed QuickTime movies to play directly on your webpage, instead of redirecting your video to a separate page or forcing you to embed a video using Flash. It changes regular image links to the embedded QuickTime video when they are clicked.


Source
It mimics the video preview thumbnails you find when you visit sites like YouTube or other video sites, you can mouse over a thumbnail and then it begins cycling through a bunch of frames from the video clip.



Source
A simple video gallery used to display .swf videos in a window when selecting a thumbnail.


Source
Creates a lightbox-like popup overlay for images, image, html via ajax and iframe (both modal and non-modal), and flash movies. Videos will be displayed in a popup simply by adding "ceebox" to a link a YouTube movie page.



Source
Based on a username parameter, the new YouTube Channel Playlist jQuery plugin retrieves the channel videos playlist and renders it to the page.



Source
jYouTube, the jQuery YouTube video thumbnail screenshot getter takes any YouTube video URL or video ID as first parameter and thumbnail size (big or small) as the second parameter. Utility returns that videos screenshot URL.


Source
Sam Deering has 15+ years of programming and website development experience. He was a website consultant at Console, ABC News, Flight Centre, Sapient Nitro, and the QLD Government and runs a tech blog with over 1 million views per month. Currently, Sam is the Founder of Crypto News, Australia.
New books out now!
💁‍♀️ Fun Fact: Python was ranked #2 on a recent highest paid coders list. *
---
🤓 Ok. When did a code editor from Microsoft become kinda cool!?