10+ jQuery Custom Scrollbar Plugins
10
jQuery Scrollbar Plugins
to help you display present whatever content you have in a more interactive & more responsive way. The solution is jQuery, we'd like to present custom scrolling content using the power of CSS and the beauty of jQuery.
Update 29/09/13: Added 11. jQuery NiceScroll Plugin
Premium – VenScrollBar – A jQuery Scrollbar Plugin
VenScrollBar is a jQuery plugin that allows web designers to replace the ugly, default OS scrollbar with custom ones that they create.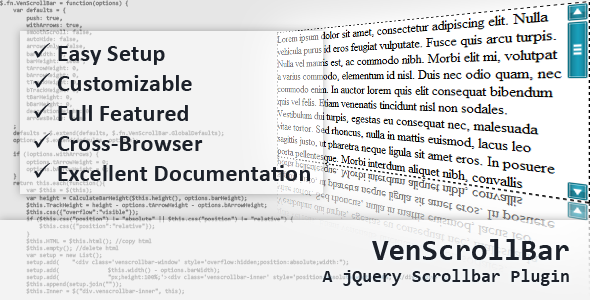 2. A custom scrollbar for a DIV

This tool brings HTML5 range input to all browsers in such a way that you can make it look and behave like you want. This small candy weighs only 2.2 Kb. Here the range input is used to control scrolling of a DIV. A little more coding and you can present your products like Apple does.



Source


3. Scrollbar Paper

Scrollbar Paper does not replace browser's default scrollbar. Instead, it covers it with a custom scrollbar, like paper on a wall: that is why it is called Scrollbar Paper.



Source
4. jQuery Scrollbar Replacements

These scrollbars are fully themable allowing their behavior to be determined as well as their look. This script uses the 'jquery.corner' plugin for the lovely cross-browser rounded corners and 'jquery.drag' for more reliable drag event registering.



Source
5. jQuery Custom Content Scroller

A custom content scroller created with jquery and css that supports mousewheel, scroll easing and has a fully customizable scrollbar. The script utilizes jQuery UI and Brandon Aaron jquery mousewheel plugin. Very easy to configure and style with CSS.



Source
6. Tiny Scrollbar – A lightweight jQuery plugin

Tiny Scrollbar can be used for scrolling content. It was built using the JavaScript jQuery library. Tiny scrollbar was designed to be a dynamic lightweight utility that gives web designers a powerful way of enhancing a websites user interface.


Source
7. jScrollPane – custom cross-browser scrollbars

It is a jQuery plugin which provides you with custom scrollbars which work consistently across all modern browsers. You can style the scrollbars using simple CSS and they degrade gracefully where JavaScript is disabled.


Source
8. Release: [jQuery Plugin] Endless Scroll

(or infinite scrolling) is a popular technique among web 2.0 sites such as Google Reader and Live Image Search, where instead of paging through items using the traditional pagination technique, the page just keeps loading with new items attached to the end.



Source
9. jQuery Scroll Follow

A simple jQuery plugin that enables a DOM object to follow the page as the user scrolls. Scroll Follow has been successfully tested on IE6, IE7, FF2, FF3, Safari 3, and Opera 9 on Windows. It has been successfully tested on FF3 and Safari 3 on MacOSX.



Source
10. jQuery quickie: Unlimited Scroll using the Twitter API

This is a great technique that could be used on loads of websites. Instead of the regular pagination, where the user has to click to see the next page, unlimited scroll automatically loads the next page when the user is at the bottom.



Source
jQuery NiceScroll Plugin
Nicescroll is very powerfull and very customizable, but nice to use. This examples can works on all major browsers and mobile devices.