Report: 79% of Video Streams Not Monetized In-Video

Video ad-serving technology provider LiveRail (our coverage) has released their first quarterly "State of the Industry" report (PDF), which has some interesting findings. The report covers some of the key findings and trends that the company is seeing in the online video ad business.
LiveRail found that despite the backlash against in-video ads (pre/post/mid-roll in-stream), consumers are responding quite well to them. On average, 30 second pre-roll video ads are watched to completion 84% of the time (79% for 15 second ads) and click-through rates on those ads are at 11.5% industry wide. The average CPM for in-stream video advertising is a health $15.80, according to the LiveRail report. That compares favorably to overlay ads, which have a higher average CPM, but a much lower click-through rate. (However, video advertisements launched as a result of a click on an overlay advert have a 90% completion rate.)
Unsurprisingly, then, the industry has not abandoned in-video advertising despite any consumer backlash that may exist against them. LiveRail reports that in-stream video ads represent 88% of all video advertising. However, of the 153 billion US video streams projected for calender 2008, just 20.95% have any in-video advertising, according to LiveRail. That may not be so surprising given how thoroughly YouTube dominates online video. YouTube has been reluctant to put any advertising on most of its user uploaded video fearing that would weaken its position with copyright holders.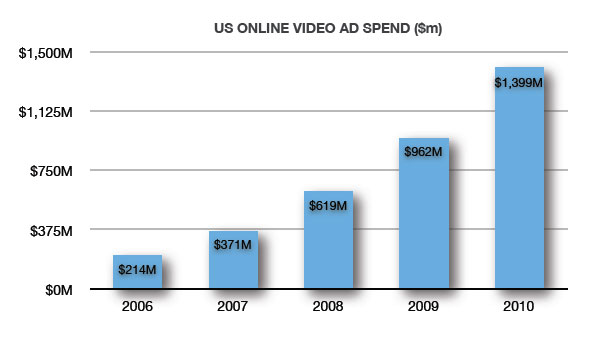 According to LiveRail, video accounts for just 2.36% of the total $26.1 billion online ad spend this year. That should change, though, as video advertising grows to $1.4 billion by 2010, eating up about 3.86% of the total ad spending. LiveRail also lays out a number of challenges that it says the video advertising industry must address in order to achieve projected growth. According to LiveRail, a "confusing array of technology and ad-unit standards constraining current growth rates."
Before joining Jilt, Josh Catone was the Executive Director of Editorial Projects at Mashable, the Lead Writer at ReadWriteWeb, Lead Blogger at SitePoint, and the Community Evangelist at DandyID. On the side, Josh enjoys managing his blog The Fluffington Post.
New books out now!
💁‍♀️ Fun Fact: Python was ranked #2 on a recent highest paid coders list. *
---
🤓 Ok. When did a code editor from Microsoft become kinda cool!?