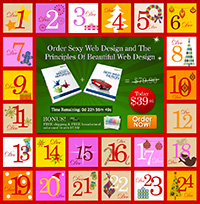 With the festive season just around the corner, and the close of another year looming, we wanted to finish 2009 on a high. Last year we released a special hard cover edition of The Principles of Beautiful Web Design, which were all snapped up in a week. This year we've got something bigger up our sleeve…
We're very excited to present:
The 2009 SitePoint Christmas Advent Calandar.
For those who have never had the pleasure of owning an advent calendar, this is the way it works. For each day of the calandar, you open up a little door and receive a special gift. Usually the surprise is in the form of a trinket, or sweet treat.
But this webby advent calendar is a little different. Every day, from December 1st until Christmas Eve, we'll unveil a new 24-hour-only deal on SitePoint goodies. Each day's deal will be different, with a grand finale on the 24th.
Signing up to our email updates will guarantee that you don't miss out on this December to remember. It will ensure the latest deal is delivered to your inbox the moment it's available.
To give you a taste of what's up for grabs, our top selling 5-PDFs-for-the-price-of-1 deal is sure to make a return at some stage, as will our 2-kits-for the-price-of-1 deal. But you'll also see huge discounts on some of our most popular titles, and bundles so cheap, that resistance will be futile. :)
Make sure you don't miss out on a bargain — sign up now!
For more information, or to see the countdown, visit: http://sale.sitepoint.com