30 Sites For Fantastic, Free Fonts
Choosing the right font can make or break a design, but what do you do when you don't already have the perfect font in your arsenal? One of the points raised in the discussion following Kevin's recent post is that purchasing fonts can be insanely expensive, and even if you do buy one, are you sure it will be exactly what you were looking for? Luckily there are numerous sources on the Web for free fonts, and while not all of them allow for commercial use, a good number of them do.
What follows is a list of 30 sites where you can find free fonts, use a tool to make your own, or just have some fun with fonts after you've spent hours staring at them. Take a look through and get addicted to more fonts than you can shake a stick at!
Free Font Sites
1001freeFonts.com: Although their name only mentions 1,001 fonts, they actually have over 10,000 free ones that you can download. You can download them one at a time for free, or purchase the lot, all at once, for a fee of $19.95.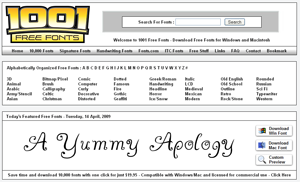 AbstractFonts.com: Offers thousands of free true-type fonts with lots of information contained on the page for each. Click on a font to see information about it, a character map, similar fonts and leave comments about it. You can search fonts categories, languages, designers and alphabet.

AcidFonts.com: Thousands of free fonts for PCs and Macs, with the ability to browse by category or alphabet. They do offer a subscription plan that will allow you to download more fonts in each zip file and also remove the pop-up and pop-under ads.
ActionFonts.com: Over 10,000 fonts in a fairly basic layout that is easy to navigate.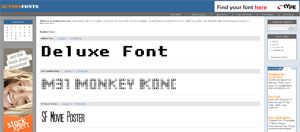 BetterFonts.com: BetterFonts offers a mixture of thousands of free fonts alongside premium fonts that they sell for $4.99. You can also download their 500 most popular fonts in one go in a file for $2.77. You can enter any text you want and see it previewed in the display area when you click on a font you're interested in.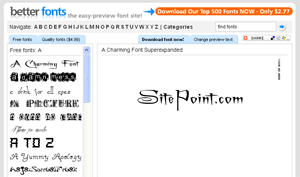 Chank.com: Chank is a font design firm that focuses on selling their in-house fonts, and even making custom fonts for companies that want to own all the rights, but they also offer a selection of their designs for free.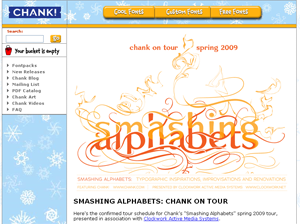 Creamundo.com: A large selection of some very nice fonts in TrueType format. Creamundo does provide a box for you to enter sample text and see it presented for a range of specified fonts. The only problem is that all fonts are categorized by alphabet, so if you're looking for a specific style, you'll have to hunt through for them.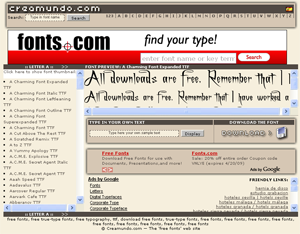 Dafont.com: Probably one of the best known sites for free fonts, with thousands of free selections for both PCs and Macs. Dafont offers all of the usual ways to browse for different fonts, and also offers a nice selection of free and paid tools to manage your fonts, convert them, create your own and perform a few other miscellaneous tasks.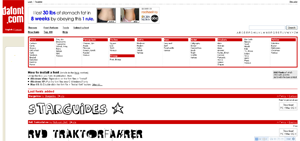 DiscoverFonts: A huge selection of fonts that is browsable by category or alphabet, or via a tag cloud. DiscoverFonts also offers a selection of tools for working with all of your new fonts that are both free and for purchase.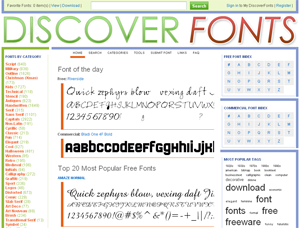 Fonts101.com: Tens of thousands of free fonts divided into categories, searchable by name. You can check out a list of the most downloaded or viewed fonts, or even dive into the forums where you can discuss the various fonts with others.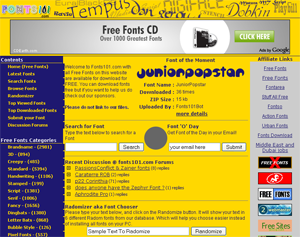 FontFace.com: Offers an assortment of free and paid fonts, with a Font of the Day, Top 25, an archive and more.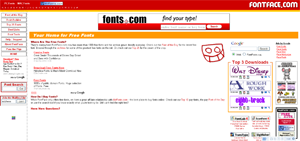 FontFreak.com: FontFreak offers over 5,000 free fonts to choose from both PCs and Macs. You can download them one at a time, or pay a $7.95 fee to download all of them as one huge file.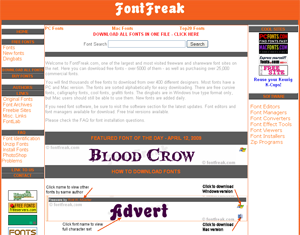 Fontica.com: Offers thousands of free fonts; some can be downloaded by anyone, while others require that you register first.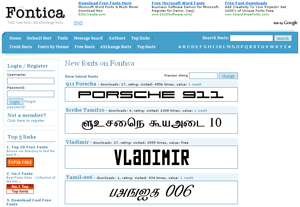 FontReactor.com: FontReactor has a nice selection of fonts with a handy "test area" beneath each font, so you can see how the font looks with text of your choice. Browse by categories, most commented, most voted and so on. The site is also available in Spanish.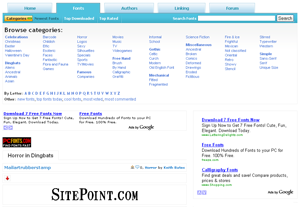 FontShack.com: FontShack isn't as big as some other font sites, but seems to be a bit more selective in what they post so you only find quality fonts to use. The site is available in multiple languages.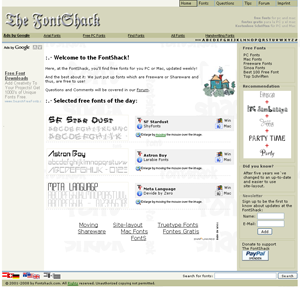 FontSpace.com: This site is based on the idea of a community of designers and font addicts, and has around 10,000 fonts divided into over 3,000 categories. All fonts are free to download, and if you sign up for their free membership you can bookmark, rate and comment on the fonts you like.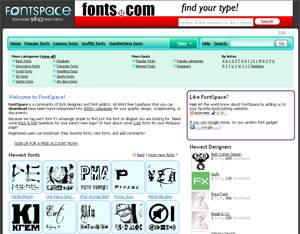 Neatfonts.com: Offers thousands of free fonts, but only categorized by alphabet and offers no other bells and whistles beyond downloading the fonts as zip files.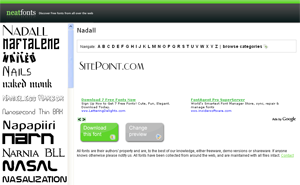 SearchFreeFonts.com: SearchFreeFonts offers well over 13,000 fonts that are well categorized, and breaks down the 50 most popular for easy browsing. The site includes articles about the history and use of fonts and a very handy guide to various paid and free tools for designing, organizing and managing your fonts.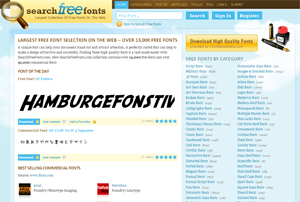 Simply The Best Free Fonts: A part of SimplyTheBest.net which offers up a lot of different things. The font section is enormous, well categorized and easy on the eyes. There are lots of nice fonts — some of which you'll have seen on other sites, but some you haven't — but still a good resource.
UrbanFonts.com: One of the smaller sites out there, and a little heavy on the ads, but overall a nice selection that is easy to navigate.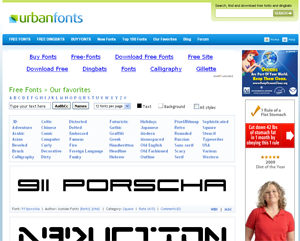 Tools for Fonts
Cfont Pro: Cfont Pro is a free download that allows you to manage, organize and view your font collection in multiple ways so you can make sense out of it and not spend hours searching for just the font you need for the job. PCs only on this one.
FontForge: A SourceForge project for creating your postscript, truetype, opentype, cid-keyed, multi-master, cff, svg and bitmap fonts.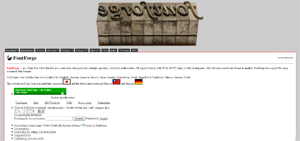 Fontomatic: Fontomatic allows you to activate and deactivate folders or collections of fonts as you want, so they don't take up resources every time you start your computer.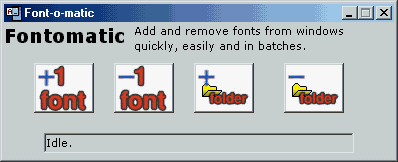 FontStruct: If you've ever wanted to create your own font, FontStruct allows you to do it right online for free, and then share it with other users of the site. You can also browse through the original fonts that other users have created and download them for free (read our previous coverage of FontStruct).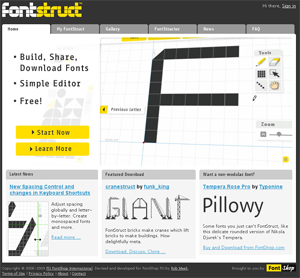 Identifont.com: Answer some simple questions about a font, restrict your search to only certain letters, or get a clue as to which font it might be that you are looking for. Identifont will aid you in all of these tasks.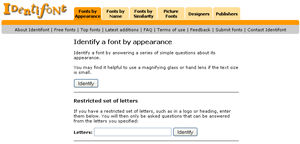 The Font Thing: A full-featured font management system that allows you to view installed and uninstalled fonts, view individual characters in different colors, filter fonts by type, install multiple fonts at once and more with this free download for PCs.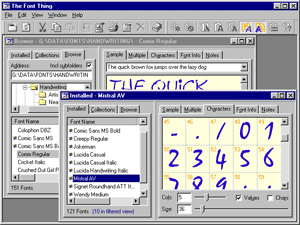 TypeNavigator: An interesting tool to help you figure out what font was used in a project by answering some simple questions about its appearance. Just mark the radio selections, click search and you'll get a suggestion for which font it is.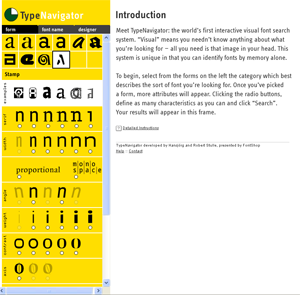 Typetester.org: A quick tool for comparing up to three different fonts for how they will appear at different sizes, colors, decorations and more, so you can choose which one to use in a design.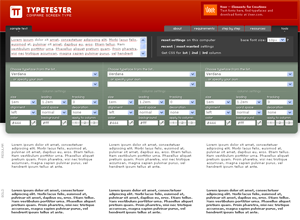 Miscellaneous Font Sites
Fontpark: After a long day of working with fonts, you might start thinking you see faces in them. Well, Fontpark lets you play with fonts to turn them into faces, designs or whatever you can imagine. You can then share them with other users of the site to vote on to see what they think of them.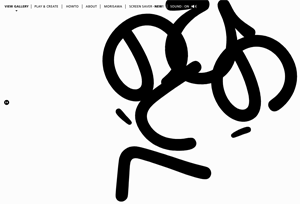 Guide to Web 2.0 Fonts: Ever wondered what font Popurls used? This site identifies the fonts used in some of the most popular logos on the Web. The page hasn't been updated in quite a while, but is still relevant as the logos haven't really changed.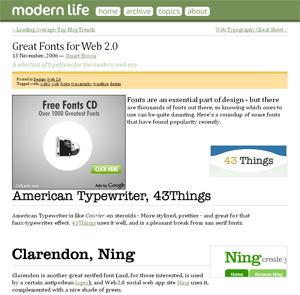 Related reading: