The PHP Application Environment
Free JavaScript Book!
Write powerful, clean and maintainable JavaScript.

RRP $11.95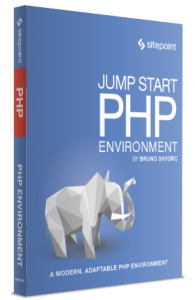 The following is a short extract from our recent book, Jump Start PHP Environment, available for free to SitePoint Premium members. Print and ebook copies are sold in stores worldwide, or you can order them here. We hope you enjoy this extract and find it useful.
This piece will focus on the application environment. We'll also discuss *AMP bundles such as XAMPP and why they're a poor choice; production /development parity; and performance and debugging.
Bruno is a blockchain developer and code auditor from Croatia with Master's Degrees in Computer Science and English Language and Literature. He's been a web developer for 10 years until JavaScript drove him away. He now runs a cryptocurrency business at Bitfalls.com via which he makes blockchain tech approachable to the masses, and runs Coinvendor, an on-boarding platform for people to easily buy cryptocurrency. He's also a developer evangelist for Diffbot.com, a San Francisco-based AI-powered machine vision web scraper.
New books out now!
Learn valuable skills with a practical introduction to Python programming!
---
Give yourself more options and write higher quality CSS with CSS Optimization Basics.