Google Makes Street View More Prominent in Maps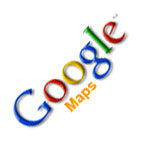 Since launching in May of 2007, Google Street View has since expanded coverage to enough cities across the world that Google now feels comfortable integrating it more deeply with their Maps product. This week, they announced a number of enhancements to the Street View feature that bring it to the forefront of the map experience and make it more tightly integrated with the other features of Maps.
The biggest change is in the way you now access Street View. Gone is the toggle button in the upper right hand corner of the map. Instead, Street View can be initiated by dragging the "Pegman" icon from the zoom tool in the upper left corner of a map — which has also been redesigned — onto any map that has Street View data (the streets still get a blue outline when that happens). As you hover Pegman over a street, Google pops up a thumbnail image of the street in question, which I guess is helpful in determining if this is the view you want to launch.
The real important changes come once you're in Street View mode, which is now full screen. In addition to the larger default view, a two-pane view can also be loaded up with the street photos in the top pane and the map in the bottom. That allows you to drag Pegman around the map and instantly load up the view in the top display area. A new three hundred sixty degree toggle control lets you spin around the view. You can still click and drag the photo to do that, but the toggle is a bit more fluid.
Reporting objectionable content is easier with the new design, as well, thanks to a new report link embedded on each photo.
Our guess is that Google made these changes based on two things, the availability of enough coverage in Street View to start pushing it harder as a core feature of the Maps product, and likely usability testing and user feedback. In our tests today, we found that accessing and utilizing Street View is now much easier. The full screen view is a lot easier to take in, and navigating from street to street is much easier in the two-pane view than it was when Street View popped up in its own little window and obscured the map itself.
Street View has been a great innovation in our opinion, and has been super useful more times than we can count in helping us find places we'd never been to before.
Google created this goofy video to introduce the new changes: