Once upon a time, I bought a $6 bottle of water at a gas station. The bottle was glass, and it had interesting, eye-catching, minimalist packaging and labeling. But, why did I spend $6 on water? Because good design sells.
Good design sells online as well. Brick and mortar retailers open online stores mainly reach more customers. Large online retailers do it to centralize their business and expand their product variety. But, for specialty store owners that sell very specific products, their online store is not just an order fulfillment center or a way to complement a brick and mortar business; it's a marketing platform, a sales engine, and a branding opportunity all at once. Because of the multifaceted needs of online specialty stores, it's critical that their designs strike a balance between aesthetic appeal, intuitive functionality, and a creative approach that helps their specialty store stand out.
The following collection includes 20 stunning niche stores that do an excellent job of providing a beautiful display for their products. Keep in mind that you will need to visit some of these websites to fully appreciate their designs.
---
Rapha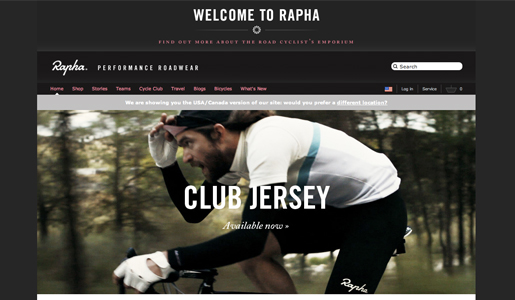 My favorite part of this site is the fantastic photograph of the product in use. The grey, pink, and white color scheme works well together too.
---
Ralph Lauren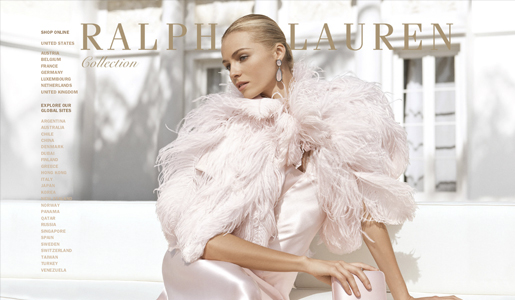 A gorgeous model is the perfect way for Ralph Lauren to appeal to its target audience. It is also interesting to note that the color of the title matches her hair color.
---
rue21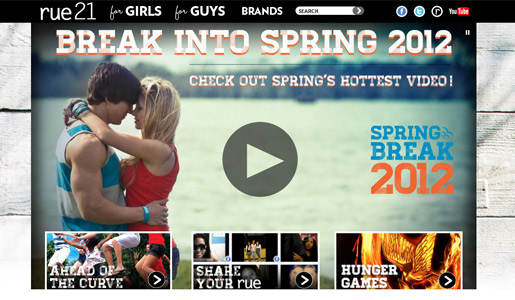 The wood background adds nice texture to this site, and the photographs and videos add appeal for their young target audience.
---
Trailer Park Truck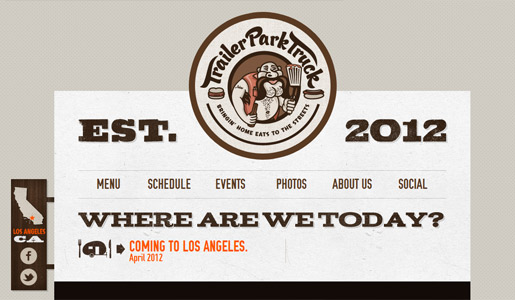 This is one site that you really need to visit to appreciate. The illustrations are hilarious, and the textures and backgrounds are clever. All of it fits perfectly with the nature of this traveling food service. Be sure to scroll down to the illustration used for the footer.
---
Nike Jumpman
My favorite part of this website? It's very interactive. Hover your mouse over the video and click on the "Launch" button to scroll through the animated graphics at your own pace.
---
Bagigia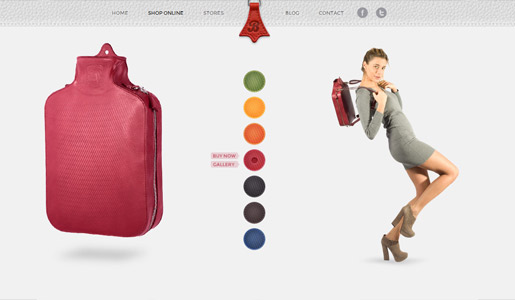 This is another interactive website. Scroll to watch the animation play out on the home page, which more resembles a splash page, except for the fact that you can view the menu just by hovering over the title and quickly get to the actual store. The leathery textured background is stunning, and the product menu buttons are a very nice addition.
---
Restoration Hardware: Baby & Child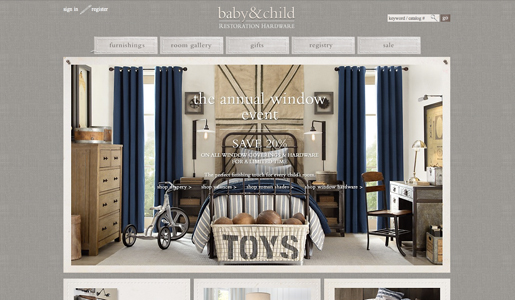 The gray textured background looks incredible, especially with the stitched navigation boxes against it. The large photo in the center draws the eye well, and it includes "pins" in the corners, as if someone tacked it onto a fabric board.
---
Lemon & Mint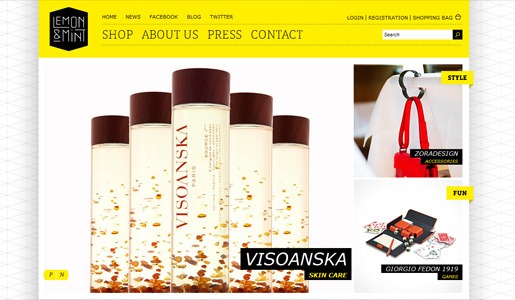 The patterned background, bright yellow color blocks, and 3D ribbons all come together very well in this design
---
Puma Black Label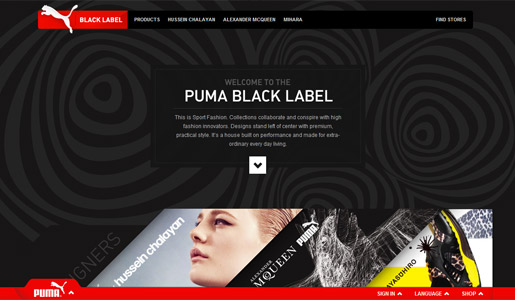 I can't decide what I like best about this website design: the rotating geometric circles, the diamond shaped images, or the red tab along the bottom.
---
HYT Watches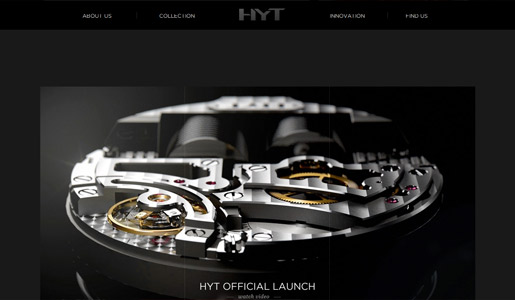 The dark background contrasts nicely with the changing product photos in the center of the page. When hovering your mouse over the menu options, another menu with attractive images drops down.
---
Bridge 55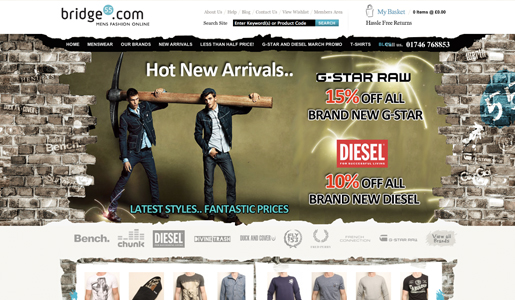 The jagged brick wall and photo of two guys carrying an oversized pickaxe not only appeals to guys and manliness, but it's also a great design in general. They stick with the brick theme throughout the website as well, which ties it all together from page to page.
---
Tigi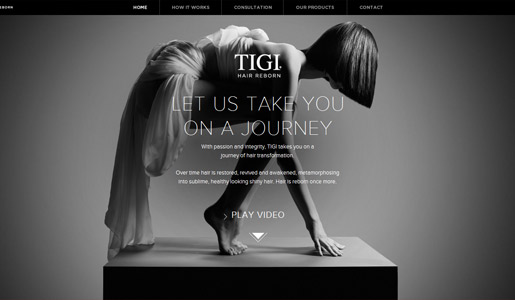 The model in a unique pose front and center on a gradient grey background catches the eye very well. Each page is as uniquely stunning as the home page, so be sure to navigate through the entire site.
---
Mouse to Minx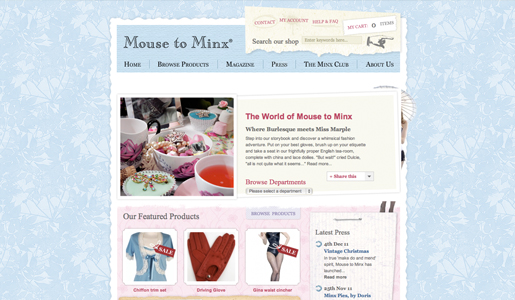 The torn edges look of the boxes along with the pastel, floral background matches the image of this specialty store perfectly. The only drawback is the lady with the umbrella, who is mostly hidden behind the home page text box. I kept trying to hover my mouse over her or clicking on her, expecting her to jump out and do a little dance or offer a discount or something.
---
Free People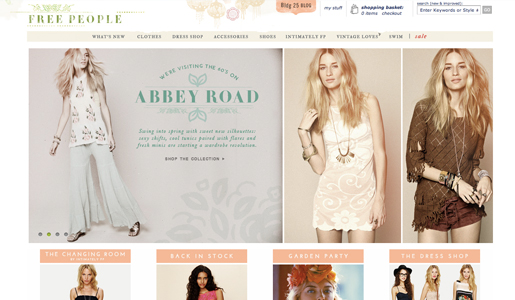 My favorite part of this design are the light, floral illustrations along the top of the page. Click through the pages to see some more hand-stamped type illustrations scattered throughout.
---
Beg Bicycles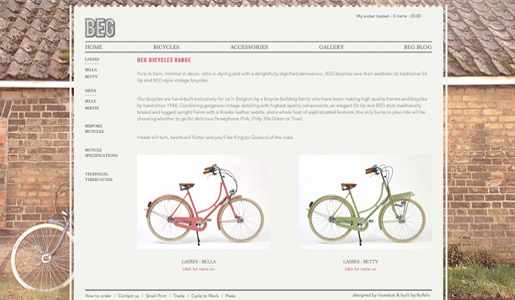 I'm always a sucker for photographic backgrounds. I love how this one is of a bicycle leaning up against a brick building with a unique roof.
---
Odyssey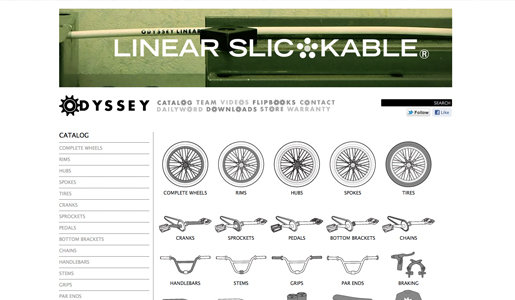 What caught my attention on this site were the illustrations of their products, and the wheel icon used as O's in the main menu.
---
Little Sparrow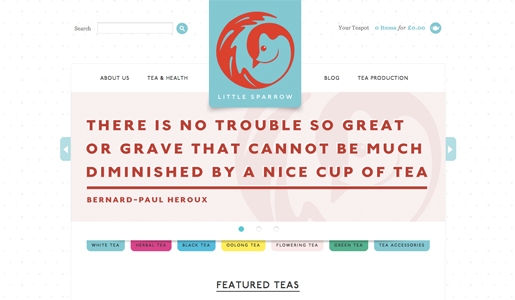 The quotes that you can scroll through really give this site a unique touch, and the title banner stands very effectively. It made me want to purchase one of their teas, even though I'm not a huge tea drinker.
---
G'Nosh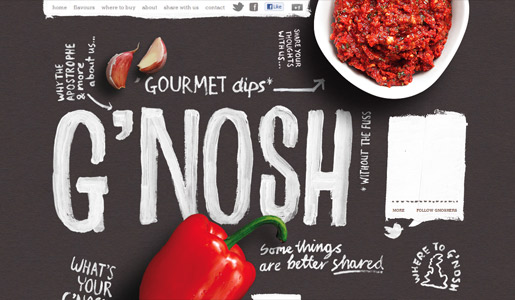 A hand-painted font certainly gives this site a fun look. It took me a minute to figure out that it was a single-page design, but it was more exciting to click on the text anyway.
---
Wear You Belong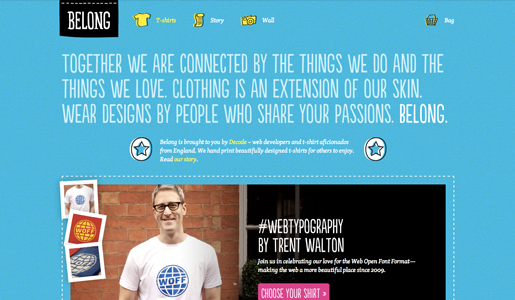 The font and the story on this site really caught my attention. The hand-drawn illustrations are a cute touch, too.
---
The Soup Peddler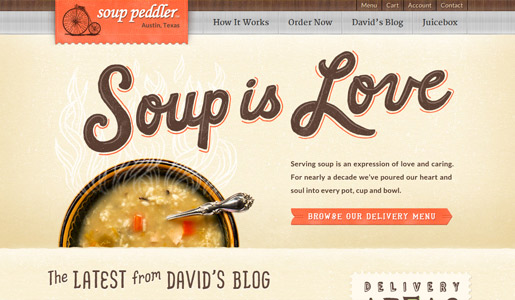 The handwritten fonts and blend of orange, brown, blue, and creme textured backgrounds flow together well in this design.
---
Do anyone of these online specialty stores stand out? Do you feel that niche stores and large online retailers have different design goals? Are there any large online stores that balance a beautiful design with thousands of product listings?

Tara Hornor has a degree in English and has found her niche writing about marketing, advertising, branding, graphic design, and desktop publishing. She is a Senior Editor for Creative Content Experts, a company that specializes in guest blogging and building backlinks. In addition to her writing career, Tara also enjoys spending time with her husband and two children.