SitePoint Christmas Countdown Starts Today
Free JavaScript Book!
Write powerful, clean and maintainable JavaScript.

RRP $11.95
Woo-hoo … the holidays are nearly here and we're really looking forward to escaping the glare of our monitors. But, not before we deliver you some crazy deals in our Christmas Countdown 2011.
For the next 24 days, we've got 24 deals with massive savings of up to 80% off our top selling books, ebooks, and kits. Plus with every order, comes a discount coupon bundle jam-packed with hundreds of dollars worth of value from the likes of Appsumo, MightyDeals, Harvest, and many more!
Today, we kick our sale off in style with our top selling digital books:
jQuery: Novice to Ninja (epack)
HTML5 & CSS3 for the Real World (epack)
Build Mobile Websites and Apps for Smart Devices (epack)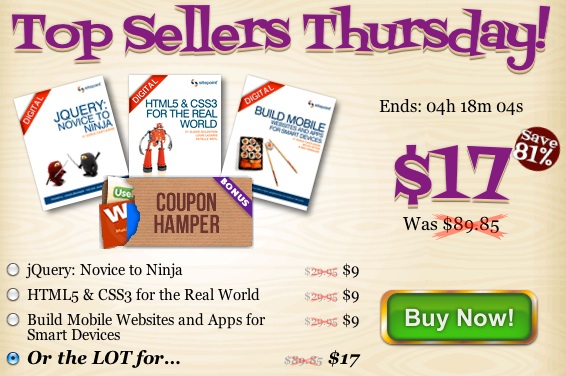 Check it out now at: http://www.sitepoint.com/sale
Mick is a digital sales architect with over 13 years experience on the web. He helps businesses, clients and start-ups - plan, action and measure their digital sales success. Including getting hands-on with Google AdWords, conversion rate optimization, retargeting and email marketing.
New books out now!
Learn valuable skills with a practical introduction to Python programming!
---
Give yourself more options and write higher quality CSS with CSS Optimization Basics.