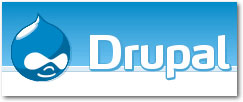 The Drupal development team surprised everyone when they released version 6.0 last week, ahead of schedule.
After one year of development we are ready to release Drupal 6.0 to the world. Thanks to the tireless work of the Drupal community, over 1,600 issues have been resolved during the Drupal 6.0 release cycle. These changes are evident in Drupal 6's major usability improvements, security and maintainability advancements, friendlier installer, and expanded development framework. Further, from bug fix to feature request, these issues follow-through on the Drupal project's continued commitment to deliver flexibility and power to themers and developers.
While I haven't used Drupal on any major projects, I got to see it in action in the FullCodePress international site-in-a-day competition last year, when the Australian team chose it to power their charity's site. And when I attended Drupal MiniCon here in Melbourne a couple of weeks ago, a recurring theme was that the installer needed to be friendlier for first time users.
I'm happy to report that, with the version 6.0 release, getting Drupal up and running is as easy as it should be, and the Lullabot team have prepared an excellent screencast (MP4, 12 minutes, 38.5 MB) that anticipates a number of potential hurdles with permissions and configuration settings and helps less experienced users overcome them.
If you're still yet to find a CMS that suits your projects, the ton of new features and security improvements that come with version 6.0 might make Drupal worthy of another look.

Matthew Magain is a UX designer with over 15 years of experience creating exceptional digital experiences for companies such as IBM, Australia Post, and sitepoint.com. He is the co-founder of
UX Mastery
, and recently co-authored
Everyday UX
, an inspiring collection of interviews with some of the best UX Designers in the world.