The SitePoint HTML Reference Is Live!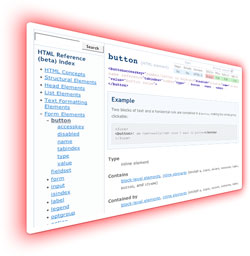 The SitePoint CSS Reference went off with a bang last month, and I'm very proud to announce that, in rapid succession, The SitePoint HTML Reference is also now available.
Our esteemed author, Ian Lloyd, has penned what can only be described as the definitive source for HTML knowledge. It's the help in HTML, the master of your markup, the encyclopedia of entities, the dictionary of doctypes … OK, you get the picture </cheesy clichés>
Whichever way you look at it, this site's pretty cool, and is the perfect complement to the CSS Reference.
Right now it's in public beta, so is not quite as polished as the high quality stuff you're used to seeing in The CSS Reference … but that's where we need your help!
At the bottom of every page you'll find a place to leave feedback about any problems you might spot — technical, layout, or otherwise. Our technical editors are on standby to integrate any issues that you find into the site.
There are no access restrictions on this beta, so make sure you let everyone know that it's available.
Oh yeah … I'm sure you're all thinking "Is this going to become available as a book too?"
Yep, the book is on its way.