Browsershots.org: Test nine browsers for free
Ever lay awake at night wondering what your latest web masterpiece looked like in Konqueror 3.5.5 on Ubuntu Edgy? I think we all have. Lie awake no more.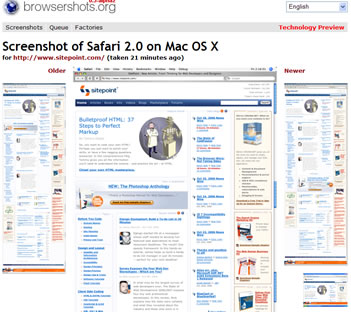 Although Web-based Browser testing services are nothing new — Browsercam has provided a paid service for years and sites like Dan Vine's iCapture Safari testbed have done a wonderful job filling the gaps — Browsershots.org may just be the most comprehensive free service I've seen.
Still in alpha release and termed a "technology preview", Browsershots.org currently provides full-length (i.e. not just the viewport) renderings of nine browsers across three OSs, including such family favorites as Safari 2.0 on Mac, MSIE 7.0 on Windows and Opera on Ubuntu Linux.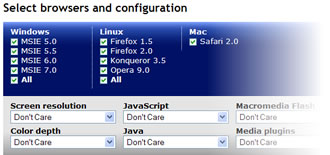 Although it's not clear whether this service will become a paid subscription service, it's certainly free, robust and very useful at the moment.
Apparently Digg ground it to a halt a little while ago, so feel free to test it out but perhaps don't tick
all the browser boxes unless you really need to.