Drawing Inspiration: Collaborative Whiteboard Tools -Part 1
With more and more people working from home, or with colleagues and clients in other cities and countries, online collaboration tools have been gaining momentum for a couple of years now.
While there has been plenty of focus on conferencing, document and calendar sharing and scheduling, the area I think is often overlooked is collaborative sketching/whiteboard tools. If you've ever spent quarter of an hour trying to explain a basic layout idea to a client only to get confused silence back down the line, you'll understand the beauty of this kind of application.
Although it's been around for over a year now, I think GE's Imagination Cubed is still the pick of the crop terms of a pure drawing tool. Exactly why GE felt compelled to build and release it is a mystery but they've done a really nice job. The soft shadow cast by the pen as it flicks around the work space is a very nice touch.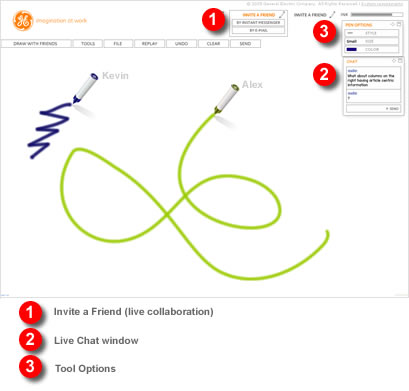 As you can see, the interface is very low-clutter and they offer small but effective suite of tools including pens, text tools, lines, basic shapes and icons. Each tool has access to a variety of weights, colors and even line treatments (feathered, splatter, etc).
Collaboration is easy. After initiating a new workspace, new users can be invited to join via either email or AIM. Once they've joined, they have access to a named pen, and are free to post IM-style messages in the attached message field. It's all worked flawlessly for me.
Each creation can be saved and/or sent to others as a JPG. And just for a laugh you can even hit the 'replay' button to watch your work being re-created.
Add to that the fact that it's free and doesn't even require you to log in and there's not a lot to dislike. In fact, the only problem I've ever encountered is the limit they place on your virtual ink — it apparently runs out and must be more expensive than it looks.
Otherwise this is at the very least a nifty toy — and perhaps even a handy solution to a problem for some.
Alex has been doing cruel and unusual things to CSS since 2001. He is the lead front-end design and dev for SitePoint and one-time SitePoint's Design and UX editor with over 150+ newsletter written. Now Alex is involved in the planning, development, production, and marketing of a huge range of printed and online products and references. He has designed over 40+ of SitePoint's book covers.
New books out now!
💁‍♀️ Fun Fact: Python was ranked #2 on a recent highest paid coders list. *
---
🤓 Ok. When did a code editor from Microsoft become kinda cool!?