Originally published at: http://www.sitepoint.com/microsoft-qa-sitepoint-forums/
We were recently given an incredible opportunity by Microsoft, which saw exclusive access to three Technical Evangelists answering all our questions in live Q&A sessions on our Forums.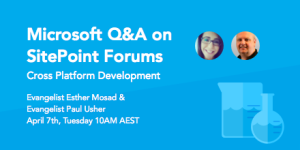 The first two sessions focused on Azure Mobile Systems, with a focus on Notifications. Microsoft Evangelist Andrew Coates was open about his work on AMS, mobile dev, and cloud stuff. Keep a lookout for the next Microsoft Q&A session which is a mega one-hour session with two awesome topics, and let us know what kind of experts you want us to talk to in the future.
Highlights from the first two sessions included Andrew teasing out the differences between Azure Mobile Services and other cloud-based services, the scalability aspect of push notifications, and creating internal and external apps to suit your budget and organisation.