Originally published at: http://www.sitepoint.com/blob-storage-host-podcast-mp3-files/
I host a podcast called The Indie Dev Podcast where I interview game developers from around the world in 30 minute segments. I'm always fascinated by what people are able to create, and I'm even more curious about how they make these games happen.
I store the most recent episodes of the podcast on PodOmatic, which allows them to be picked up by iTunes and other podcast feed readers, but I am limited by the number of podcast episodes that I can store at once because I am using the free tier. My older episodes are lost unless I upgrade to the premium tier.
What Problem Does Blob Storage Solve?
With blob storage, I can take all of my .mp3s, store them in a container, and then allow the public to download them from the container.
When I upload my files to a blob container, I am given an HTTP endpoint, which I can use as a link to download an episode. Click on this link to download the most recent episode with Michael Hicks. You could do the same for videos that you record, too.
In this tutorial, I'm going to walk you through the steps of how I set up my container to host all of the .mp3s of the podcast.
How Does Blob Storage Work?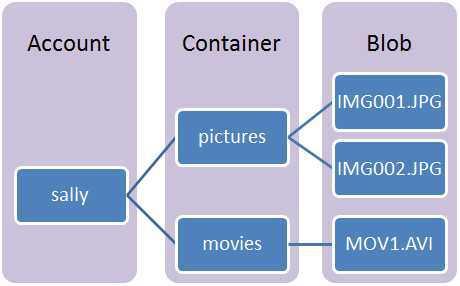 Blob storage is a service for storing large amounts of unstructured data, such as text or binary data, that can be accessed from anywhere in the world via HTTP or HTTPS. You can make these files public or private as well, which means that you can use it as a storage repo for your own content for only you to access, or perhaps use it as a cost-effective way to store large amounts of media to share with others.
Common uses of Blob storage include:
Serving images, documents, audio, or video directly to a browser
Storing files for to be distributed to others
Streaming video and audio
Performing secure backup and disaster recovery
You can find out more about Blob Storage here.
Blob concepts and terms
Storage Account: All access to Azure Storage is done through a storage account.

Container: A container provides a grouping of a set of blobs. All blobs must be in a container.

Blob: A file of any type and size. There are two types of blobs that can be stored in Azure Storage: block and page blobs. Most files are block blobs, and we're going to use those for this tutorial. A single block blob can be up to 200 GB in size.

URL format: Blobs are addressable using the following URL format:
http://.blob.core.windows.net//
The following example URL could be used to address one of the blobs in the diagram above:
http://sally.blob.core.windows.net/movies/MOV1.AVI
How Do I Get Blob Storage?
You'll need a cloud storage solution like Azure. You can sign up for a free Azure trial, or reach out to me about information on how to obtain a BizSpark account. This is what I use to host the files but you can follow along if you prefer other solutions too.
Continue reading this article on SitePoint