Your Guide to Keyword Research for SEO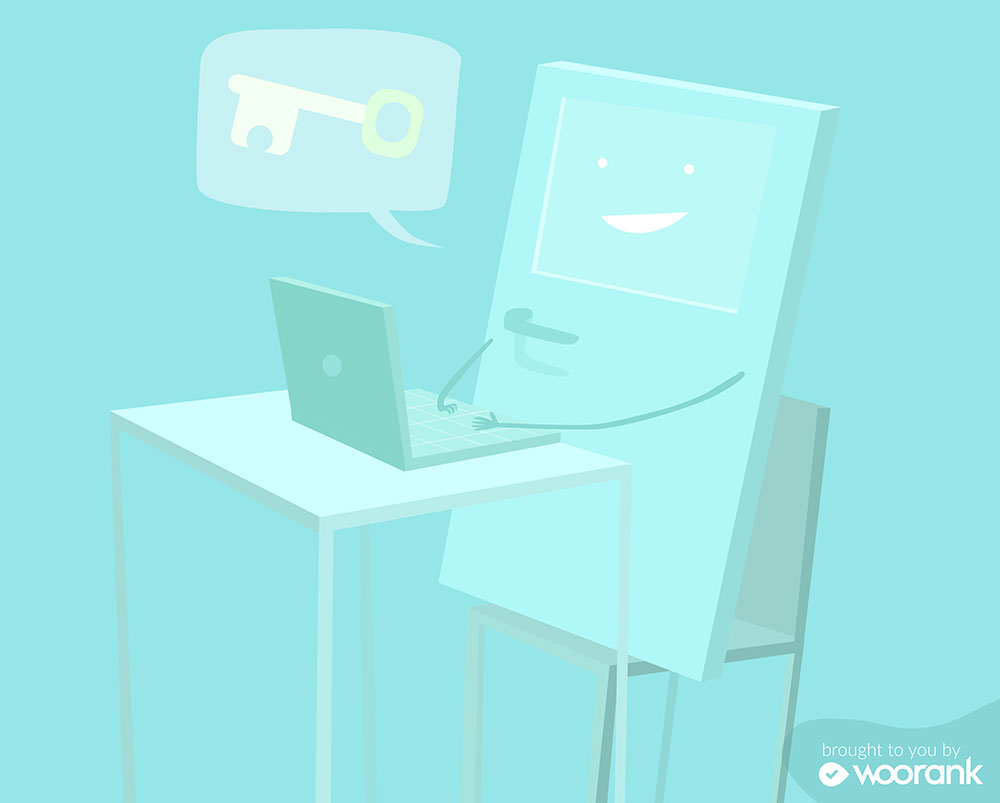 This article is part of an SEO series from WooRank. Thank you for supporting the partners who make SitePoint possible.
If you're optimizing your site to rank higher in search engines like Google and Bing, you're doing so to ultimately drive more visitors to your website. The very foundation of any digital marketing campaign, organic or pay-per-click (PPC), is the keyword. No matter how many algorithm updates search engines throw at you, the need to find the right keywords for sight has remained constant. And in order to find the right keywords, you need to do your keyword research.
What's keyword research? It's the process in which marketers find the keywords people are actually using to search the web, to create a list of keywords to target in order to rank in search results. It's got three basic parts:
Discovery
Refine
Competitor Research
In this piece we'll go over the three parts of keyword research, explaining what each of them entails. We'll also be providing some tips and keyword research tools to help you along the way.
Keyword discovery
List of seed keywords
The very first step in the keyword research process is to come up with a very broad, general list of keywords for your site. These aren't necessarily the actual keywords you'll end up targeting on your site — think of them more as answers to the question "what is my site about?"
If you're a blogger, or doing keyword research for your company's blog, these are likely to be the subjects that you post about the most. If you're doing SEO for your business' page, think about your buyer profiles. What sort of topics would your target want to know more about? Check your analytics and Google Search Console account to see how people are currently finding your site, and which keywords are driving the most conversion.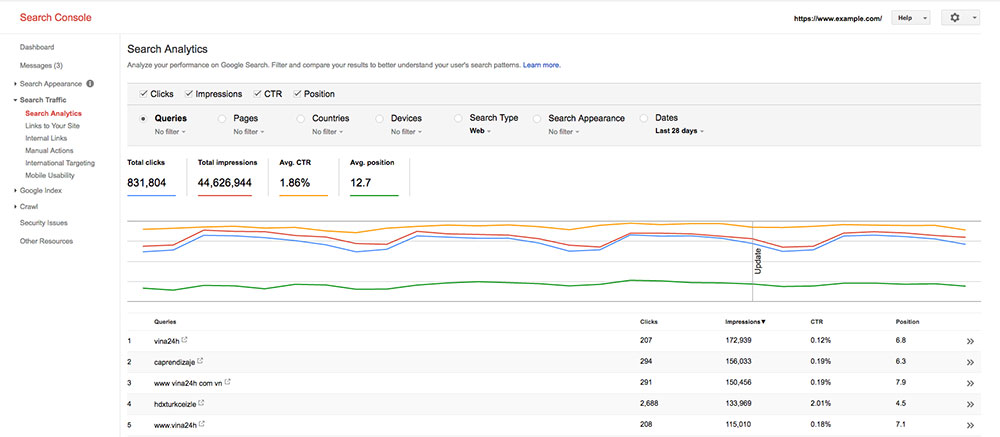 If your business is, say, an SEO tool that targets digital marketers and small/medium businesses, for example, your topics could be "digital marketing tools," "lead generation," "SEO audit tool," "SEO guide" and "keyword tracking." If you have several categories on your website, think of each of these as a keyword topic.
Expanding your list
Once you've come up with your list of topics, usually between five and ten, it's time to come up with a list of keywords for each. These are keywords you think that someone would actually type into a search engine to find your site. The point of this step isn't to come up with every possibility under the sun, you just need to come up with starting points for further research. So for our SEO company, some keywords for the "SEO audit" topic could be:
SEO website checker
SEO website audit tool
Best SEO website review tools
Free website SEO Checker
SEO Report
Website review
Technical audit
SEO checklist
There are a lot of tools you can use to expand your list of keywords at this point. Both Bing and Google have keyword research tools. Google has the AdWords Keyword Planner, while Bing has a keyword research tool in its Webmaster Tools. Both are technically designed for PPC keyword research, but they are both really useful for SEO. Use Keyword Planner's adgroup ideas to get a list of related keywords.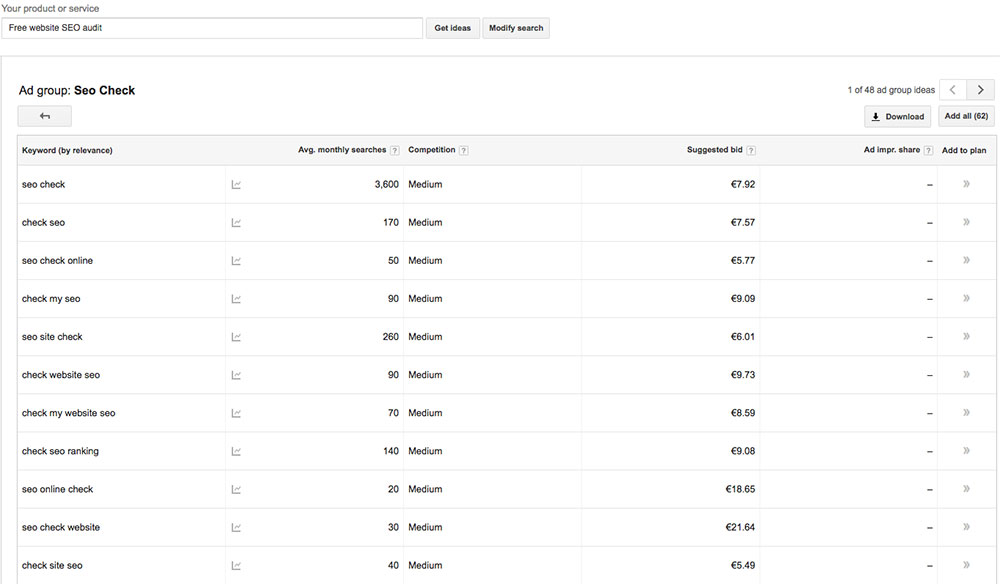 Keyword Planner requires you to sign up for a free AdWords account. Bing's Keyword Research is accessible in Webmaster Tools, which you should have already signed up for.
Google Suggest is another great source of potential target keywords. Fortunately, there are tools out there you can use that will get Google's suggested keywords without you having to manually find every possibility. Ubersuggest will provide you with a list of related keywords using Google Suggest, based on your input keyword. You can expand your list by finding related keywords to Ubersuggest's results. You can download your results as a .csv, which will come in handy later.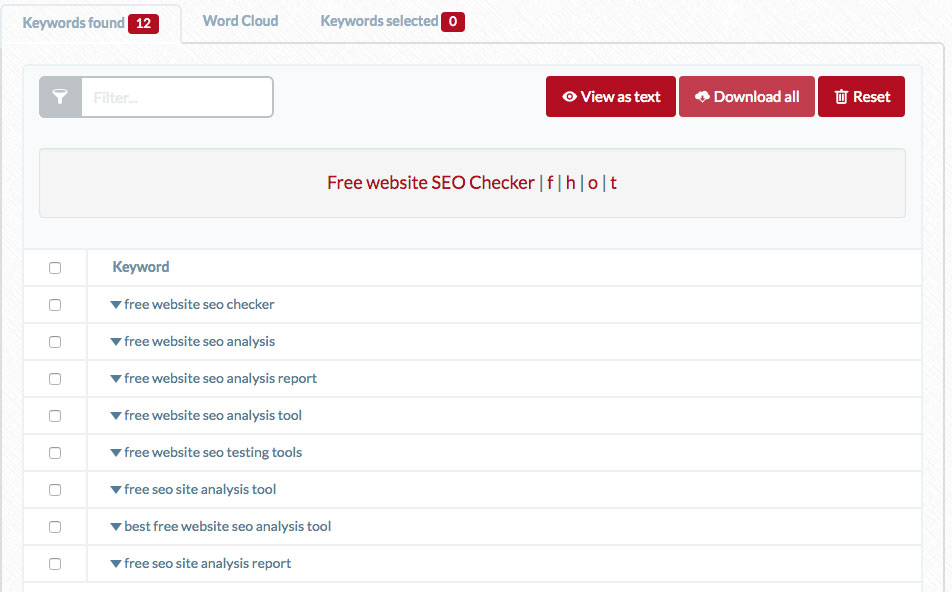 Mergewords is another useful free tool. It doesn't use Google data like Ubersuggest, but can be very useful in building your keyword list quickly. It works by creating every possible combination of keywords. So if you've got three keywords: "SEO website audit," "best SEO audit tool" and "free website review," Mergewords will put together 36 possible different ways to combine those terms. Select the results to copy and paste them into an Excel spreadsheet.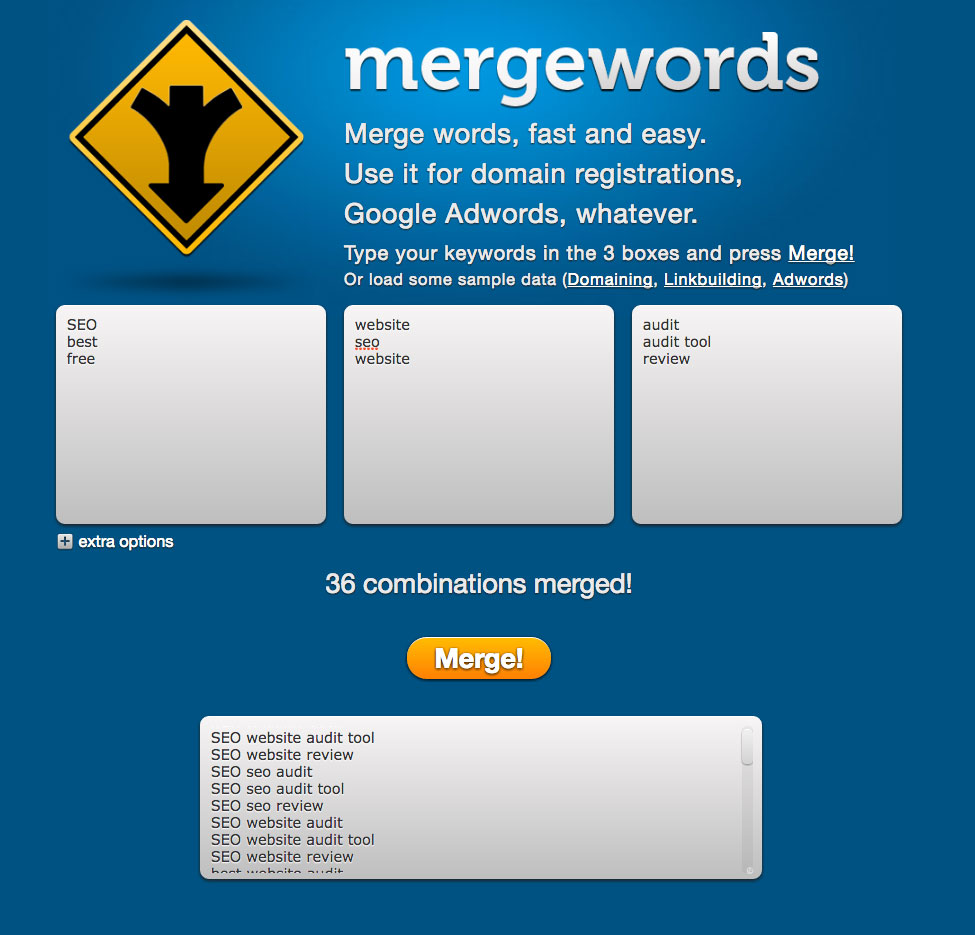 Just be sure to go over your list from Mergewords to take out any that don't make sense, like "SEO seo audit" and "SEO seo audit tool" in the example above.
Narrow Your List
So now that you've put some time and effort into coming up with a long list of keywords you want to target, it's time to cut it down to size. To do this, you'll need to determine how much traffic a keyword can bring in, how easy (or hard) it will be to rank for it, and what users expect to find when they use a keyword in a search query.
If you have some extra time and budget lying around, you can run a small AdWords campaign to determine the value of a keyword. In AdWords, choose "exact match" for your keywords and send users to the relevant landing pages. Run the campaign until you've brought in a few hundred clicks. Divide the number of visitors by revenue generated to find the dollar value of each visitor brought in by the keyword. So, for example, your keyword "Free website SEO Checker" brought in 200 new visitors who generated $2000 in revenue, and 275 people clicked through from the ad for the keyword "SEO website audit tool" and spent $2400. The first keyword is worth $10 per person and the second is worth $8.72.
Search volume
Optimizing your website for a keyword won't do you much good if no one is searching for that keyword. Fortunately, there are easy ways to find out which keywords on that long list you came up with drive enough traffic to be effective for your business.
Use AdWords Keyword Planner and Bing's Keyword Research tool to find average monthly search volume on those search engines.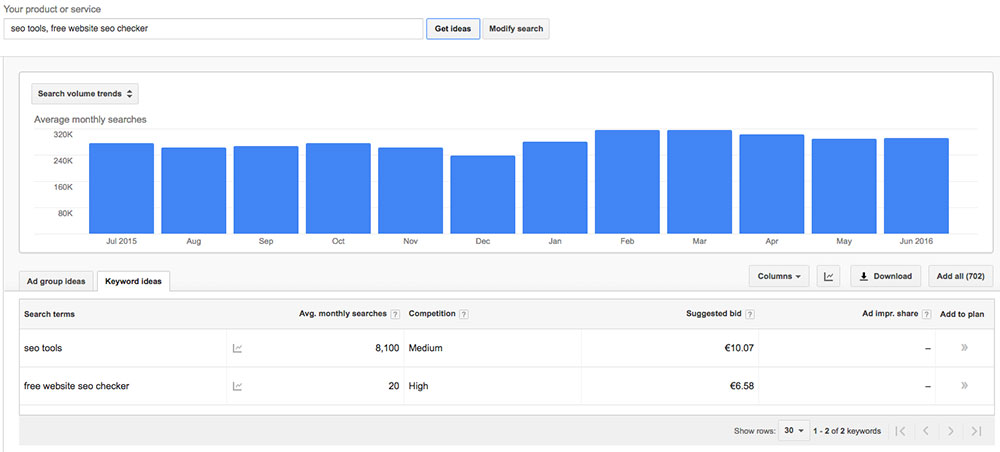 If you're a WooRank subscriber who has run an Advanced Review, you can use SERP Checker to track search volume as well. If you're already tracking keywords in SERP Checker, search volume will populate automatically after the tool updates the data. If you aren't using the tool yet, add keywords as you would normally and SERP Checker will start displaying information within 24 hours.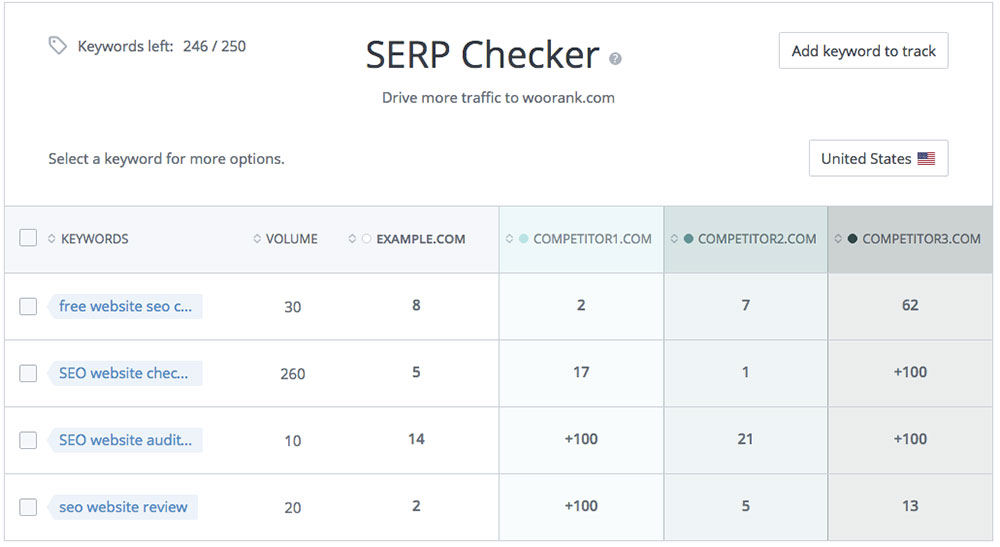 Explore Google Trends to see how popular a keyword is, and whether that interest is trending up or down. Change the lookback period to take advantage of shorter spikes of interest as well as long-term planning. You can add multiple search terms to determine which keywords would get your website the most visibility online.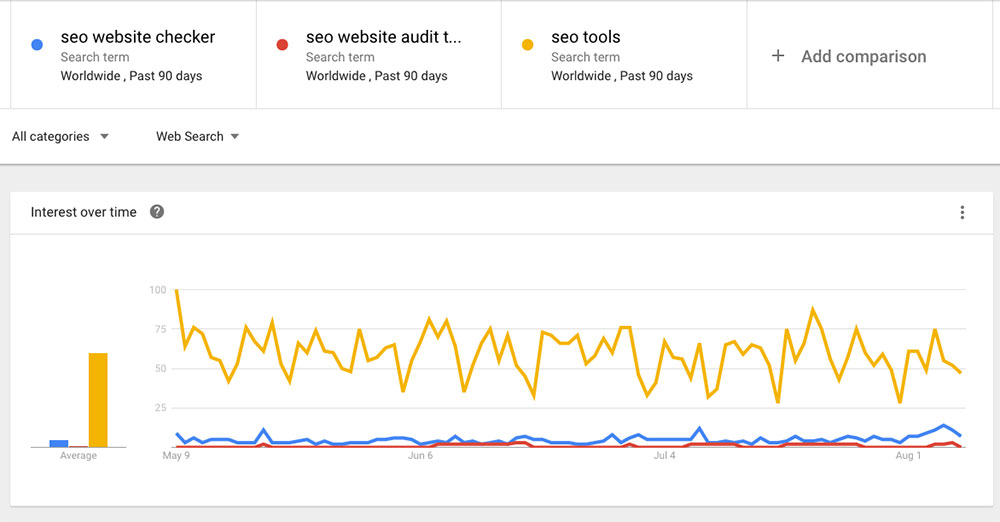 Note: The numbers in the interest over time graph do not represent the actual number of searches. They are representations of relative popularity compared to the most popular terms in the indicated time period and geography.
Competitiveness/difficulty
Total search volume isn't all you should be looking at, though. A search term like "SEO" is going to see hundreds of thousands monthly searches (110,000 to be exact), but it's such a broad term it's going to be almost impossible to rank for it, unless you're one of the really big players. A keyword like "seo analysis" has much lower estimated volume, but will be much easier to rank for, while a keyword like "free website seo checker" will be even easier.
This last keyword is part of what's known as a "long tail" keyword. Long tail keywords are searches that have low volume, maybe only a few dozen per month, but when combined make up 70% of all searches on Google. Long tail keywords are great because they're easy to rank for and are much more likely to convert.
To find the competitiveness/difficulty of a keyword open up Keyword Planner and Bing Webmaster Tools yet again. Keyword Planner uses CPC data, so it doesn't translate directly into organic search metrics, but it's generally close enough (and it's free). Bing's Keyword Research is strictly organic search data.
When researching a keyword in Keyword Planner, look at the columns "Competition" and "Suggested bid". Competition is pretty straightforward: it's how many advertisers are bidding on that keyword. Suggested bid represents what you'd need to bid on a keyword, based on current CPCs of other advertisers, for your ad to display. Keywords that are highly competitive for CPC campaigns are usually highly competitive for organic search as well. Advertisers don't target keywords unless there's money to be made off of them.
Search intent
Determining the search intent of a keyword is an important part of deciding which keywords to target. If you're an eCommerce site, you want to make sure your visitors are in the right frame of mind to be purchasing a product, while your blog is likely targeted to people earlier on in the conversion funnel. There are four basic types of keywords when it comes to intent:
Informational keywords: These users are at the very beginning of the conversion funnel, and are the least likely to convert right away. However, you can't afford to ignore them because they make up the majority of searches on Google. Informational keywords include words/phrases such as "how to", "do I need", "where to find", etc. View these searchers as potential leads to convert later via your blog or email marketing.
Product keywords: These searchers are a bit further along in the buying process, but still not all the way there. They've already decided they want or need to buy a product, but they just haven't picked which one yet. They usually include things like "review," "top 10," "comparison," "cheap" or specific brands, products or categories.
Note: It might look like spam to you, but don't worry about using terms like "cheap" in your keywords. They actually tend to convert very well.
In-market keywords: These people are actively looking to buy something. They expect their search to take them directly to the product they want to purchase — they probably have their credit card on their keyboard at that moment. These keywords usually include terms like "deal", "free shipping", "discount", "buy", etc. These keywords typically have the lowest search volume but will make up for it with sky-high conversion rates.
Freemium keywords: These keywords are used by searchers that are unlikely to convert in the near future. They're generally looking for free tools or a way to get digital goods without paying for them. Avoid targeting these keywords unless you use a freemium model or some other way of monetizing traffic, as these people are unlikely to ever buy anything.
It's good to have a mix of each type of keyword in your strategy to capture potential customers at each stage of the purchase process and usher them through the conversion process.
Once you know the search volume, competitiveness and intent of the keywords in your list, it's time to start paring it down. Remove any keywords that don't have enough volume or are too competitive to be worth targeting, or don't have the right intent for your type of website. There isn't really an ideal length for your keyword list — it depends on your site. Obviously, large, complex sites are going to have more target keywords than smaller, simpler ones. What's really important is to have the right ones.
Competitor Research
After you've qualified your list to keywords that will add sufficient value, generate traffic and attract in-market searchers, it's time to get a view of the competitive landscape. You don't need to target every keyword your competitors use — they might have a slightly different audience than you, but it's useful to know what keywords your competitors rank for and how they're targeting those keywords.
KeywordSpy is a free competitor research tool that's really useful. You can do research for either a keyword or a domain, so you can get a really good view of what your competitors are up to, as well as how hard it will be for you to rank for your keywords. When doing keyword research, enter your target keyword and look at the Organic Competition tab to find the top 10 organic results.
SpyFu is another free competitor research tool that you can use two different ways. The first is to enter the domain of a competitor you want to research. To see what keywords your competitor ranks for, click on Ranking History on the left. You'll see the site's top keywords and how it ranks for them. Enter your own domain to get useful information on who your competition is in the rankings, what keywords you compete over and which keywords they're beating you on.
Enter a keyword to see its ranking difficulty (out of a 100) and history. Check out the landing pages of the top results to see how they've optimized their pages for that keyword. Pay attention to title tags and the page content. Where and how are they using the keyword on the page?
Final Thoughts
There's no real one size fits all solution for keyword research, unfortunately. The keywords that work best for one site might not be the optimal list for another in the same niche, which is why you need to do keyword research in the first place. What's important here is that you've got a robust list of keywords that your target audience is using to search the web at all stages of your conversion funnel.
Like the rest of SEO, keyword research is an ongoing process. Some marketers refresh their research every quarter, some do it more frequently than that. Don't do it too often though, as it takes a while for your changes to take effect. You don't want to hamstring your efforts by constantly targeting new keywords.
What is your process for keyword research? What tools do you use? How often do you add/remove keywords from your list to target?