Your Guide to App Store Optimization (ASO)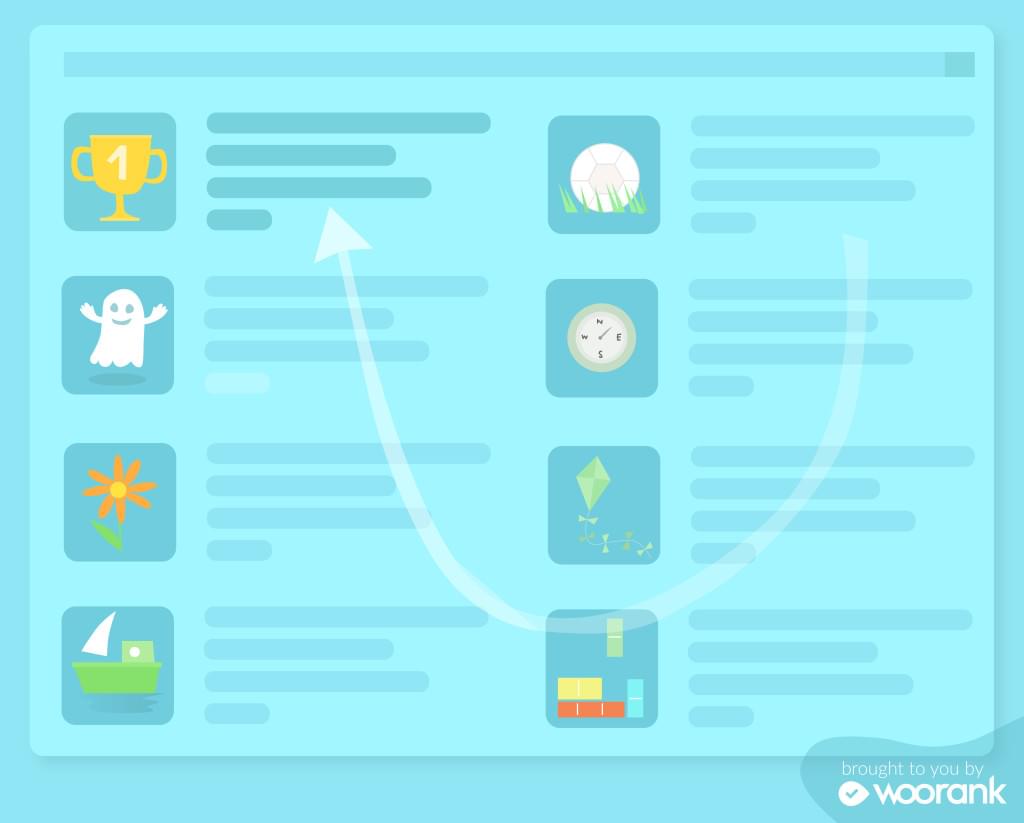 This article is part of an SEO series from WooRank. Thank you for supporting the partners who make SitePoint possible.
With over 2 million apps in the Apple App Store and the Google Play Store, you can find an app for anything. However, app publishers can struggle to get their apps to stand out from the crowd. Various app marketing techniques have proven to be helpful in order to improve app store discoverability, the most cost-effective being App Store Optimization (ASO).
ASO is often compared to SEO, as it's the process of optimizing certain elements in order to rank highly in app stores and increase app visibility. It's a similar idea to how you would optimize a website to appear at the top of search results.
While both of these practices rely on the same core principles, they still have their differences. They take place in different ecosystems — people searching in the App Store behave differently than when they search the web. Plus, app store algorithms work differently, using their own specific ranking factors.
Given that over 63% of apps are discovered by general browsing or searching within the App Store, there's no doubt ASO has to be part of any app marketing strategy.
In this article, we'll help you get started with ASO, outlining the most important elements that you need to optimize and their best practices. We'll also provide you with some tips and advice to conduct effective keyword research with the help of useful keyword tools.
Create a Unique App
Before starting to even think about your app's ASO and rankings, you need to make sure that your app is 100% perfectly designed and has a unique concept. Does your app solve a problem? Is it entertaining? Is your core functionality clearly defined? Does it offer a solid unique selling proposition that separates you from your competitors? Once you're sure that your app is ready and functional, you can start focusing on optimizing your app's Product Page.
By optimizing your app's metadata, you will increase your app's authority in the App Store and position in the search results. This will increase your app's organic downloads and, hopefully, your conversion rate.
The first step in building your own strategy is to conduct a deep market and competitor analysis. If you understand your audience and your competitors, you'll be able to find new opportunities that will increase your discoverability potential.
How Does ASO work?
As previously mentioned, ASO and SEO are easily compared. Search engine algorithms use multiple signals to rank pages in the search results, all weighted differently. These rankings factors vary from one search engine to another. It's the exact same thing for app stores.
Each store has its own rules and equations to rank apps. So it's crucial to optimize your app according to the store you're in. If both Apple and Google give indications on their ranking formula, a big part of the search results mechanism remains a mystery, therefore we can only make an educated "guess" as to how it works, based on experiments.
Just like for SEO, ASO has on-metadata and off-metadata factors ("on page" and "off page" in SEO). On-metadata elements are factors that the app publishers can control and optimize the way they want (e.g: app title, description, etc.). On the other hand, off-metadata factors are totally independent and can't be controlled, although they can be influenced (e.g: app downloads, reviews & ratings, etc.).
Let's review each ASO factor having an impact on your app's rankings and see how you can optimize each of them.
Optimize Your App's Product Page
App Icon
You only get one chance to make a first impression. Don't ruin it. Your app's icon is one the first elements that users see when browsing the app store. Visual assets are one of the most influenctial factors, so they need to be perfectly crafted and designed.
Since app users are probably confronted with many other apps similar to yours, you need to focus on your icon's uniqueness. Your icon is your first opportunity to show off your app's purpose. Together with your app title, they both should reflect what your app's about.
Your app icon needs to be appealing, relevant, memorable and eye-catching. All this in one tiny graphic asset. This makes the task quite challenging, so it's essential to dedicate enough time to it. Try using a single focus point to capture users' attention and avoid using details or text.
Test your icon against different wallpapers as well. Don't forget that app icons will constantly appear on your users' background and that they will be tapped to open the app. A great trick is to use a border to reinforce the contrast with the background.
The Apple App Store and the Google Play Store have their own requirements regarding sizes and rendering. Make sure to carefully follow the iOS Design Guidelines and the Android Graphic Assets Design Material.
App Name
Like your app icon, your app name should be appealing, easy to understand, straightforward and unique. It should be understood right away and reflect your app's purpose.
App titles are not only important in terms of conversion, they also play a notable role in app rankings. Indeed, both the Apple App Store and the Google Play Store algorithms allocate a huge importance to the keywords from app names. App names' SEO sibling could be the title tag.
Use your strongest keywords in your app title. Apple recently announced that iOS app titles should not be longer than 50 characters, in the aim of improving user's experience and reducing keywords stuffing.
On Google, the limit is even shorter at 30 characters. Keywords from app titles are therefore need to be chosen wisely.
The best practice is to use a nice, simple brand name with 3 – 4 keywords creating a relevant sentence. Don't forget to use URL-friendly characters so that the App Store can properly scan your keywords.
Keywords
Keywords certainly represent the biggest challenge in ASO. Whether on Apple or on Google, apps need to target specific keywords they want to rank in search results for. App keywords can actually be compared to the page content tag in SEO.
Here again, Apple and Google work differently. Apple provides app developers with a 100-character iTunes Connect keyword field while Google scans keywords from the app description. Other keyword placements are also taken into account. Indeed, keywords from the app title, the app publisher name, the in-app purchases and the app category are used to rank apps as well.
For the App Store, it is important to use all the available characters and to separate each keyword with commas instead of spaces. It is also highly encouraged to use single keywords instead of longtail keywords because it gives the algorithm more possible combinations.
For Google Play, the mechanic is closer to SEO. Repeat each targeted keywords (choose about 10) 4-5 times and scatter them throughout your marketing-oriented copy, combined with various other keywords. Pay attention to keyword density and avoiding keyword stuffing.
A great keyword is a keyword that is relevant to the app with high search volume and low competition. Indeed, the whole difficulty is to find keywords that users would type but at the same type would not bring too many app results.
A great way to find effective keywords is to use the help of an online keyword tool. There are a lot of tools that you can use. Google provides the AdWords Keyword Planner, and although it focuses on the web, it can already give you a lot of ideas.
Our personal favorite is AppTweak, the "WooRank of apps". AppTweak provides a complete ASO report reviewing any app's ASO performance as well as the tools and data required to find the best keywords for your app. The volume estimation relies on multiple parameters taken directly from the App Store.
AppTweak also provides the KEI (Keywords Efficiency Index) for each keyword. This is an indicator between 1-100 that helps you understand keywords performance in terms of ranking difficulty. The higher the KEI, the higher the chance of ranking for the keyword.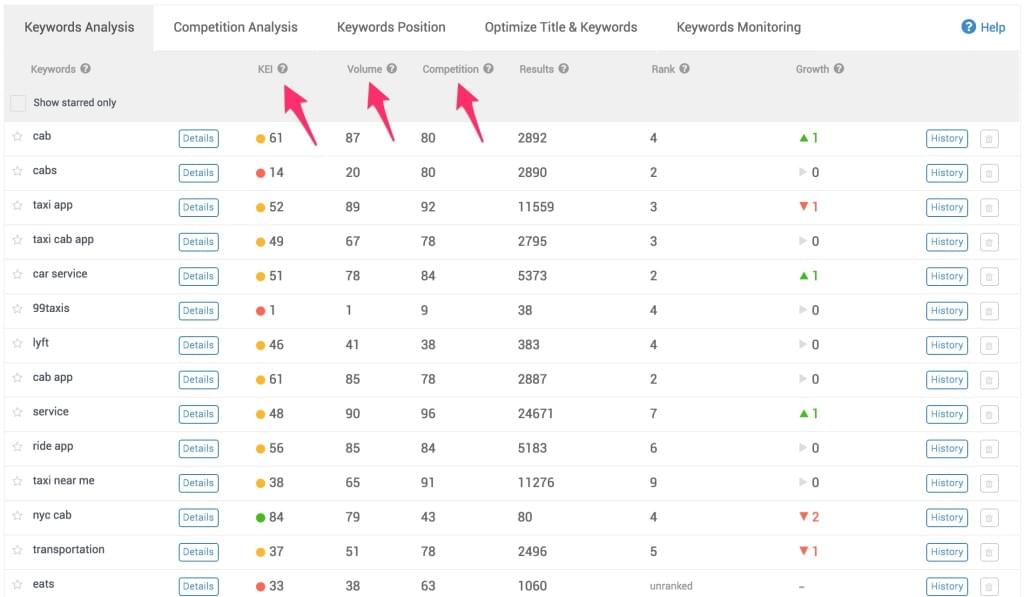 AppTweak also provides a lot of keywords suggestions such as the most used keywords in the app's reviews; the app's top ranked keywords; the app's category top ranked keywords; auto-suggestions from Apple or Google and much more.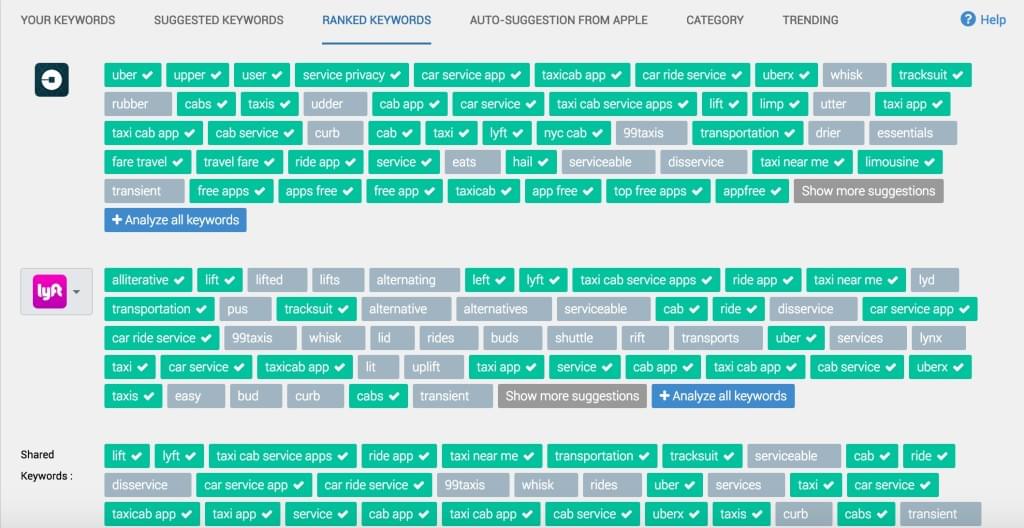 Keyword research should always start with an in-depth competitor analysis to understand how your competitors are positioned in the store. Examine all the keywords present in their app name, description (for Google Play) and use the "Ranked Keywords" feature from AppTweak to check their top ranking keywords. These are certainly some of the ones they target in the iTunes Connect Keyword field (or description).
The best practice here is to analyze as many keywords as possible (at least 100 per app and per language). Basically, any keyword that could be relevant to your app and that is more or less close to your app's universe.
From there, remove keywords that are too generic or popular. Make sure to avoid small KEIs and those you tried to rank for but never succeeded.
A great strategy to annoy your competition is to take keywords for which they are ranking well (between the 1st and the 50th position) and use them in your app title, description or keyword field. Try using this strategy with apps at the same level as yours. If they're ranking for these keywords, why wouldn't you?
However, it is also important to distinguish your app from your competitors by targeting keywords they don't. You'll need to find the right balance.
The most important aspect to understand is that keyword rankings change often according to trends, app store changes or the competition. So it's important to regularly monitor your keyword rankings and adapt your strategy accordingly.
App Description
Your app description will appear truncated on your app's Product Page. If users tap on "more," they'll be able to view it entirely. This is why it is very important to maximize your efforts on the first lines of your copy.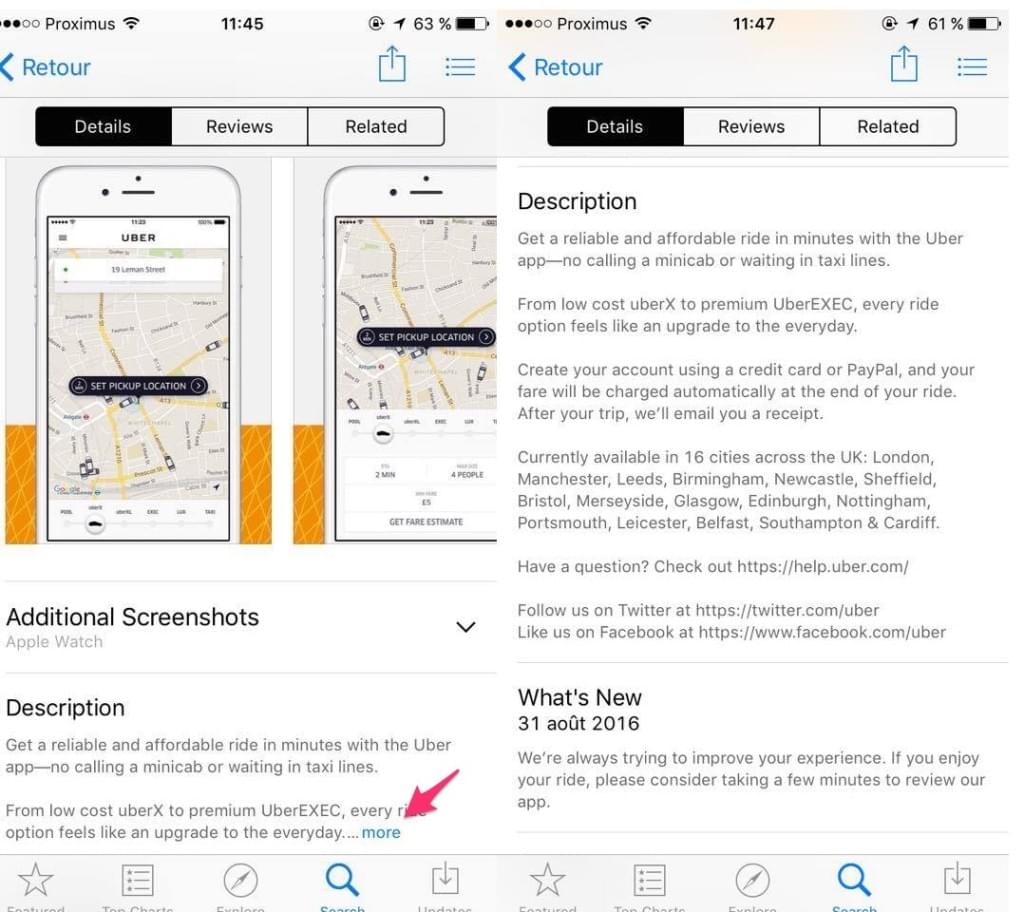 Make sure that it depicts what your app offers and its main features in just a few lines (2 – 3). Place a strong CTA there. Your app description should be customer-oriented, as it is a powerful conversion tool.
Users don't usually read app descriptions all the way; they'd rather quickly scan so make it as easy to read as possible. Using bullet points (or dashes) to list your unique features and benefits is a great trick to use.
Do everything you can to convince users to download your app. Don't forget to include your contact details at the end.
Regarding the algorithms, Apple does not officially index keywords from app descriptions but it seems that they might have a small impact. However, iTunes app's pages are indexed by web search engines, so make your Apple description SEO friendly.
On Google, app descriptions are very important in terms of ASO and therefore should be optimized accordingly. As mentioned above, try targeting about 10 keywords and repeat them about 5 times each, combined with various other keywords.
Don't forget to update your description with any new features, changes or keywords.
Screenshots and Videos
App screenshots and videos are very important visual assets to catch users' attention, just like your app's icon. Users actually prefer looking at your screenshots rather than reading your description. It's faster, easier and brings your app to life.
Use all available screenshots slots (5 for Apple and 8 for Google) to leverage your conversion potential. Also, be sure to publish an app preview video, allowed on Apple since iOS8 (15 – 30 sec footage on the device directly) or a promo YouTube video of 30 sec – 2 min on Google Play. Showcase your best features and focus on the first seconds of the video to grab user's attention.
Of course, your visual material needs to be high-res, very well-designed and optimized for each screen size.
Be sure to check the iTunes Connect Developer Guide and the Android Design Requirements for screenshots and video guidelines.
In the search results, your first two screenshots are displayed (or the first one and your app video). Ensure that these first screenshots showcase your best features and most important benefits.
A great trick is to focus on a single feature per screenshot while using a short overlay descriptive text above (or below) in order to highlight the key elements.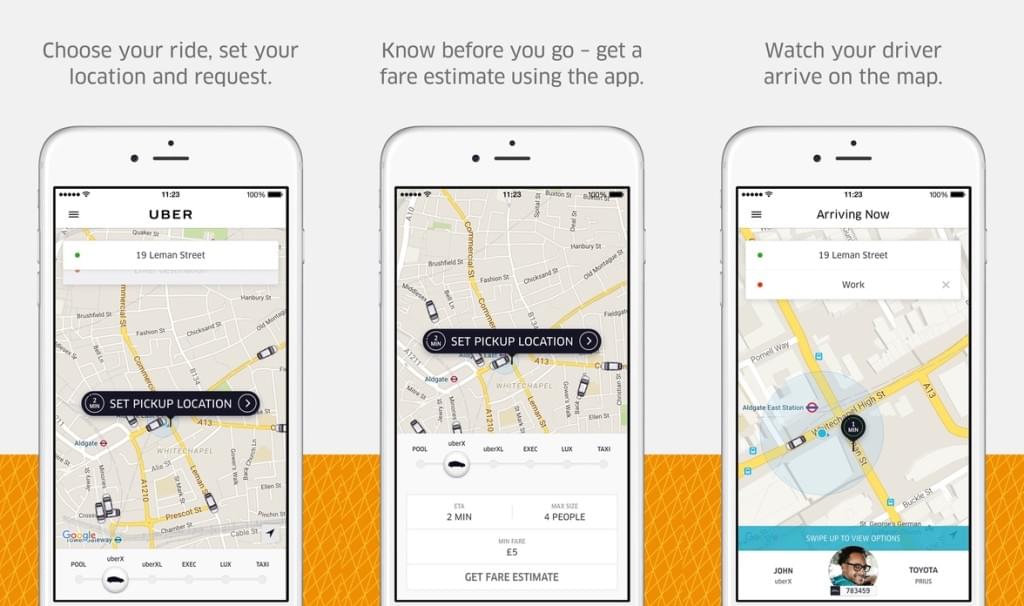 The algorithm does not officially take into account the fact that you have published visual content but some theories claim the total number of views might have an impact on your app's rankings. It certainly does have an impact in terms of conversion.
Make sure to A/B test your screenshots and to localize them according to the region you're targeting. Avoid using any text on Apple's app preview videos as localization is not available.
Reviews and Ratings
App reviews and ratings are some of the most important off-metadata factors, along with downloads and conversion rate. They attest the quality and the authenticity of your app. When two apps are fighting over the same keyword, the algorithm uses these factors to determine search ranking.
Reviews and ratings have a huge influence over the App Store algorithm and clearly play a large role in defining your app's position in the store. There's a high correlation between reviews and ratings and app ranking.
Actually, both the average rating and the rating counts (number of ratings) are crucial in terms of app rankings. The total number of ratings has even more weight as it indicates the size of the community behind the app and its level of engagement. Having a regular stream of positive reviews & ratings will increase your app's authority and weight in the store, especially in terms of keywords rankings.
You are very unlikely see an app in the Top Charts with very low ratings or a small amount of them.
Plus, from a marketing view, users' feedback is very important to other users. Nowadays people are constantly looking for others' opinions before eating at a restaurant, booking a hotel or buying a product. When browsing the App Store, users inevitably check out the average rating and the reviews when they're on the app's Product Page.
Therefore, it's crucial to encourage your users to rate your app as much as possible. A great strategy is to use a two-step pop-up notification process to ask feedback from your customers. Ask them first whether they like your app or not (or create a custom star-survey pop-up).
If they reply positively (or above 4 stars), ask them to rate your app directly. If they reply with a negative feeling, send them to your feedback page and try to contact them. This technique will drastically increase your 5-star reviews.
Also, it's important to listen to your customers' feedback as it can provide a powerful source of inspiration for your future developments: new features suggestions, bug fixes, improvements, etc. Always consider what your audience asks for or recommends.
There's a major difference between Apple and Google here. Google allows app developers to reply to their app reviews. They can therefore easily catch up with unsatisfied users and get them back. If your app is on Google Play, always make sure to reply to negative reviews in a positive and encouraging way.
Don't hesitate to ask family and friends to rate your app on its launch. It will give your app a massive boost and attract more users.
Versions & Releases
Recently, Apple announced that it will remove outdated and abandoned apps from its store with the goal being a massive clean up of all zombie apps that are polluting the app store and tainting user's experience. Apps must now make an update every 30 days or they will be removed.
An app's freshness is a crucial and determinant factor in the App Store — from both a marketing and an algorithmic view.
Updated and fresh apps will attract more users (who are always seeking improvements and novelty) and frequently updated apps will also be favored by the search algorithm. Fresh apps will mostly rank higher in the results than older apps for both Google and Apple.
However, it can be challenging to make your actual users download your new app version. A great way is to prompt them with an encouraging push notification listing your new features and benefits. It's also very important to write a compelling "What's New" section, including strong keywords.
For each new release you make, take the opportunity to update your ASO strategy. After a thorough analysis of your keywords' rankings (as well as your competitors' rankings), select new keywords to replace the ones you're not ranking.
Don't forget that your ratings reset for each update you make. This can give you a great opportunity to start from scratch and get rid of negative reviews. However, if you have a lot of great reviews and ratings, it might take you a little while to get these back. But if your app was liked before, there's no reason why your new update would displease your users.
Conclusion
In an effort to keep a high level of quality for their apps, both Apple and Google seem to rely on app conversions and retention. So ASO isn't all about downloads, but rather about finding sticky users that will keep using your app and stay engaged. Focus primarily on the quality of your app and use marketing techniques, including push notifications, to keep your users engaged.
Setting some KPIs to track impressions, pageviews, downloads, retention and engagement will help you monitor your ASO efforts over time and find opportunities to improve your app and keyword rankings.
And most of all, remember that App Store Optimization is not a miracle pill that will push your app to the top of the results. It's an ongoing process that constantly needs to be updated and tweaked as part of a global app marketing strategy.