A fast, simple and stunning theme you can rely on for Building companies!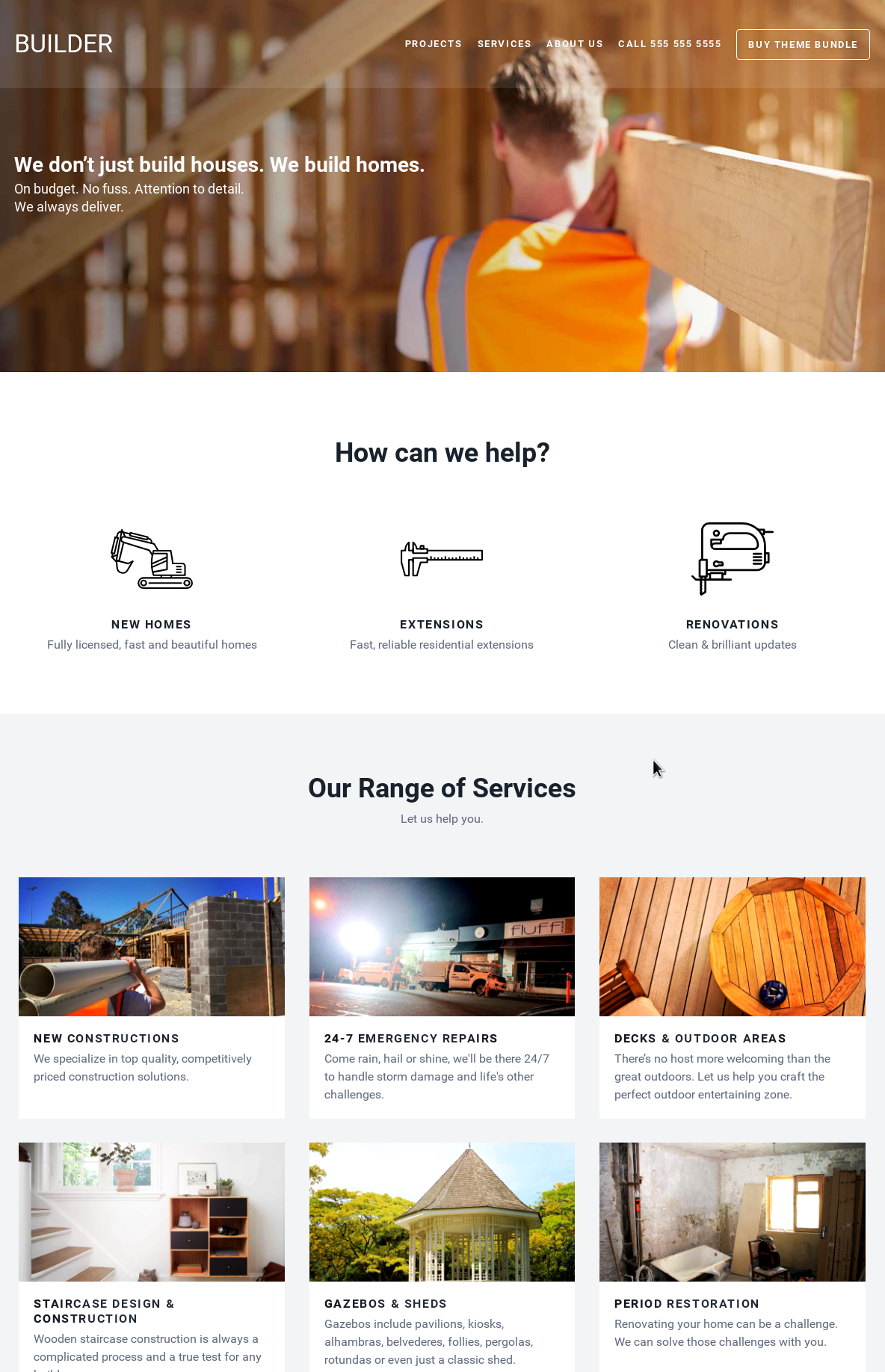 Download
Our beautifully styled themes for businesses in the construction and building industries will impress. Features include slick but subtle animated SVG icons to get attention, optimised contact forms, sticky headers and a gallery for displaying recent projects. This layout looks crisp at any screen size. This theme can be customised to suit any business or industry. And of course it's easy to set up with our clear documentation.' 
Simple, User Friendly Licensing
This theme is licensed under the GPL 2 or any later version.
Bundled components may use a different GPL 2-compatible free software license.
Please also respect the licenses of any third-party components you plan to use with our themes.
Awesome Stuff In This Theme…

A Fast, Minimalist, Beautiful Theme Design
SitePoint Builder Theme uses a minimal, elegant layout designed to showcase your plumbing company and the work you do.

Responsive Mobile Design
Your customers will be using different devices to access your web site – so it must adapt and be responsive to mobile. Our Builder Theme inherits our
Base Theme's
heavily tested responsiveness and flexibility.

Comes with 50 Elegantly Crafted Industry Icons
We have incorporated 50 beautiful, linear industry icons – designed by
CreativeNerds.co.uk
– and made it super easy for you to include the icons you need.

Quality Custom Photography - Yours to Keep and Use
We hired top-tier pro photographers to capture distinctive, original photos that you won't see anywhere else. We also added a bunch of carefully curated, licence-free stock images for your use.

Live 'Instagram' Like Image Treatments
Let's face it. Not every user uploads great photographs. We can't make a bad photo good, but we can give all your gallery photos a sharp, consistent look using
CSSgram
filters. Your original photos always remain untouched.

Classy, Modern Features and UI Special Touches
You're in the building industry, right? Watch as your service icons construct themselves before your eyes. Lots of icons to choose from.

Powered by SitePoint Base Theme
The SitePoint Builder Theme is powered by SitePoint Base Theme, which is a foundational theme we developed with a huge priority on page speed, mobile responsiveness, and high quality code. Our Builder Theme inherited ALL of its 'goodness' from the get-go from
SitePoint Base Theme
.
634 Font Awesome Icons
That's a lot of icons
Multi-Language Ready
Easy translations with WPML plugin support.
No 'Theme Lock'
Separate style and functionality.
Elegantly Responsive
Fast and flexible small screen layouts.
Tiny MCE Editor
WYSIWYG Post Editor.
Custom Logos & Headers
Perform basic styling right from the Dashboard.