Updated Web Page Analyzer
It's great to see Andy King has announced an update to his excellent, free page analysis tool at WebsiteOptimization.com.
For anyone who hasn't stumbled across it before, this is an online tool that takes a URL from you, and returns a nicely formatted report on the over-all efficiency of the page you gave it.
I've found it can come in quite handy with client work, particularly if their current site uses a chunky, older table-based structure. All you have to do is remember to generate a report on the current site before you start, and then another on your new construction.
While they know anyone can give lip service to 'more efficiency' and 'faster downloads' and 'reduced bandwidth', two reports detailing the clear improvements in fairly plain english usually help to leave a client feeling good about themselves. I tweaked my own, local, customized print stylesheet, designed specifically for client presentation. That might make a good GreaseMonkey script in future.
The new service adds:
support for Frames
support for iFrames
support for CSS based images
more realistic CSS and JS size thresholds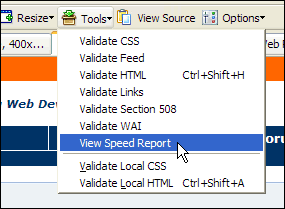 Of course, if you have the Web Developer Toolbar, you may already be quite familiar with the service, though I admit it's easy to overlook it amongst the other riches.
Simply go to 'Tools/View Speed Report' and you have yourself a report. Voila!