So That's What You're Talking About!
Welcome to this week's social media round-up, where I'll fill you in on what's been going on around the SitePoint community. It's been a busy week, with an exciting Talk With The Experts session taking place last Thursday morning. We talked jQuery with Craig Sharkie & Earle Castledine, and it's fair to say that it was an enlightening hour. If you couldn't make it and are interested in what was said, you can read the transcript here. The next in the series will be a session about Responsive Web Design, which is a pretty hot topic at the moment. You can find out more about that here.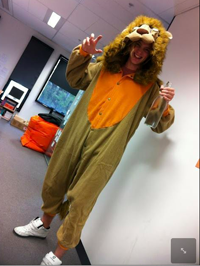 Our weekly Name That Pic caption competition was as entertaining as always. My favourites from the sitepoint.com contest are definitely Tony with "Definitions of 'business casual' were getting more and more stretched with each passing day." and Kevin Stevens with "John's attempt to persuade his future children that he was once cool was tragically flawed."
On a slightly more inappropriate note, Dan Wade was our Facebook winner.

If you want to take part, keep an eye out on our Facebook page tomorrow for this week's competition.
On the subject of photos, the Content Team over at the forums have just kicked off their photo challenge for June. If you're a keen photographer (or not, but like me you very occasionally manage to fluke something cool) then this month the subject is Reflections, Light and Shadow, so check it out.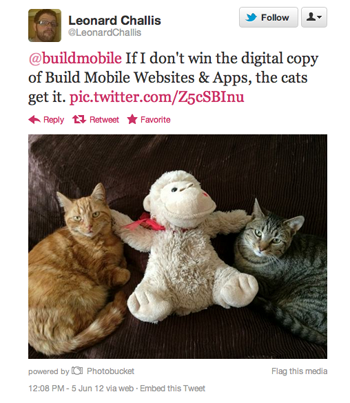 Things are set to get pretty entertaining over in the Twitterverse because I'm giving away a copy of Build Mobile Websites and Apps for Smart Devices on our @BuildMobile stream. I have asked people why they should get it – funniest tweet wins. @leonardchallis is currently in the lead with this tweet >
Last up for this week is something that I hope you can help me with. I have been trialling different live chat products for our Talk With The Experts sessions and to date I haven't found one that really fits the bill. My primary requirements are that people can sign in with guest access (ie no account necessary) and that the transcripts are downloadable. I have tried Campfire and Talkerapp but neither are doing the job properly. Does anyone know of another product that I should try?
Anyway, that's what you've been saying this week. I'll be back next week with more from our Community.
Ciao.