SitePoint Giving Away Books Based On Foosball Skills!
If you're a regular subscriber to Alex's Design View newsletter, then you've probably heard the SitePoint team moved offices recently — we're now happily ensconced in our swanky new residence in the Paris end of Collingwood. To celebrate the move, we thought we'd throw the doors open to all our Melbourne customers… and have a book sale.
We've stuck some CRAZY prices on all our office book stock and the invitation is open to anyone who lives in Melbourne (or will be in Melbourne this week) to grab yourself a bargain. However, in typical SitePoint style, we thought we'd give the book sale a bit of a twist.
You've all seen the age-old "Buy two, get one free!" and "Buy one, get the second at half price!" deals that carpet warehouse sellers and CD wholesalers offer. But really, where's the fun in that?
Here's our offer: buy three books and you'll get the chance to challenge one of the SitePoint team members to either a game of foosball or a high speed race on the office X-box. If you win, you'll get a fourth book absolutely free.
Now that sounds like a lot more fun!
First through the door today was Rohan Baumann (below) who quickly snapped up a handful of books: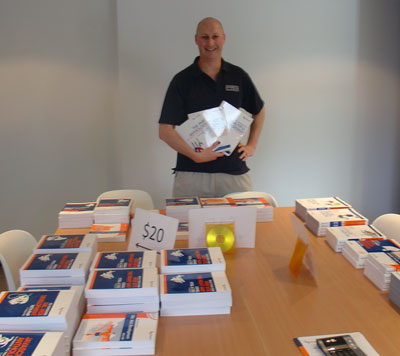 So if you're in the Collingwood area, feel free to drop in and say hi before the doors close on Friday. Who knows, you just might get a chance to give one of SitePoint's co-founders a foosball lesson!