Simply Rails 2: Your Rails 2 beginners book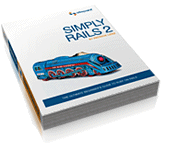 The first edition was touted as the ultimate rails beginners book and read by 10's of thousands of people. I'm pleased to announce a 2nd edition to Patrick Lenz's brilliant book…
It's called Simply Rails 2 and is available for purchase right now in PDF or Printed format at sitepoint.com.
Grab the printed version for just $39.95 or the PDF version for just $29.95.
With Simply Rails 2 you'll learn how to build bulletproof Web applications from scratch, with more features using less code.
Patrick's updated the entire book to take advantage of all the new Rails 2 features. It's the only beginner's book we know that's Rails 2 ready…
Inside the book you'll learn how to:
– Build and deploy your own Rails web application.
– Reap the benefits of using best-practice MVC architecture.
– Use Rails's Ajax features to create slick interfaces.
– Interact with databases easily using ActiveRecord.
– Add the magic of REST to your apps with Rails Resources.
– Use plugins to enhance your applications easily.
Simply Rails 2 will show you that there is a simple and easy way to build web 2.0 applications.