Share Your Web Screenshots On Twitter With Tweeshot
If you're a Twitter user and designer, you may be interested in a new service called TweeShot. It's a free app which allows you to share your web screengrabs through Twitter. The creators describe it as a "Pause Button" for the internet.
To use the service you must be a registered Twitter user and allow the app to work with your account, this is simply a matter of clicking the Allow button when you go to the Tweeshot homepage. Then all you need to do is type in the name of the URL, add a message to your tweet (the usual 140 characters minus #tweeshot), and then choose a Fullshot or Normal Shot.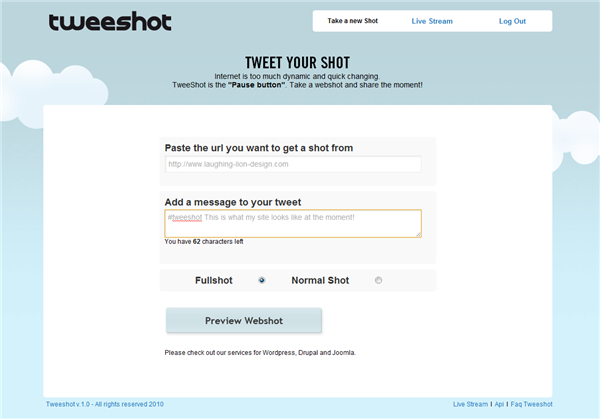 Fullshot scrolls through your entire web page and takes a screenshot of the lot, Normal shot is a screengrab of everything "above the fold". You can preview your webshot before unleashing it on Twitter. You can also print the screenshot. A "Live Stream" shows the real time public stream with the latest screenshots published by all users.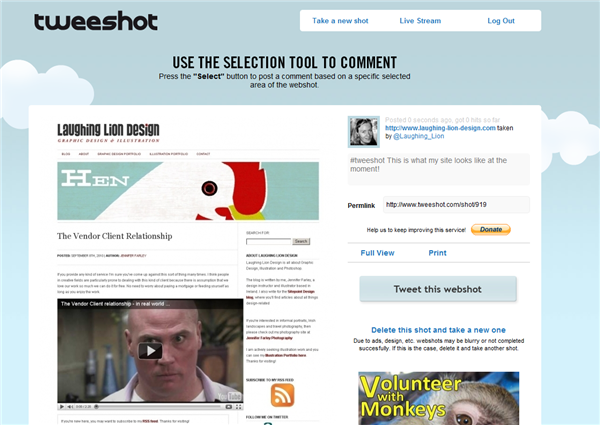 How Does It Work?
To quote from the horse's mouth; "TweeShot is based on a powerful screenshot shooter, totally scalable and flexible, that accepts API calls from internet clients". The creator's of the service are also actively encouraging other developers to create their own services based on the Tweeshot API.
In terms of ease of use, this is very simple. I imagine it would be useful for more than just designers. It would be handy if you could post your screenshots to Flickr too, but that maybe something that will come in the future.
Is Tweeshot a service you would find useful?