An FAQ about the Q&As on the SitePoint forums
Interested in joining our Q&A discussions but don't know how?
No worries. We've put together a list of frequently asked questions to help you join the conversations.
Q: I've clicked on the provided link and now I'm on the SitePoint forums. Now what?
Great! This where all the action will take place.
If you're there early you can choose to leave a question early. It'll get answered during the event and you'll receive a notification. If you're on the page during the event, you can choose to log in and join the discussion or sit on the outskirts and watch. If you're there after the event, no need to worry, the page will still be open and you can catch up on the discussion. You can still log in and leave a question and start a conversation with others.
Q: I have to log in. Tell me more?
Yes. To leave a question or to interact with the forum in general, you'll have to log into your SitePoint forums account. This is not the same account as your SitePoint Premium account. Without an account you'll just be able to watch the discussion unfold.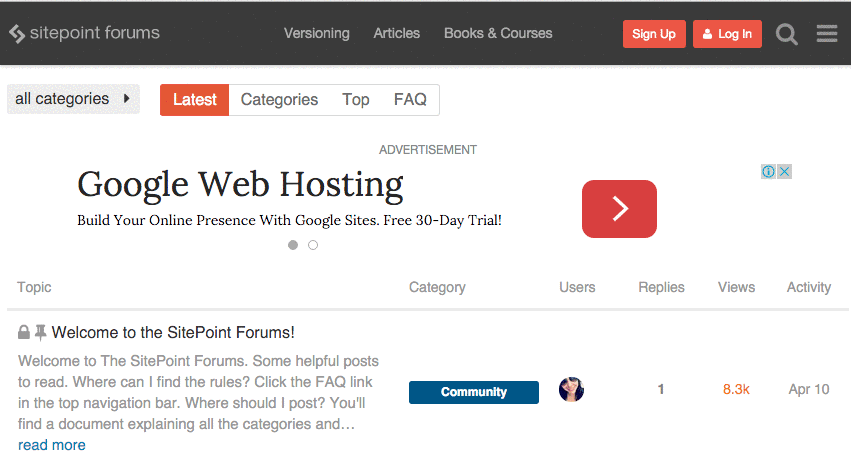 Q: My SitePoint Premium password isn't working. What do I do?
The SitePoint forums run on a different platform to SitePoint Premium. You'll need to get a SitePoint forum account to log in. Otherwise you can watch the discussion.
Q: How do I sign up?
It's really easy! Just click on the Sign up button and enter your details. There's a gif to help you out below.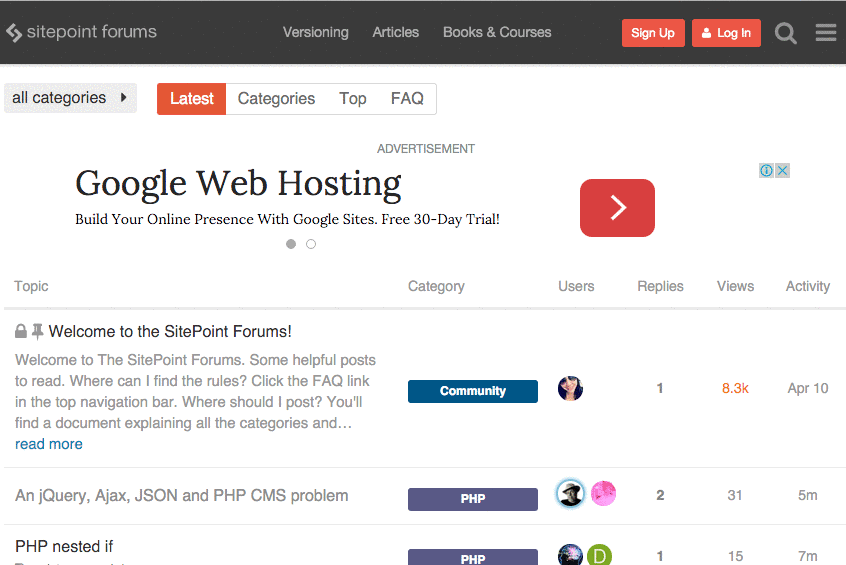 Q: I've joined the forums. How do I use this page? Help!
Welcome! Now that you've joined you have access to posting your questions on the forums. You're not limited to just the Q&A but that's what you're here for, so let's go over the basics.
To post your question, reply to my opening Q&A message.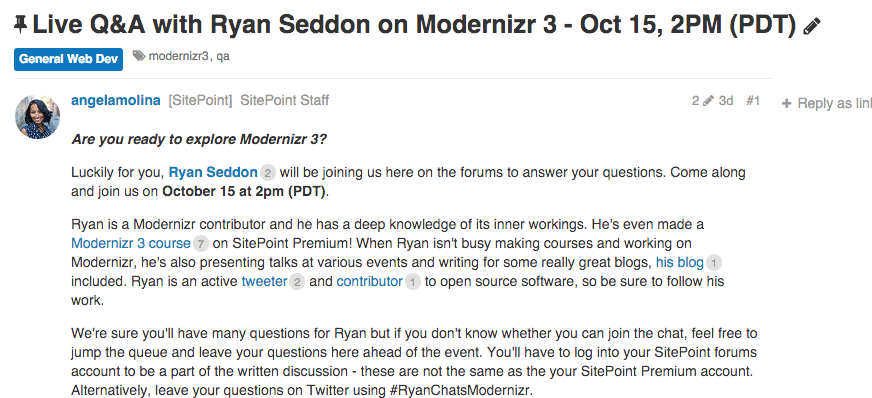 When responding to a question, I would suggest including a quote of the question. It increases readability.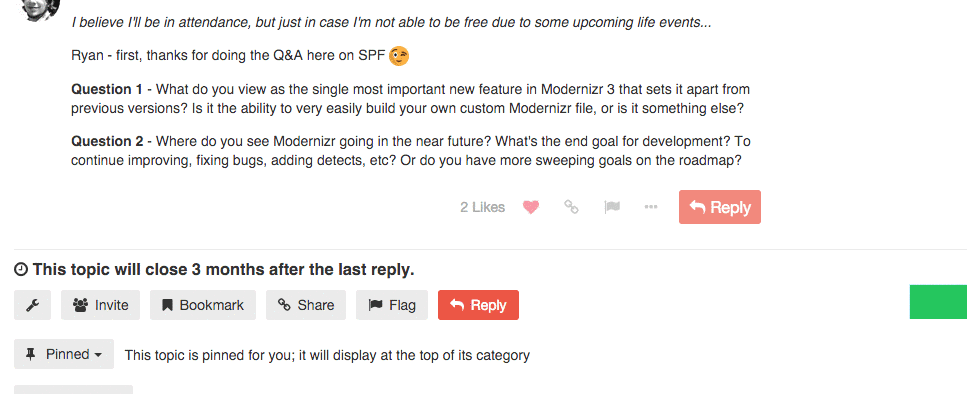 You can also use markdown to format your responses. If you're not familiar with markdown here's a cheatsheet. It will help format your responses, especially if they include code.
You'll notice that responses are nested however they're also posted at the bottom of the main thread. It can be a little confusing at first which is why I recommend including the original question you're responding to in the response/question.


Q: What else can I do on the Q&A page?
You can like questions and responses. Everybody likes a little heart.
Q: I don't want to join the forums. Is there a way around it?
Yes, some Q&A's have their own Twitter handle. Tweet us your questions on Twitter and we'll publish your questions on the forum for you. Otherwise, you can still read through the questions being asked and their answers.
Q: Is there a video?
No. The forums are a text based platform for discussions. Future webinars will have videos but this is not one of them.
Q: What is this platform running on?
Discourse. You may be familiar with this system from other forums running on Discourse as well.
Teach me more about posting on the forums!
Sure thing, here's a helpful guide.