Prototype Poster from Snook.ca
Free JavaScript Book!
Write powerful, clean and maintainable JavaScript.

RRP $11.95
Ok, you've just read Dan Webb's new feature article, 'Painless JavaScript Using Prototype' and you're feeling all inspired at the possibilities. What now?
Well as it happens, Jonathan Snook has the answer. After spending hours pulling it's legs off to figure out how it works, Jonathon has poured his findings into a really nifty visual reference for Prototype, which is now free to download at his site.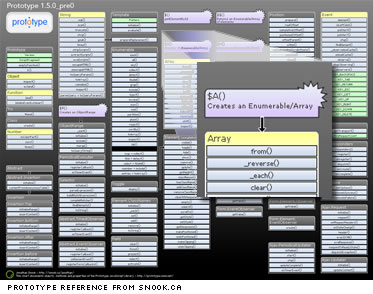 Hey, even if you're not into JavaScript, it'll still probably make a mighty purdy desktop.
Alex has been doing cruel and unusual things to CSS since 2001. He is the lead front-end design and dev for SitePoint and one-time SitePoint's Design and UX editor with over 150+ newsletter written. Now Alex is involved in the planning, development, production, and marketing of a huge range of printed and online products and references. He has designed over 40+ of SitePoint's book covers.
New books out now!
Learn valuable skills with a practical introduction to Python programming!
---
Give yourself more options and write higher quality CSS with CSS Optimization Basics.