Mind The Gap: New Logo Goes Down Like A Lead Balloon
Gap, the American clothing store has rebranded, with a new logo and website design.
The old navy box with white serif font has been replaced with a Helvetica typeface and mini navy box which sits in the top right corner of the logo.
| | |
| --- | --- |
| | |
| The new Gap logo | The old Gap logo |
To say the logo is a little bland may be understating things. The navy square looks like it was thrown on at the last minute, possibly to keep some kind of connection to the old logo? It appears to be a major step backwards and I can't understand why they changed it.
While we all love to have an opinion, and logos often bring out a love/hate relationship, around the blogosphere and Twitter the new logo is definitely getting a kicking. In this particular case, I don't think people are unimpressed because they don't like change, more that this change is uninspired and certainly doesn't scream "classic" for any point in the future. While I like the simplicity of the Helvetica font, the navy gradient square appears to be hanging around needlessly from another era. Some time in the late eighties/early nineties maybe. This is my kneejerk reaction, who knows it could become a favorite in the future…
You can see the new logo in action on the web site, where it already appears to be a little out of place.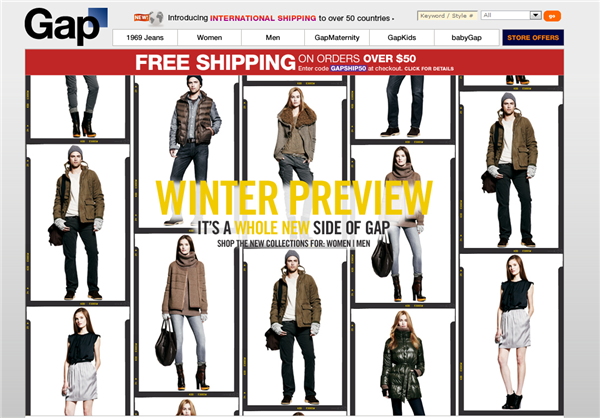 What do you think about the new Gap logo? A bold font to go with a bold new look, or a cheap-looking haphazard design?