Microsoft releases Acrylic beta
A few weeks back we were pondering what ever happened to 'Creature House's Expression' after Microsoft assimilated it 18 months ago. There was some talk about an upcoming beta, but in the software business the 'upcoming beta' can often be akin to the dragon, the mermaid and the unicorn. Fun to think about.
However in this case the talk appears to well-founded. At the old Expression URL there's now a page telling us about 'Microsoft Acrylic' and offering a free download.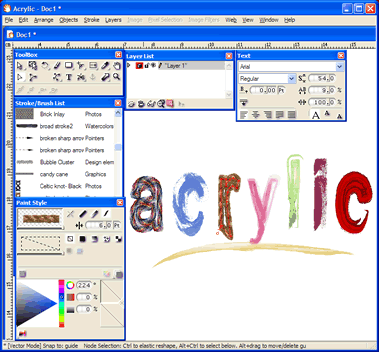 I haven't had time to really put it through it's paces yet, but it appears pretty similar to Expression 3. They've cleaned up the icons and interface a little, but it's still very idiosyncratic. Most of the old brush strokes seem to still be there, with a few extra.
Expression 3 had a panel specifically for exporting Flash buttons which seems to have disappeared — no great loss there. Acrylic has a new 'Web' menu that contains 'Exports to HTML' (dodgy tables that don't look particularly useful to anyone) and a 'Live Rollover Mode' that I never quite figured out.
Anyway, it's free and approx. 70Mb to download (you'll need a Passport login), so if you have some playtime, take it for a spin.