Marketplace Madness: Two Categories Now FREE!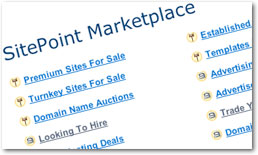 We've just started a 60 day trial period with offering two of our categories completely free of charge. The Trade Your Services and Want to Buy categories can now be listed in at no cost, except for any optional upgrades you may choose to apply.
The limitation is that listings placed in these categories will only be visible on the front page if the "Listing featured on front page" upgrade is applied. Listings will always be displayed within the category page as usual.
Enjoy the freebies!
Matthew Magain is a UX designer with over 15 years of experience creating exceptional digital experiences for companies such as IBM, Australia Post, and sitepoint.com. He is currently the Chief Doodler at Sketch Group, Co-founder of UX Mastery, and recently co-authored Everyday UX, an inspiring collection of interviews with some of the best UX Designers in the world. Matthew is also the creator of Charlie Weatherburn and the Flying Machine.
New books out now!
💁‍♀️ Fun Fact: Python was ranked #2 on a recent highest paid coders list. *
---
🤓 Ok. When did a code editor from Microsoft become kinda cool!?