Link Juice: Improving Google Ranking with Links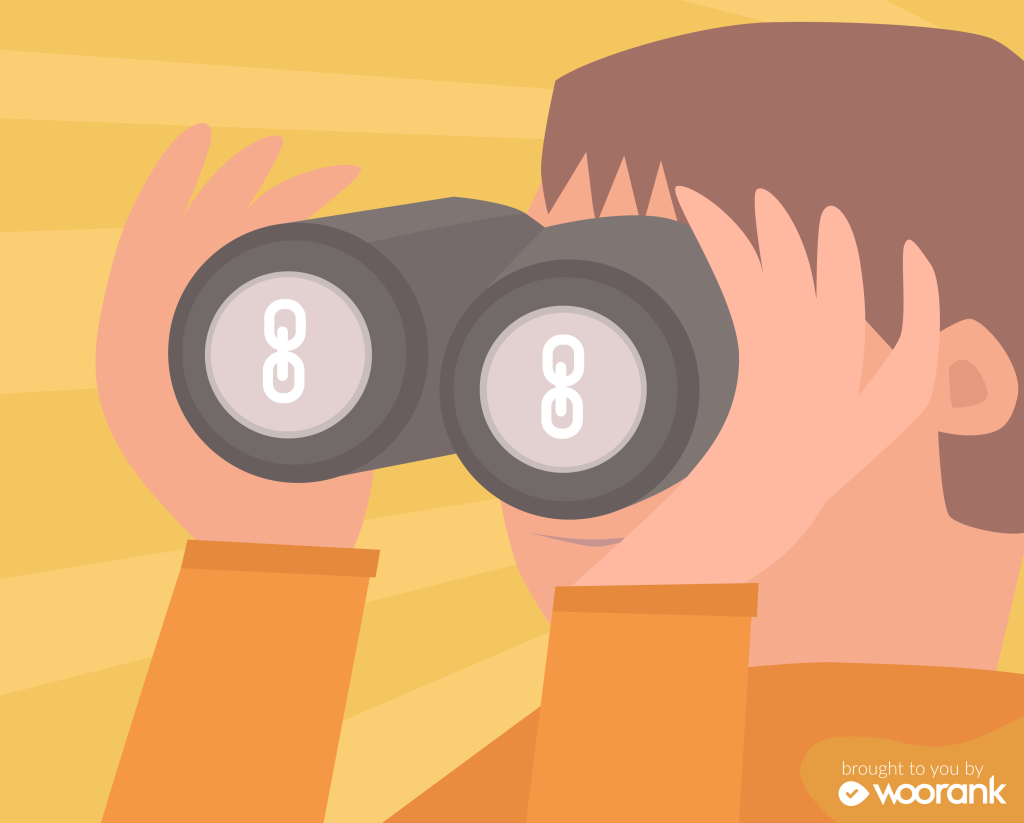 This article is part of an SEO series from WooRank. Thank you for supporting the partners who make SitePoint possible.
Any discussion of using links to improve your search engine rankings starts with link juice. What is link juice? Link juice is the term used in the SEO world to refer to the value or equity passed from one page or site to another. This value is passed through hyperlinks. Search engines see links as votes by other websites that your page is valuable and worth promoting. The quantity and quality of links pointing to your page are important factors when a search engine is deciding where to rank your page in search results.
So how does link juice work? Basically, the value of a page is divided equally by the number of outbound links on the page, and then passed to the URLs in the links. If your page has links from five sites pointing to it, it'll have more link juice than a different page with four backlinks (assuming all pages have equal authority). The more authority a page has, the more link juice it will pass.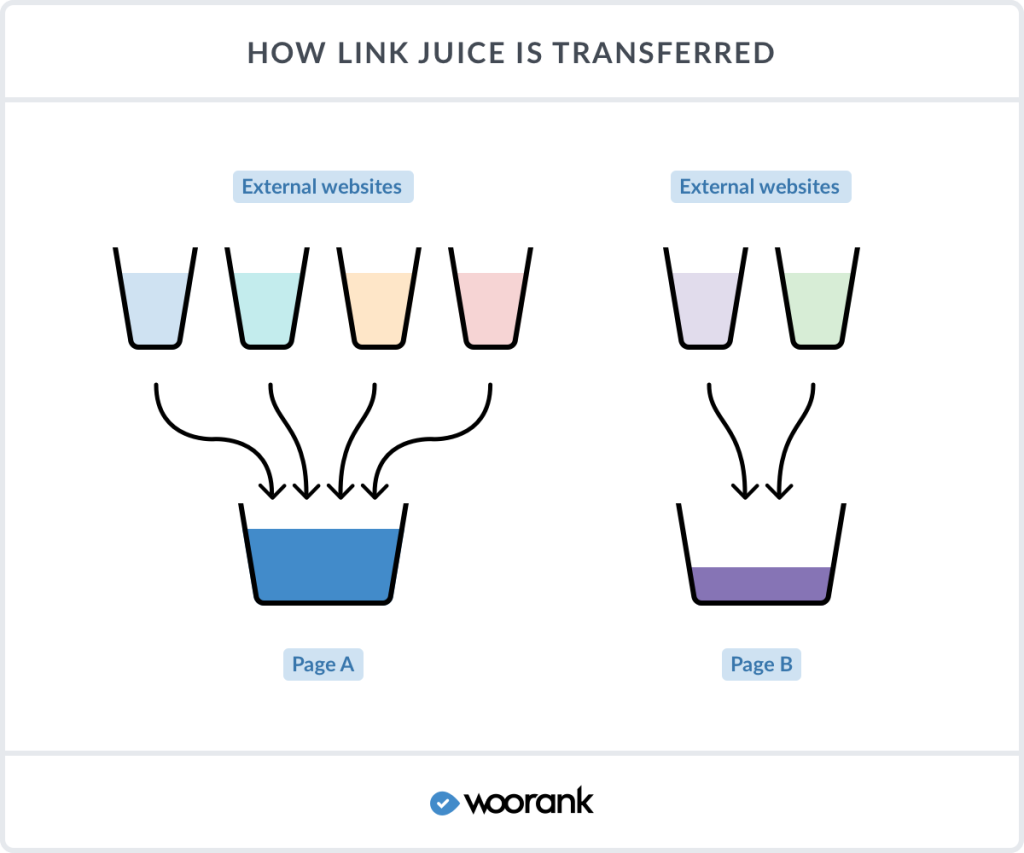 Note: You used to be able to use rel="nofollow" tags to direct the flow of link juice to certain links on your page, a tactic known as PageRank sculpting. This is no longer the case. While rel="nofollow" still blocks link juice from flowing to the linked page, it will not increase the value passed by the page's other links. The value that would normally go to those links is simply lost to the Internet.
What does this mean for your page? It means finding opportunities to get your site link juice will likely end up being a major part of your SEO. In this piece we'll go over a couple of ways you can make the most out of the link juice you may have already, as well as how to attract as many links as possible.
Low Hanging Fruit
Internal Linking
One often-overlooked source of potential link juice is your site. In a relentless pursuit of high-value backlinks, many marketers miss pools of link juice concentrated on their most popular pages. Chances are, you've got a reservoir of value you can pass on to your internal pages, waiting for you to tap into through internal linking.
As with most on-page SEO elements, internal linking starts with your keyword research (if you need help, there are plenty of free tools out there). Come up with a list of a few keywords you want to target for your page. Find pages on your site that feature those keywords using the site: and intext: operators to get the pages that have the most value to pass. For example, search site: www.example.com intext:"target keyword". Narrow this list down to a few high priority pages with high authority. There are a few tools you can use:
SEO Review Tools: This is a robust tool that finds both domain and page authority for a URL. It will also tell you the total number of external links pointing at your page. Use the Link Checker tool to find the URL, anchor text and authority information for your external links. They also have a bulk authority checker that lets you look up ten pages at a time.
Small SEO Tools: A free tool that scores domain and page authority of submitted URLs out of 100.
Open Site Explorer: This is a free tool by SEOmoz. You can get Moz's Domain Authority, Page Authority and inbound links for your page.
When you've assembled your lists of target keywords and high authority pages, it's time to drain the link juice. Place links to your target page using your keywords as anchor text. Be careful to avoid hyperlinking only your keyword exact matches as this could end up looking spammy to a search engine. Use synonyms or latent semantic keywords (LSI keywords) when possible.
Finally, you need to remove any unnecessary outbound links from your pages. As we mentioned above, the amount of value a page can pass is divided equally among the total number of links on a page. You can use the rel="nofollow" tag to avoid passing link juice, but you can't use it to increase the amount of equity passed by other links on the page. You can find the number of internal links on a page in Google Search Console under Search Traffic.
Link Reclamation
Link reclamation is the process of finding and, hopefully, fixing broken links pointing to your website. Use Google Search Console to find 404 errors. Click the URL and then on the Linked From tab to see your internal links to this page. From there, it's pretty easy to fix the links on your site. For external links, you can use a tool like Screaming Frog or Ahrefs to find broken backlinks. Hopefully, the reclamation process is as easy as sending the backlinking site's owner an email with the fixed URL. If not, use redirects to send users and link juice to the right page.
Check out this short video for a more detailed look at link reclamation:
Note: While the video states that 302 redirects don't pass link juice, that is no longer the case. Temporary 302 redirects now pass link juice and authority to the destination URL.
External Link Building
Link building has been a vital part of search engine optimization from the very beginning. External links can be one of the most important, if not the most important, ranking factors for search engines. Each external link to your domain is a third-party statement that your site has something relevant and valuable for users. This means that search engines see the link juice passed through external links differently and take that into account when ranking pages in search results – Google's PageRank algorithm is probably the most famous instance of this.
So how do you go about building backlinks for your site? This may seem like a daunting task as it's largely out of your control. But there are a few steps you can take to make your outreach a little easier and more likely to result in backlinks.
Use the Skyscraper Technique
You've probably heard several times already that when it comes to the web, "content is king". Link building is no exception. The first step in any link building campaign is to make sure you have content that's worth linking to. That means it needs to be useful, unique and original. The best way to do this is to start a blog. Creating content people want to share, known as linkbait, starts with more research.
Begin by looking at what your audience already likes. Tools like Buzzsumo and Ahrefs let you search by topic or domain to find which articles people find useful or interesting enough to recommend to their friends. These highly shared pages are signs that there's already demand for that content, which makes getting links a lot easier.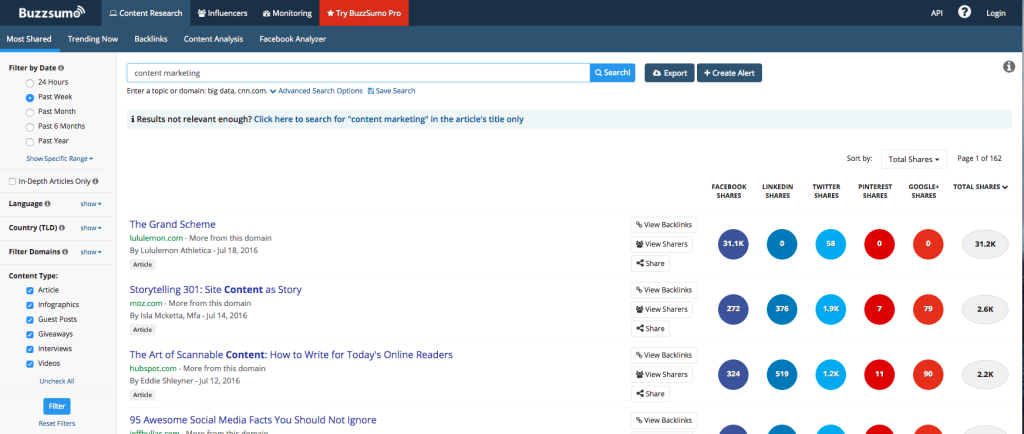 The next step is to take that highly shared content and make it better. This is known as the skyscraper technique, pioneered by Brian Dean at Backlinko. Ways to improve on successful content include:
Extending it: Many shared articles are lists like "Top Ten Superfoods" or "20 Homemade Halloween Costumes". Improve these lists by doubling or even tripling the number of entries.
Refreshing it: Once something is published online, it's there forever. That means there's probably some old, out-of-date content getting shared. Update it with new, relevant information and links to make it more useful for your audience.
Adding detail: Maybe you've found a piece of content that is listed with little to no details or references. Flesh out each point, even if it's just a sentence or two, and add a source. It will make the content much more valuable.
Making it look better: A well-designed page is not only more fun to look at, it's easier to read. Add quality visual elements — readers will get more out of your content and will be more likely to share it.
Promote your new content across your social media accounts — engaging with your social media audience encourages sharing and linking. And while social media links' status as a Google ranking signal is murky at best, highly shared content tends to rank better.
Outreach
Now that you've got your linkbait content, it's time for arguably the most difficult part of link building: outreach. For your best bets on people willing to link back to you, start with competitor research. Use a tool like Open Site Explorer to find the sites that are pointing to your competitors. Disregard referring pages like forums and directories. You've now got a list of websites that are:
Interested in your industry,
On-topic,
Already linking to content similar (but obviously inferior) to your own.
Go back to that list of tools we covered earlier to check the authority of the domains on your list. Find the sites with the most authority and target those to up your chances of getting the most valuable links. Other tools to use while generating your outreach list are:
BlogDash: Find bloggers in your niche and, importantly, their contact information and what they've recently written about.
AuthorCrawler: Built by Distilled's Tom Anthony, AuthorCrawl finds links to a page and crawls them looking for author markup to display their Google+ information. The tool uses the SEOmoz API for the linking blog's Page and Domain Authority.
When doing outreach for backlinks, start by establishing the value of your content. Check your target page for broken links that you could replace. The Check My Links extension is a great tool to find invalid links that could be redirected to your URL.
When sending outreach emails, come up with a general template to follow when writing to bloggers. This will help streamline your process. Some elements to keep in mind when writing your template:
Lead with your added value. Bloggers probably aren't interested in reading something they've already read or written about. Instead, start off by telling them how your article will fill in a gap they missed in their previous blog post.
Don't copy and paste URLs directly into the email. Even if you do this manually it will look like you used software that pulled the information from an Excel spreadsheet. Try hyperlinking to the blog post or even leaving out the URL entirely. Authors probably remember posts they recently wrote.
Use a unique subject line. If you're trying to contact a popular, authoritative blog, you're likely competing with dozens, or even hundreds, of people for their attention. If your email subject reads like a form letter or like you're doing blogger outreach, it will likely end up getting deleted unopened. Make your email subjects specific enough that the recipients will know the topic you're writing about, but vague enough they won't know you're hitting them up for links.
Include your personal contact information. This will add to your credibility and make your email look less spammy.
Above all else, make sure your outreach emails contain some personal touches. People can tell when they are reading form letters and you risk leaving a bad taste in their mouth which could impact future outreach efforts.
You may find that you only get a response from a small percentage of the bloggers you reached out to. Don't be discouraged. Remember: you contacted these bloggers because they had a large audience and high authority. This means that when it comes to value passed by their links, a little bit can go a long way.
In Conclusion
Since the beginning of search engines, acquiring link juice has been an integral part of SEO. They tell search engines that at least one person thinks a page has enough value and relevance to direct their users to it. Building your backlinks can be difficult, but with hard work and perseverance, you could start to see it pay off in a short while and with the principles and methods mentioned above you, can get yourself off to a strong start on your own link building campaign.
What tactics have you used to build your incoming link juice? What have you learned from past link building campaigns?