Keyword Research: Finding Local Intent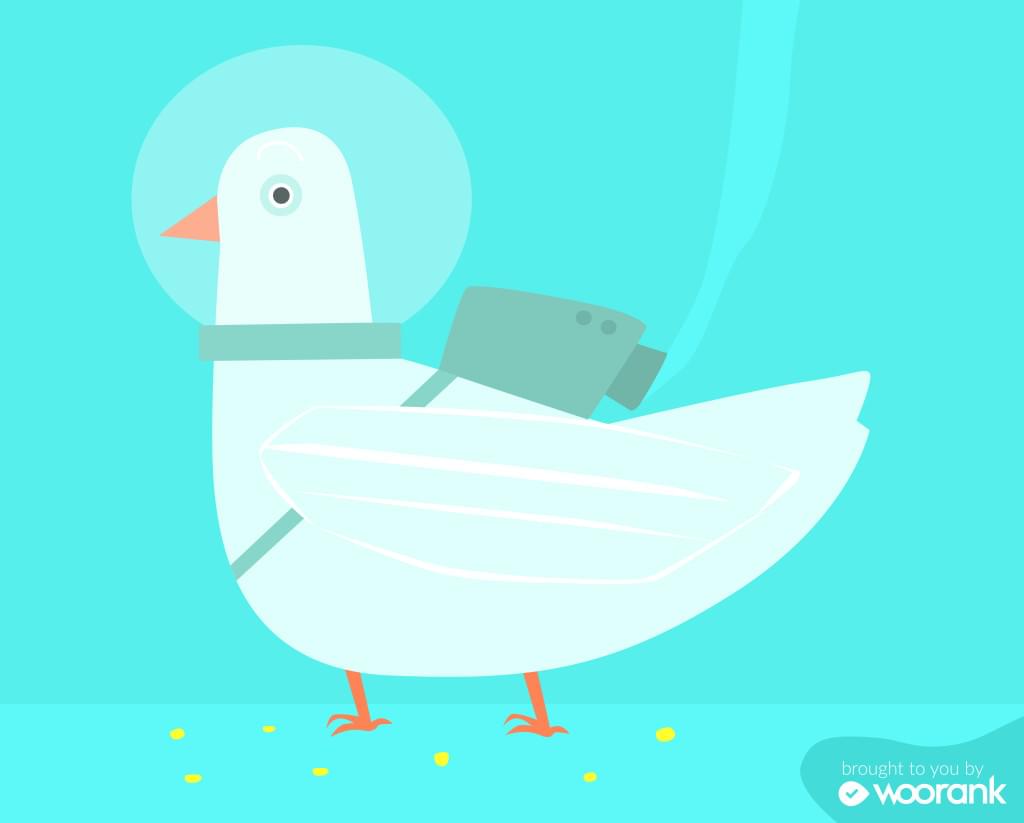 This article is part of an SEO series from WooRank. Thank you for supporting the partners who make SitePoint possible.
If you're a local, brick-and-mortar shop, local SEO is incredibly important; a few years ago ComScore found that almost 75% of local searches on mobile devices resulted in an in-store purchase. As with more traditional SEO, local SEO starts with keyword research. It forms the foundation of almost every on page and off page optimization you do going forward. If you're a local business, or even a large chain with multiple locations, you need to tailor your keyword research to build a solid base for your local SEO.
In this piece we'll go over how to find keywords relevant to your site and audience, and how to make sure those keywords are relevant to local searchers.
Local Keyword Discovery
Before you start digging into data like local search volume, click through rate (CTR) and competitiveness, go through the process of keyword discovery. Don't worry about whether or not these keywords are specifically local keywords, we'll cover that in a minute.
Just like with traditional keyword research, start with the keywords people are already using to find your website. Use Google Search Console's Search Analytics report and filter the data by queries. Add in the columns for impressions, CTR and position to make sure you're looking at your top keywords.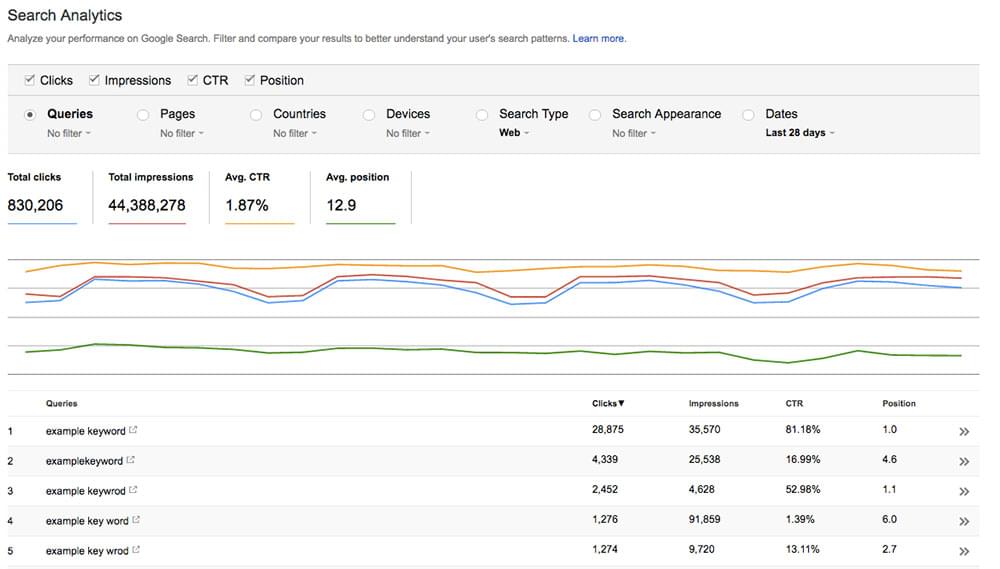 You probably won't end up targeting this list. Think of it more as answers to the question, "what type of business do you own?", or a list of topics covering your website content. If you've got a landscaping business in San Francisco's South Bay, for example, your list at this point might look like:
Landscaping
Home landscaping
Business landscaping
Landscaping design
Gardening services
Once you've come up with a list of topics, it's time to generate a list of keywords for each. These are the keywords people will actually type into a search engine to find your site. You don't need to come up with a list of every possibility, just a few places to start further research.
Start with one of the topics you just came up with and brainstorm a few keyword ideas. What would you enter in a search engine to find your business? This is where the "local" part of "local keyword research" comes into play. Start by appending geographical areas that you serve. So, for the "landscaping" topic for our Bay Area landscaper, you would come up with a starting list of keywords that looks like this:
landscaping San Jose
landscaping Palo Alto
landscaping Santa Clara County
landscaping Sunnyvale
landscaping South Bay
If you're having trouble deciding on where exactly your audience is located, dig into your analytics. Under Geo in the Audience section of Google Analytics, select Location. Drill down by clicking on your country and state. Set your primary dimension to 'Metro' or 'City', depending on the size of your business.
There's no real target number of keywords to come up with. If you've got a small site with just one physical location or a small service area, you'll need a lot fewer keywords than if you've got a large site or a business that has multiple locations.
Expand Your List
Google Suggest is a great place to start when you're looking to expand your keyword list, and is an excellent source of longtail keywords. If you want, you can do this manually by checking the bottom of the first page. This is a good way to go if you're a small business with a pretty simple website, but isn't very efficient. Luckily, there are plenty of free tools out there that will leverage suggested searches for you. Tools like Ubersuggest and Keywordtool.io work by appending every letter of the alphabet to your keyword and recording the suggestions. Keyword tool Answer the Public also includes question modifiers (how, where, who, etc.) and prepositions (for, to, with, etc.). Export your list of potentials as a .csv for easy analysis and use with other tools.
In Google AdWord's Keyword Planner, search for the local keywords from your list of topics you came up with earlier. You can enter multiple keywords as either a comma or paragraph-separated list or by uploading a .csv file. Click on the Ad Group ideas tab to find ideas for related keywords. You will need to create a free AdWords account to use this tool.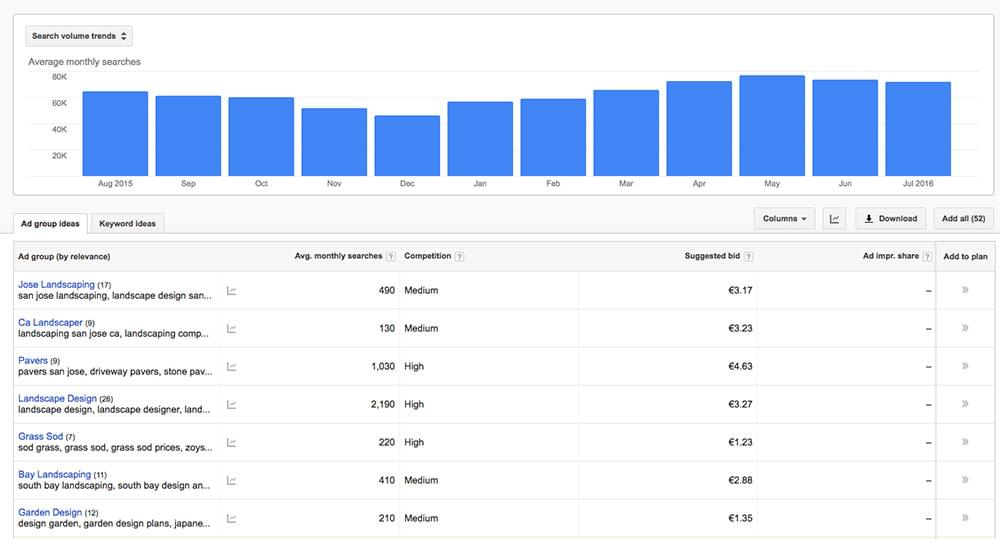 Go over the search volume trends graph at the top to see how seasonality might affect your traffic. Our fictional landscaping business could start a campaign in December so they'll appear at the top of search results when the season starts.
Trim Your List Down to Size
By now you've probably got a pretty sizable list of keywords — likely more than you should actually target. You've also probably got some keywords in there that don't generate enough traffic to be worth targeting. It's important to weed some of these out since local search volumes are generally already quite low.
Note that if you're a small advertiser, there's a chance you won't see all the data for your keywords. That's because Google recently started throttling data in Keyword Planner for advertisers that don't reach a certain monthly spend. However, WooRank's SERP Checker still provides full monthly search volumes at the country level.
Enter your keywords into Keyword Planner to see average search volume and competitiveness. Average search volume is the average number of searches per month, instead of total searches in Bing's Keyword Research tool.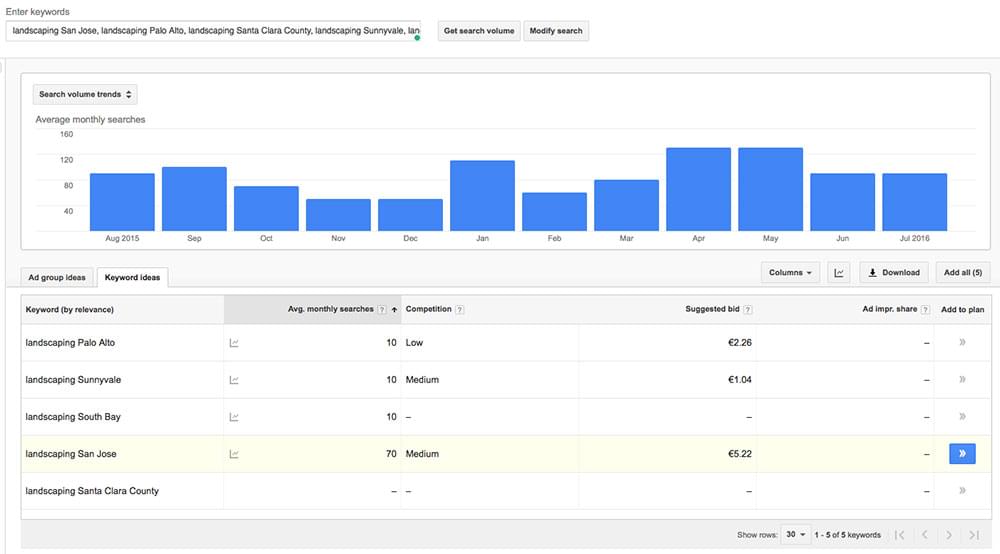 What's particularly useful in Keyword Planner is the competitiveness and suggested bid for each keyword. Technically, this information is for paid advertising only, but they generally work for organic search as well. Highly competitive keywords, or those with high suggested bids, can generally be seen as more valuable; advertisers won't bid very much on keywords that don't convert. Remember, though, that it's a tradeoff — these keywords generally get more traffic, but it is much harder (if not impossible) to rank for them.
Target your results by location to get hyperlocal. You can target by city, metropolitan area, county, state/province or country. For our landscaping company, we could choose to target the entire San Francisco Bay area of San Francisco, San Jose and Oakland, or limit our keyword research to just Santa Clara County.
You can further trim your keyword list by running small paid campaigns on Google and Bing to determine the monetary value of a keyword. Make sure you choose "exact match" for your keywords and set the most relevant pages as landing pages. Once you've brought in a significant level of traffic, divide the total number of visitors by the revenue generated for each keyword. So if "home landscaping San Jose" brings in 100 visitors that wind up generating $5,000 in revenue, that keyword is worth $50 per person. Meanwhile, "garden services South Bay" brought in 200 visitors and $6,000 for $30 per visitor. Start optimizing pages for "home landscaping San Jose" to increase your most profitable traffic, and consider weeding out keywords that either aren't very valuable or don't convert at all.
Competitor Research
Finally, do a bit of competitor research to see how your local competition is targeting the same keywords and if there are any gaps in the market for you to fill. Do a quick search of your top keywords. Start with your most valuable keywords. Since your search results could be skewed by search history and location, use AdWord's Ad Preview and Diagnosis tool to search for your keyword. This tool shows the true first page of search results for your target location.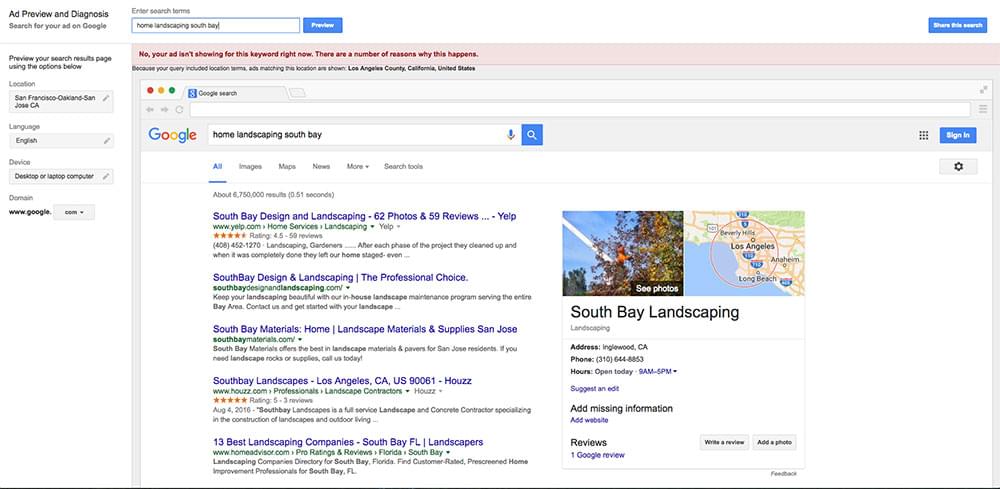 Take note of the top results. What are their title tags and meta descriptions? Visit their sites and look for sections and category names as well as blog categories and topics. Chances are, these are keywords they want to rank for and are targeting.
To get a little more in-depth, use a tool like KeywordSpy to search for either a domain, if you know your competitors, or a keyword, if you don't. To see your competition for a keyword, search for it on KeywordSpy and click on the Organic Competition tab for the top 10 search results.
You could also use SpyFu for competitor research. See what your competitors rank for by their domains and click on Ranking History to the left. This will show their top keywords. Check out your own domain to see which keywords you compete over and which ones they're beating you on. Search for a keyword to see its ranking difficulty on an ascending scale of 1-100. Click through to the landing pages of the top 10 pages to see how they've optimized their pages. Read through the page content to see how and where they use that keyword on the page.
Wrap Up
Local SEO can seem like a daunting, time-consuming task — especially when you're a local business owner with a full plate just from running your company! But, if you set your website up with some forethought and strategic thinking you will have a large impact on your business, particularly since Google's Pigeon update went into effect. To create the best opportunity for your business, start by tailoring your keyword research to get your website in front of searchers with local intent, and then build your website from there.
How have you found keyword with local intent? What techniques or tools did you use for your local keyword research? Has it impacted your SEO?