jQuery Meta Image Overlay
Free JavaScript Book!
Write powerful, clean and maintainable JavaScript.

RRP $11.95
This is an image overlay jQuery plugin that will allow you to display additional facts in a semi-transparent pane over an image that appears when a user hovers that image. And the special part of this plugin is that metadata plugin is already included.
This is just a simple jQUery plugin that presents an image with an overlaid title or caption in a graceful way.  Google Code hosts this plugin and it doesn't have any compatibility issues. It works from different browsers out there.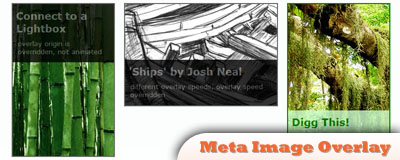 Sam Deering has 15+ years of programming and website development experience. He was a website consultant at Console, ABC News, Flight Centre, Sapient Nitro, and the QLD Government and runs a tech blog with over 1 million views per month. Currently, Sam is the Founder of Crypto News, Australia.
New books out now!
Learn valuable skills with a practical introduction to Python programming!
---
Give yourself more options and write higher quality CSS with CSS Optimization Basics.