← Back to all jobs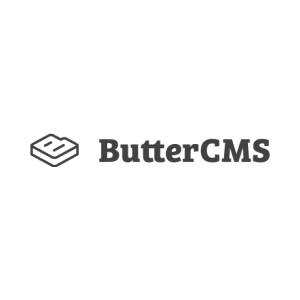 Full Stack Developer
About Us

ButterCMS is an innovative start-up SaaS business that delivers value to Developers and Marketers through a headless, API-based CMS (Content Management System) and blogging platform. Butter is a developer-friendly CMS that enables developers to build modern apps while also providing their marketing teams with the tools needed to make website content updates. Our customer base of Software Developers and Marketers come from a widely varied set of industries. Butter is the #1 rated headless CMS. Developers love us. We exist to make their lives better.If full stack development and working at a fast-growing startup excites you, then check out this position! At ButterCMS, you'd be joining a small, energetic team with the opportunity to make a big impact. As a Full Stack Django + Vue.js Developer, you'd add significant value to improve and enhance our product for the end-user that will enable us to maintain fast-paced growth. Our remote company culture thrives on the core values of Honesty, Respect, and Dependability that define the way we work as a team.We're seeking a talented and motivated Full Stack Django + Vue Developer with a strong background in software design and development having worked on multiple projects over their career. This is an exciting full-time opportunity to work in a fast-paced team environment.
Job Description

Key Responsibilities:
Get in on the ground floor of a leading SaaS Startup and learn what it's like to build a SaaS company.
Work closely with the founder on all product initiatives. There's zero bureaucracy - you will have maximum autonomy and responsibility.
Take on core responsibility of our platform built in Django and Vue.js.
Build out new capability as we grow into the best headless CMS in the market.
Improve platform reliability, security and performance
Technical customer success - many of our customers are developers. Help them be successful with Butter and take their feedback to improve our product.Job Requirements/Qualifications:Must be able to work remotely.
This position requires a high level of autonomy.
You're building the company - you love to get your hands dirty.
You take ownership and pride in your work.
Write well designed, testable, efficient code.
Experience with Django/Python a must.
Experience Vue.js or similar front-end framework also a must.
Experience working with high volume applications. Have done database query optimization and caching (Memcache, Redis, etc).
Eager and able to learn quickly. Self sufficient enough to solve problems.
3+ years experience as a software developer
Degree in Computer Science or Graduated from a boot camp
Fluent/native English speaker.
Apply for this position