Improving Your Content Marketing with Competitive Research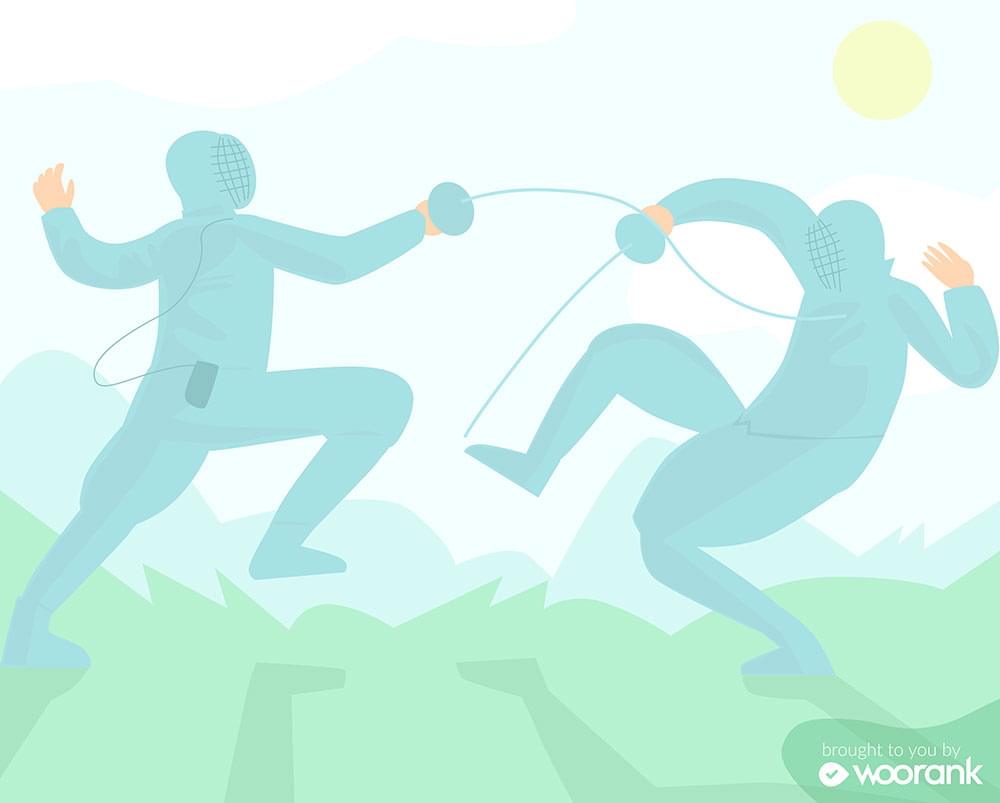 This article is part of an SEO series from WooRank. Thank you for supporting the partners who make SitePoint possible.
When starting a new marketing campaign, no matter the channel, you first need to get the lay of the land. Part of that is figuring out what your competition is up to when it comes to content marketing. Conducting competitive research for content marketing takes a serious amount of time and effort, but will provide you with valuable insights into how to position yourself in the market and what opportunities you have to quickly and easily gain an advantage over your competition.
Plus, with content marketing, you don't need an inside man to learn other businesses' strategies and priorities. With a careful eye and thorough investigation you can figure it out to your own benefit.
How to Find Their Content
The first step in competitive research for content marketing is to find your competitors' content. This can be a long process if your competitors have big, complex sites that have lots of content in lots of different places. If this is the case, you'll need to peek in every nook and cranny.
Start with the site's navigation. Are there any links that clearly indicate content? Navigate through each option to check for sub-navigations. Check the usual suspects first:
About Us: Some companies include long corporate histories and descriptions of products and/or services. Also check for news pages and press releases for content.
Learning Center: Learning centers and other areas of educational and training materials are content-rich. They're also great places to look for a site's evergreen content as content here is in-depth, authoritative and ideally stays relevant for a long time.
Blog: The obvious place to start when cataloging content. Many sites have multiple blogs for different types of content. For example, they may have one for posts relating to their niche and another blog for company and product news. Be sure to double and even triple check so you don't miss any.
Webinars: Content marketing isn't limited to text. Audio and visual content like webinars and videos, with accompanying transcripts, can benefit a site's SEO and promote brand awareness, product features and thought leadership.
Lastly, check the bottom navigation. There are usually some links here to content that's harder to find or requires several clicks from the homepage. The bigger the site, the more likely it is that you'll find important content here.
WooRank allows you to run a website audit for your site, alongside up to three competitors. This provides useful information, including related websites that can help you to discover other sites with similar content.
A second option is to use a tool like DeepCrawl or Screaming Frog to investigate your competitors' sites. These tools will crawl a site and return a list of all its URLs along with important page information like title tag, meta description, H1 headers and image alt text. This information will be really helpful later on in your research.
If you aren't using a crawler, create a spreadsheet to manually track your competitors' pages and content. Take note of the URL, title tag, article title, category or topic, content type (blog post, whitepaper, product feature page, etc.) and date published.
Content Audit
Now that you've gone through the long, exhausting process of cataloging all of your competitors' content, it's time for the real work to start: the content audit. This is the part that will tell you what your competitors are targeting, how they're doing it, if they're doing it well and what gaps exist for you to fill.
What Keywords Do They Target?
Content marketing generally has two objectives: get your site to rank highly in organic search results and convert the people who consume it. Your content's ability to be effective in achieving these objectives hinges on keywords used and page optimization for those keywords. Figuring out how your competition achieves this is the first step in the content audit.
Once you've compiled your list of content available on your competitor sites, take a look at each page. Identify the page's target keywords by looking at the words and phrases used in:
Title tags
URL structure
H1 tags
Article titles
Image alt text
Internal and external link anchor text
Keyword consistency (how often do they use keywords in each element on the page?)
Content audits are by their very nature a manual process, but you can help automate it a bit here by using a tool like DeepCrawl or Screaming Frog, if you haven't already. Once you've crawled the site, you can export the list of URLs into a spreadsheet that includes some of the important information on page elements, like title tags and H1 tags, mentioned above. You'll still need to manually evaluate each URL for page content, but this will help save you some time and effort.
You can also use your WooRank Advanced Review Keyword Cloud to find what keywords your competitors are targeting on their pages.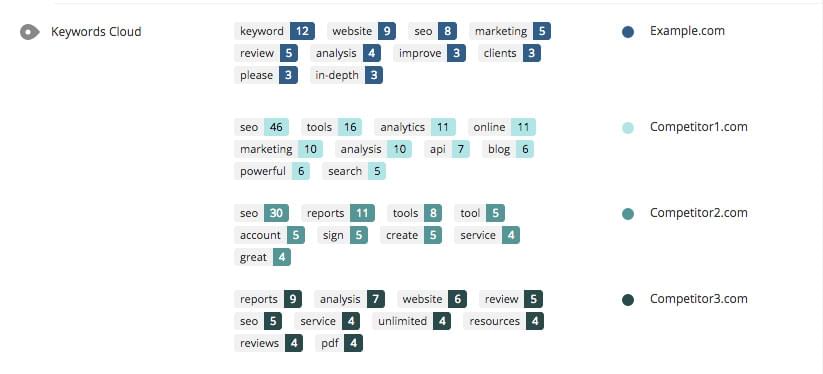 Make a note of the keywords used in each on page element in your spreadsheet. Then, do a quick search using those keywords. How does your competitor rank for that keyword? Do you rank for it as well? If so, are they outranking you?
Once you've determined what keywords your rivals are targeting, keep track of the ones you're competing over with WooRank's SERP Checker. This is a great tool to evaluate the effectiveness of your content marketing campaign. Monitor your ranking for your keywords over time and compare it against your competitors (maximum of 3).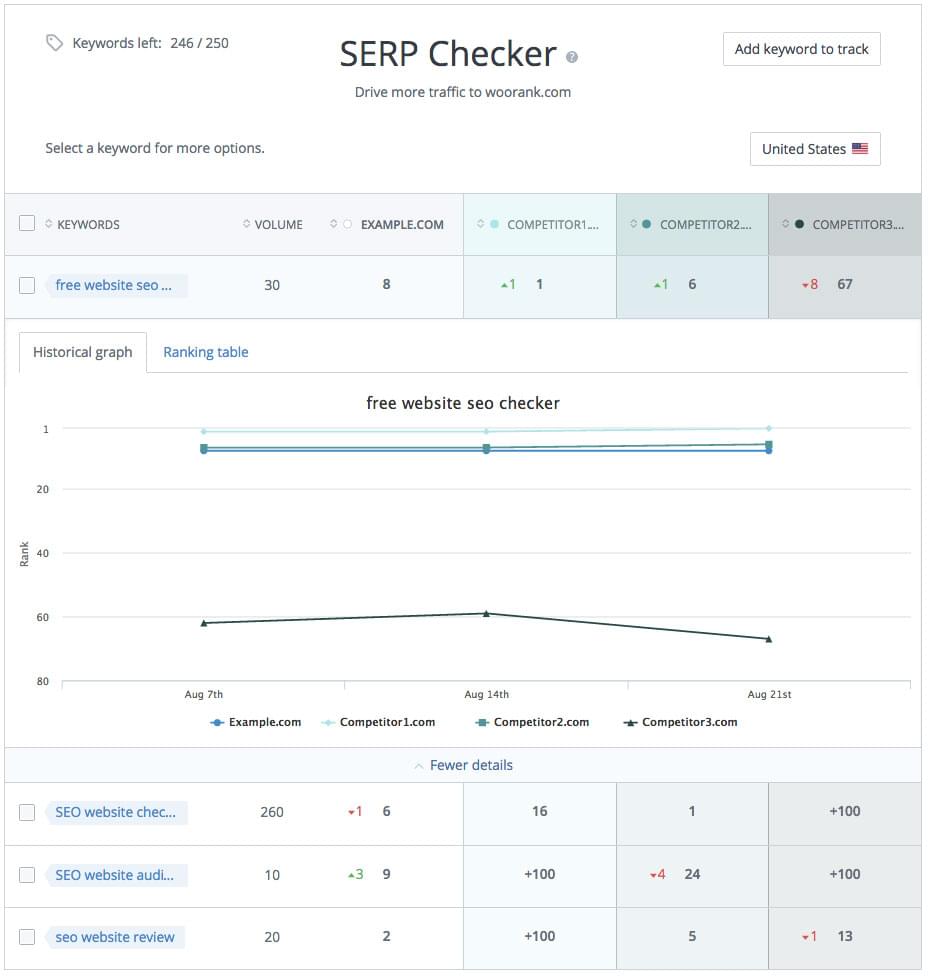 Content Survey
The second step of the content audit is to take a survey of your competitors' content. The content survey will give you a comprehensive look at their content strategy and how it compares to yours. There are four things to evaluate while surveying competitor content:
Content Quantity: How much of each content asset type do your competitors produce? Do they have a huge blog with tons of posts? The same with white papers, webinars or ebooks. Do they have a large content library they can leverage to create future content?
Publishing Frequency: Basically, how often do they create new content of each type? Do they blog daily, multiple times a day, every couple of days or once a week? Not all their content will have a date on it, especially if they're creating evergreen content meant to have a long shelf life.
Topics Covered: How many times have they published content on each topic? What you're trying to do here is figure out which topics they want to be thought leaders — and rank highly — for. Get as granular as you can here. You'll use this information to find areas that your competitors are weak on content and opportunities for you to build on those areas for your advantage.
Engagement: Generally, users engage with content they find useful and valuable. They're also more likely to share this content. If the competition's content has a comments section, check it out. Is there a particular type of content or topic that drivers more engagement than others?
Links: One of the benefits of creating great content is that it will naturally attract links. Understanding the type of content that drives the most links to your competitors can be used as a guide when looking for topics or content types. Majestic is a useful tool that can be used to find the most linked to content on competitor sites.
Analysis of this data will reveal not only priorities, but also weaknesses in their content strategies. If content is thin on a particular subject, that's a gap you can fill with your own in-depth articles. Conversely, if they've got a certain type of content that's stimulating a lot of discussions among readers, consider shifting your focus in your own content marketing.
Content Evaluation
The third step in the content audit is the most subjective and, for some, the most difficult: determining quality. Start by looking at the most objective measures of quality:
Is it free of spelling, grammar and punctuation errors?
Is the information up to date and accurate?
Does the content flow naturally? Can you tell if it's written by a native speaker?
Do keywords appear in a context that makes sense, or are they used in an unnatural, spammy way?
Next, evaluate the content's value to readers. The best content is authoritative and comprehensive. Determine if the content is in-depth or just scratches the surface. Also look to see if it is providing any sort of unique information or perspective — content that isn't saying anything new isn't as valuable for either the user or from an SEO perspective. Evaluate how well each article is written: is it easy to read and follow along? Is it written in a way that is interesting or even fun to read? Is it boring?
Look at social media shares as a way to gauge quality. People don't share pieces that are of low quality or that don't have anything of value to say. Use a tool like BuzzSumo to track shares on the most popular social media platforms such as Facebook, LinkedIn, Twitter and Google+. Just search for your competitor's domain, or subdomains, to see what articles have been shared the most across social media.
Applying Your Competitive Research
Finally, after you've found and audited your competitors' content, it's time to adjust your own content strategy to take advantage of your findings. Start by planning content that fills any gaps you've found during your content audit.
Say, for example, that you're a sports equipment retailer doing competitive research on another retailer. During a content survey you might find 10 product guides, 10 shopping guides, 15 press releases and 250 blog posts, one published every business day. You also found that they cover the topics soccer, football, basketball, baseball and running at a pretty equal rate, all product categories that you also sell. But it turns out they also have one or two blog posts each on lacrosse, hockey, swimming and rock climbing. Not only that, but the content they do have on these categories is thin — only a few hundred words or so — and posted infrequently. These are the gaps in their content strategy that you can leverage for yourself.
Really blow them out of the water by leveraging their content for your own. Find a thin or older bit of content that's since fallen out of date and make it better.
Update it: For content that was published a while ago, there's a good chance it's out of date. Refresh old content with new, relevant information like product specs, industry news and best practices. Replace any broken links to new pages, ideally on your own site.
Expand it: Maybe you found some thin content with little to no detail or sources. Flesh out each point adding some examples and linking to sources that add context and background to each point. If you're dealing with a list, improve on it by doubling or even tripling the number of entries.
Redesign it: After you've updated and expanded your content, upgrade its visual elements. A well-designed page is not only more fun to look at, it's easier to read. Add in relevant images like product images or screenshots. Consider turning an itemized list into an infographic for extra shareability.
Undergo this process at a regular interval. Conventional wisdom says to audit your competitors on a quarterly basis, but you can adjust this to match their output. Frequent posters should be analyzed more frequently. Finally, don't ape your competitors word-for-word. What works for them might not necessarily work for you, and you'll wind up with duplicate content hurting your SEO if you copy them. The point of competitive research is to augment your content marketing strategy to help you differentiate yourself and give you a boost in search result rankings.
How often do you conduct competitive research for content marketing? What have been your insights into your market? How have you used your findings in your own content marketing?