Google Launches A "Nicer" New Image Search
Google announced today on the official company blog that some major changes have been implemented in Google's Image Search. Marissa Mayer, Google's Vice President of Search, told the BBC that more than a billion image searches are now carried out each day on the site. That's a lot of searching and the latest improvements are designed to make searching for images quicker and easier.
These changes include:
When a user clicks on a thumbnail they are taken to a landing page showing the large image in context. Once the use clicks outside the image they're brought straight back to the original page.
Live enlargement of images as users roll their mouse over the thumbnails. The hover pane which appears gives a large preview and more information about the image and "similar images".
A denser layout of images for easier viewing of many images at once.
Better navigation. Optimized keyboard navigation (Page Up / Page Down) for scrolling quickly through pages of images.
Instant scrolling between pages will allow users to get up to 1000 images in one scrolling page.
Other, not so exciting changes for the average image searcher will be the inclusion of thumbnail picture advertisements in Image Search. Google Image's product manager Nate Smith said "for our advertisers, we're launching a new ad format called Image Search Ads. These ads appear only on Google Images, and they let you include a thumbnail image alongside your lines of text".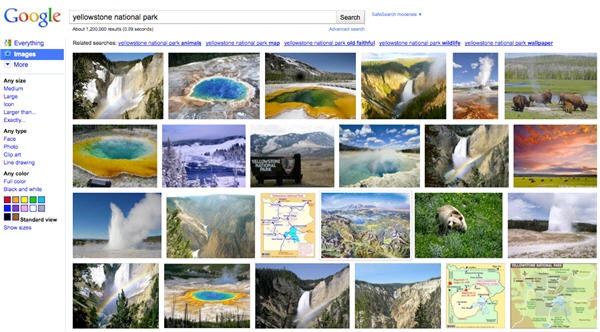 The upgrades to Image Search will kick in worldwide over the next few days. (Note at the time of writing, the changes weren't visible from Ireland, hence the use of the official Google Blog image)
Read more on the Google Blog and on the BBC.
Have you used the new Image Search yet? Do you like the changes?