Get Training for the GeekGames – in Mouse-Questrian, Spam-Shoot and Pong-Long
Ready your mouse, dust of the keyboard! The official opening of the GeekGames are just around the corner, and we're looking for only the fastest and most agile.
So jump in and start training.
What's in it for you? If you put up the best overall score on Mouse-Questrian, Spam-Shoot or Pong-Long, you'll be on your way to some amazing prizes.
Gold medal wins up a 13.3″ Apple MacBook Air and a 16GB Apple iPad 3; plus
Nine Kindle Touch ereaders for some lucky runners-up.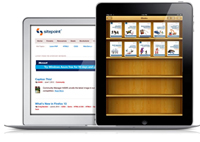 Not to mention two weeks of huge discounts on SitePoint products, including Freebie Days where you'll pay absolutely – nada, zip … nothing!
Visit GeekGames today, to join in the athletic spirit that's gripping the globe. Luckily you won't  even have to lift a finger … well – only to click!
Thanks again to our proud sponsor New Relic! Monitor your stack with New Relic and get a Data Nerd shirt. Monitor apps, real users and servers with the industry standard SaaS tool. Nerds unite!