Flex Quiz Time: Last chance to win a copy of…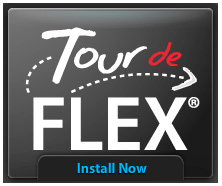 This is the last opportunity for some lucky person to walk away with their very own copy of Adobe CS4 Web Premium AND Flex Builder 3 Pro!
It's really simple (as always), all you have to do is read our brand new article – A New Window on HTML-Based Adobe AIR Apps – then take the quiz to enter the draw!
After you've completed the quiz you can still install Tour de Flex which includes over 200 Flex samples that you can run, each with source code, links to documentation, and more.
Just complete the quiz within the first 7 days then enter your details to go into the draw to win YOUR copy of Adobe CS4 Web Premium and Flex Builder 3 Pro. It will be drawn after the countdown hits 00:00:00 on 4th of March! Got to be in it to win it as they say, and there is only one prize to give away!
New books out now!
💁‍♀️ Fun Fact: Python was ranked #2 on a recent highest paid coders list. *
---
🤓 Ok. When did a code editor from Microsoft become kinda cool!?