jQuery Display LinkedIn Connections
This is how you can quickly load your LinkedIn connections into nice thumbnail links using some jQuery and the LinkedIn API. Check out the demo below. Note: You'll also need to include your API key from LinkedIn which you can get from the LinkedIn Developer Network.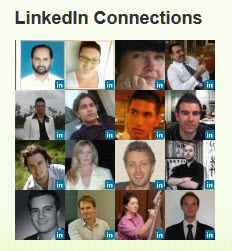 Demo
Sign in with LinkedIn to load your connections.
LinkedIn Connections
jQuery
function loadLinkedInData()
{
    //element cache
    var connectionsElem = jQuery("#connections"),
        loadingElem = connectionsElem.find('.loading');

    //show loading image
    loadingElem.show();

    //load in linkedin connections
    IN.API.Connections("me")
    .fields(["pictureUrl","publicProfileUrl"]) //fields to load in
    .params({"count":30}) //number of thumbs to display
    .result(function(result)
    {
        //process the results for each connection create html
        var profHTML = "

";
        jQuery.each(result.values, function(i,v)
        {
            if (v.pictureUrl)
            {
                profHTML += "";
                profHTML += "";
            }
        });
profHTML += '

';

        //display the connections html
        jQuery("#connections").html(profHTML);
    });
}
HTML
LinkedIn Connections