Content Marketing & SEO for Local Businesses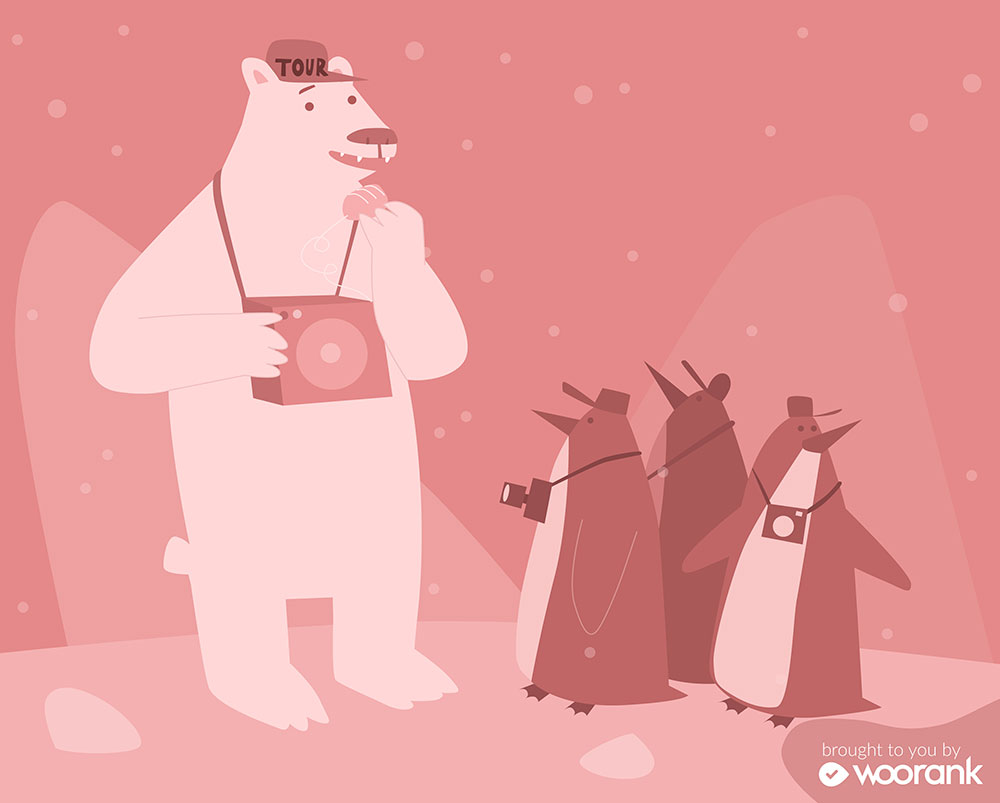 This article is part of an SEO series from WooRank. Thank you for supporting the partners who make SitePoint possible.
According to the Content Marketing Institute, content marketing is the "strategic marketing approach focused on creating and distributing valuable, relevant and consistent content to attract and retain a clearly-defined audience – and, ultimately, to drive profitable customer action." While it's not exactly synonymous with SEO, the two are closely related, and thanks to Panda, you need to produce quality content if you want to rank highly in search results.
For small and medium businesses, it may seem like a laborious task to take on with big brands in search engine results. Fortunately, there's a place where you can not only compete, but actually get a leg up on the giants: local search results.
Since the Pigeon update, Google has been giving preference to local businesses when a searcher's keyword indicates local intent. In this piece we'll go over how to create great content that will help your site rank well in local search results and will also help boost positive brand awareness and sales.
Local Keyword Research
Find Keywords to Target
Just like traditional SEO, local content marketing starts with local keyword research. Come up with a list of seed keywords as a jumping-off point. Think of these as different topics that your website covers, categories of products or services that you offer or short descriptions of what sort of business you own. For example, a business that sells above ground swimming pools based in the Boston area could come up with topics like:
Above ground swimming pools for sale
Above ground swimming pool installation
Above ground swimming pool maintenance
Above ground swimming pool cleaning
Brainstorm a few ideas for each topic. This is where you'll start to localize your keywords. Add your geographical area at the end of each keyword. Keep your customer base in mind here: how would they search for a company that does what you do? For our pool company's pool cleaning topic, your local keywords might look like:
Pool vacuum boston
Above ground pool vacuum ma
Pool filters in boston
Automatic pool vacuum boston
Robotic pool vacuum eastern ma
Not sure exactly what comprises your target location? Check your analytics location report and, depending on the size of your business, filter by state, city or metro. Your main sources of traffic are the areas where your demand is greatest.
There are lots of tools you can use to help with your keyword research. Both Google Adwords and Bing Ads each have Keyword Planner tools. Enter your list of keyword ideas or, if you exported a list from one of the free tools like Ubersuggest, upload it as a .csv. If you still want to find more keywords to target, search for new keywords. Otherwise choose to get search volume and data trends.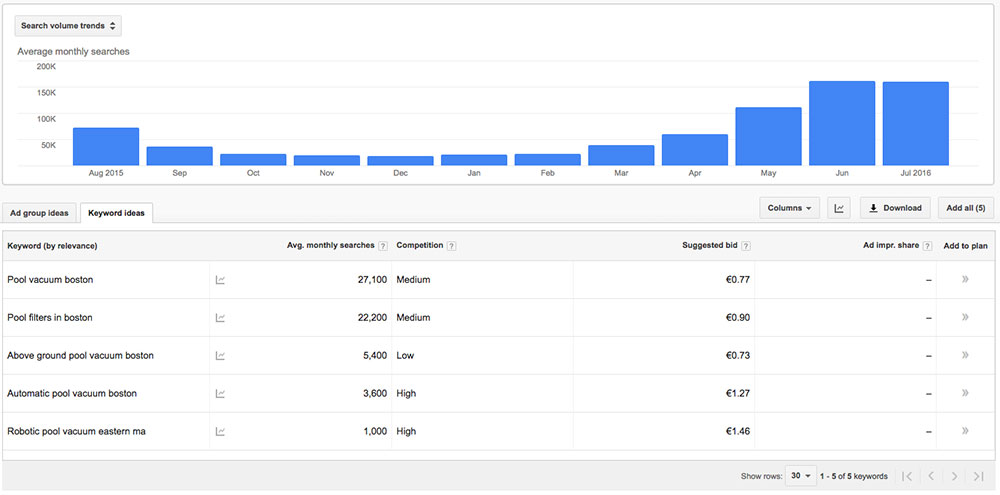 Use this tool to weed out any keywords that don't get enough monthly searches to be worth targeting. Avoid targeting overly competitive keywords as well; they might get a lot of searches but you'll spend too much time trying to rank for them. Make sure you check local traffic as well. A keyword that gets a lot of traffic globally might not be that popular where you live. There's no real ideal number when it comes to search volume. It really depends on the nature of your industry.
Competitor Research
Do a quick bit of competitor research to get the lay of the land, starting with your most valuable keywords. When doing a Google search, use AdWord's Ad Preview and Diagnosis tool. Search history and geography could be skewing the search results you see, so this tool gives you a view of the true first page of search results.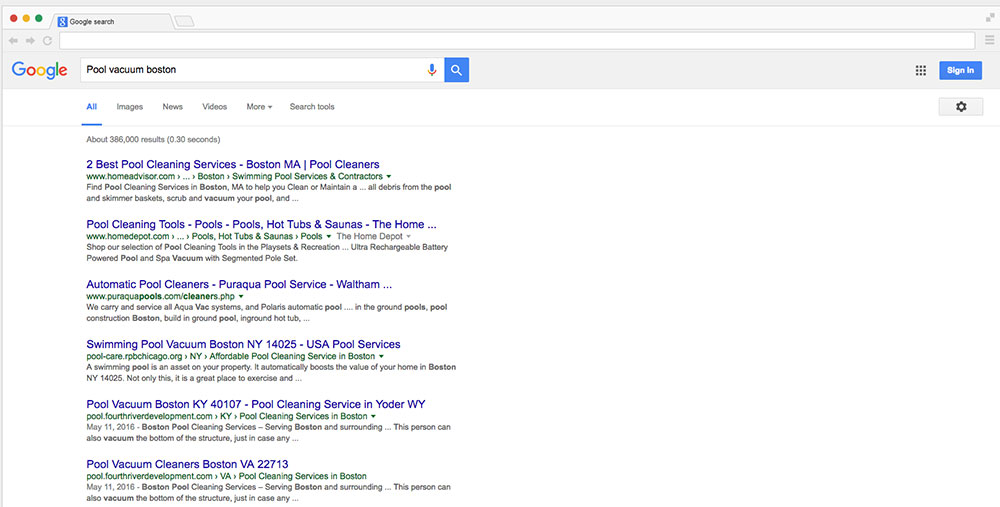 Go through the first few results and note how they use the keyword. What are their title tags and meta descriptions? Look at section and category names as well as blog topics and titles. These will likely contain the keywords they are trying to rank for.
Creating Local Content
Writing local guides is a great way to generate content for your pages that associates your site with both the three most important factors in local content marketing:
Keywords: This is pretty obvious. Guides, top 10 lists, how-tos and other types of content allow you to use your keyword several times naturally throughout the page.
Niche: Using synonyms and latent semantic keywords will help search engines learn that your site is related to not just a keyword, like pool vacuums boston, but the entire topic: Above ground swimming pool cleaning supplies.
Locale: You want search engines to learn to associate you with your specific area so they know that your pages are relevant to anyone searching for swimming pool supplies in the Boston area.
A good place to start looking for content ideas is your customers' questions. What are the most common things they ask before, during and after a sale? Check local forum discussions and question-and-answer boards online for the most frequently asked questions. Searchers are more likely to click through to your site, and convert, if you're able to address their questions and concerns from the very start.
The type of articles you write will depend on your niche, but there are a few basic formats you can mold to fit your needs:
Local 'Best of' Lists
If you've ever searched for a local product or business, you probably used a keyword a lot like "what is the best (company) in (my city)?" If you haven't, your customers are. These can be lists of people who do the same thing as you, or offer products/services that are tangentially related to yours. For our swimming pool company these could be businesses that sell and install swimming pools, but they could also be lists of companies that make and/or sell hot tubs, diving boards, ladders, pool toys, covers, cleaning supplies or swimwear.
This may sound counterintuitive, but don't shy away from listing your competitors. Reviews are incredibly important for local: 88% of consumers read reviews to determine the quality of a business. You can encourage your customers to leave reviews on a site like Yelp, which helps your off page SEO, but leaves control in the hands of outside parties.
Use this as an opportunity to differentiate yourself from the competition by explaining services or product features your provide that others don't. This establishes your brand as knowledgeable while, at the same time, guiding customers through the conversion funnel. Making the decision process easier will result in more sales and better chance at attracting return customers.
This sort of content is great linkbait: people are eager to link back to sites that compliment them. Plus, as a sneaky bonus, you could even start ranking for your competitors' branded keywords.
Local Guide
This one really depends on what sort of business you own, but is very important for anyone who sells a product that needs any sort of permit or other legal approval. This provides you with a great local ranking signal, since each city, county and state could have different regulations for your products. In our pool example, every customer has to follow laws governing where they are allowed to put their pool, or even if they are allowed to have one at all. So our guy in Boston needs to create a guide to zoning laws for jurisdictions he services.
Write the guide in clear, informal language that a lay person can understand, and include links and contact information to the appropriate government offices (studies have shown that Google likes outbound links, and links to government and educational domains are best). Use the locale and words like "laws", "ordinances" and "rules" in the title. As mentioned above, informing and guiding customers through the entire buying process is instrumental in converting them.
Keep this content up to date. When laws change, update your content to reap the SEO benefits of evergreen content.
Seasonal Guides
Every region experiences seasons differently and people are always looking for ways to make the most of each season. So even if your business isn't seasonal, your content should be. The obvious ideas are to tailor your content to major holidays such as Thanksgiving, Christmas or Memorial Day. These are great ways to highlight any seasonal deals you may offer. Tie seasonality into your evergreen content — if you have a restaurant, write a piece about cooking for holiday parties while a boat dealership could publish a guide to winterizing your boat. Keep track of recent events and pop culture news to mine for relevant references. This likely won't end up as evergreen content but that's ok, not everything can.
Make your seasonal content local by tying it into local or regional events. For the hypothetical pool company in Boston, they could leverage events like the Boston Polar Bear Plunge in winter and the Sharkfest Swim in late summer. Consider publishing a local calendar of events.
Community Involvement
Local business owners, and their businesses, tend to be active in their local communities and support local causes, charities and associations. Aside from the obvious community benefit, small business philanthropy improves employee engagement and morale in the business. Your blog is a great place to promote the charitable efforts of your business and employees.
This content double dips: it benefits a good cause, charity, etc, and also helps raise positive brand awareness by associating your business with a positive local story. It can also help expand your audience by capturing searches for a trending topic. You can also create content promoting local business or trade associations like the chamber of commerce.
Local Landing Pages
If your business services multiple cities but only has one storefront, it can be difficult to rank in local search results for the cities where you don't have a physical presence. The solution to this, once you've determined which areas you want to target, is to create a dedicated landing page for each one and optimize them for your highest volume keywords. Do a little extra keyword research to find out if people mostly search for your keywords at a city, county or state level. It won't do you much good to optimize at a county or state level if everyone searches at the city level.
Next, optimize your pages to appear in local search results:
Include your business name, location (or NAP information) and keyword in your title tag and metadata. If our pool guy just includes his business name in title tags, it will be hard for search engines to figure out that the landing pages are meant for people searching for pool services in Waltham, Cambridge, Newton or Quincy. The ideal title tag would include location and business information: <title>Mass Bay Pool | Above Ground Swimming Pools | Waltham</title>.
Use the city and state in the landing page URL, body text and alternative text for images when appropriate. If you find yourself really forcing it, stop and rethink your approach. Unnatural keyword stuffing will make you look like spam and do more harm than good.
Don't use the same content for each landing page, you'll end up losing ranking due to duplicate content. The local content we discussed earlier is great for local landing pages. Here are some other types to consider:

Customer reviews/testimonials from the city you're targeting. Use Schema review markup to boost your chance of appearing in Google's rich snippets.
Produce videos specific to the city. Publish a transcript of the video, including the page's keywords and city, since search engines can't crawl video.
Showcase any projects you've done or customers you've helped in each city. A realtor, for example, could write about helping a local home buyer, including the keyword and city several times in the page text and as alt text in the images.
Profile local sales and support staff for each area. For example, if you have different maintenance workers for each city, introduce them to your customers by giving their background, experience and if they have any sort of specialization or professional certifications.
If you have separate NAP information for each city, include it on the appropriate local landing page. Use the LocalBusiness Schema markup to tell search engines what the information on your page means. This will also make your page more likely to appear in Google's Knowledge Graph.
Beyond SEO
Content marketing is great for local SEO, but you can use it for your other marketing channels as well. Your local 'best of' lists, how-tos and local guides make for great updates on social media. Share your latest blog posts on Facebook, Twitter and LinkedIn to expand your reach without having to pay for a campaign.
Good local content marketing will not only make your site rank well in search results, but will also help convert visitors into sales no matter how they get onto your site. Keeping your local audience informed about what's going on with your company and the local community will keep your audience informed and engaged with your business.