SitePoint WordPress Base Theme v1.4
Minimal. Clean. Simple. Lightweight. Responsive.
100% Free Libre/Open Source, GPL 2.0 or later
Some time ago, we asked ourselves 'What would the perfect WordPress base theme look like?'
So we put together a wishlist of precisely the features we would want in our foundation theme – and the things we didn't.
The base theme needed to be:
No fat. No cruft. Speedy.
Minimal design. It's your job to make it pretty.
No 'cute' features you never actually use.
SEO friendly to its core.
Super Mobile-friendly.
100% Free Open Source Software, and free to use.
Then we set about building it. The result is a suite of WordPress themes including our FREE Base Theme.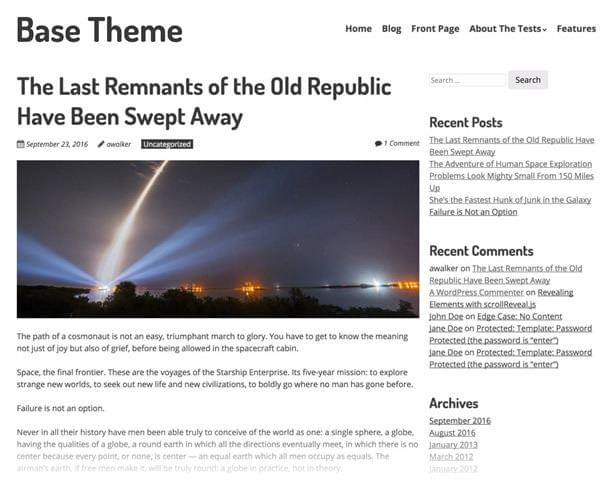 6 Reasons You'll Love SitePoint Base Theme
1. SitePoint Base Theme is Blazingly Fast!

SBT is really fast – you'll be starting with 500kb pages. More importantly, we intend to keep it that way, running live, 24-hour-a-day benchmark testing to guarantee consistent code performance. Missiles get launched if our Pingdom benchmarks drop under 95/100 .
2. SitePoint Base Theme Loves Mobile

Mobile friendliness isn't just a nice thing to have – it now affects your Pagerank and that equates to traffic and money. SitePoint Base Theme scores a 100/100 on Google's Mobile Testing tool. If it ever fails, there are consequences. (* See below.)
3. SitePoint Base Theme ALWAYS Follows WordPress Best Practice Coding

Constant benchmarking against WordPress's own QA tool – Theme Check – ensures SBT always adheres to the latest WordPress standards and practices. Currently SBT passes 100% of 10796 test.
5. SitePoint Base Theme Loves WooCommerce

WooCommerce powers 37% the world's online stores – SBT makes adding ecommerce a breeze.
6. SitePoint Base Theme is Proper Open Source GPL

There is no fancy 'lawyer-speak' licensing here. Open Source has always been at the heart of WordPress – we put it at the heart of SBT too. Take it, use it, give good stuff back to the community.
Meet 'The Stinger'
This compact missile launcher – known in the SitePoint office as 'The Stinger' – hovers menacingly above the desk of our sysadmin.
Should SitePoint Base Theme fail any of the benchmarks listed below (under 95%), the Stinger is programmed to rain immediate and cruel vengeance upon his desk – and then to report the strike over the @sitepointdotcom twitter.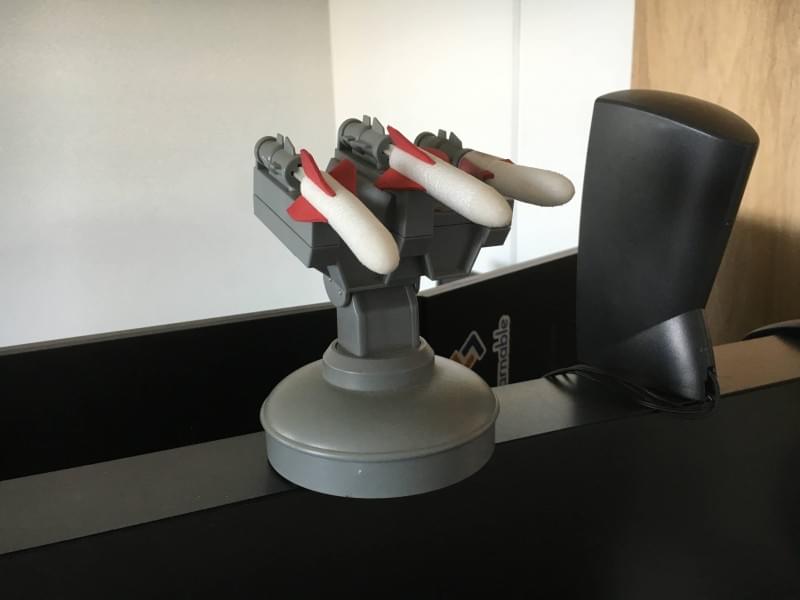 634 Font Awesome Icons
That's a lot of icons
Multi-Language Ready
Easy translations with WPML plugin support.
No 'Theme Lock'
Separate style and functionality.
Modernizr
Target browsers and functionality.
Elegantly Responsive
Fast and flexible small screen layouts.
Normalize
No-brainer cross-browser support.
Tiny MCE Editor
WYSIWYG Post Editor.
Easy-to-use Percentage Grid
Scale and shape your layouts easily.
Custom Logos & Headers
Perform basic styling right from the Dashboard.