An Introduction to Facebook Insights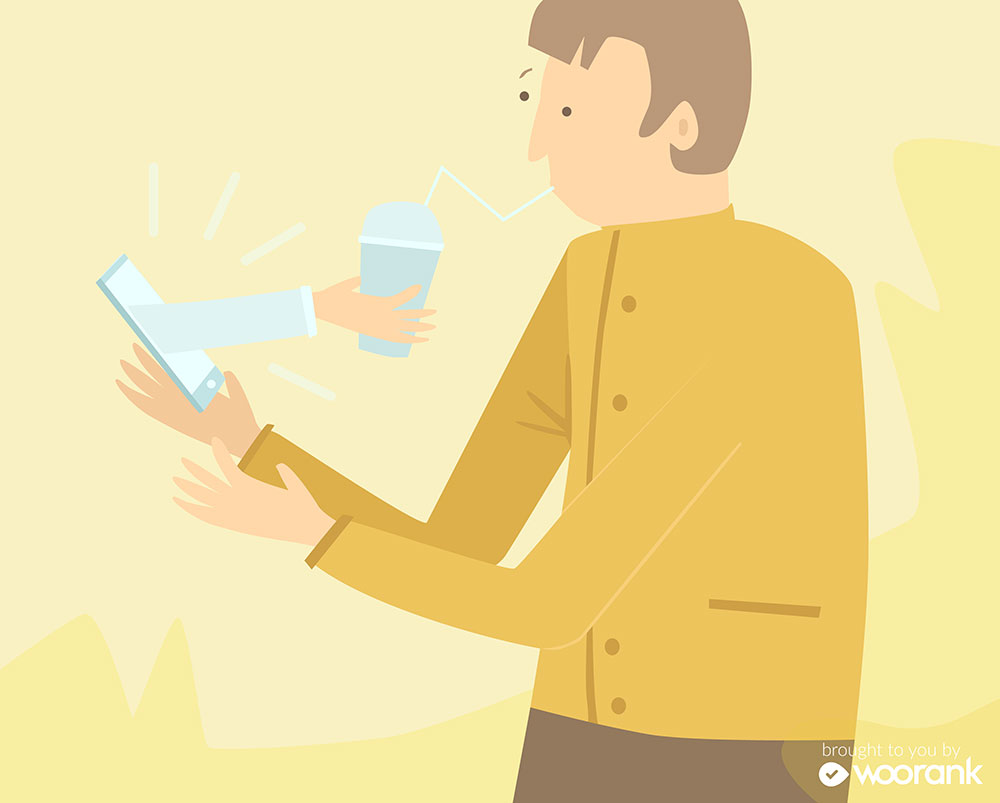 This article is part of an SEO series from WooRank. Thank you for supporting the partners who make SitePoint possible.
Facebook is huge. If it were a country, it would have a population totaling 1.13 billion people, making it the third most populous after China and India. And it's become an almost inescapable part of modern life: 71% of all internet users have pages, 72% of consumers stay engaged with brands through social media and, maybe most importantly, pretty much every Millennial expects your business to have a Facebook presence.
What we're saying here is if your business doesn't already have a page, you need to get moving!
But how do you make sure you're getting the most out of your Facebook presence? You need to keep track of your reach and engagement using Facebook Insights. In this article we'll go over what Facebook Insights is and how to use it, cover some important terminology, talk about how it can benefit your business and, finally, a few hidden features you might not know about.
Some Important Terms
First, we'll go over Facebook Insight's glossary of terms so there's no confusion later on:
Reach and Impressions
Total Reach: Total number of people who saw your posts. This includes people who saw a post by visiting your page, on their News Feed or via likes, comments and shares.
Impression: The number of times your post is displayed on someone's screen. This is different from reach, as one person can see a post multiple times.
Fans: People who have liked your page.
Page Views: How many times your page has been viewed. Like impressions, this is not the total number of people who saw your page, as it counts when a single person looks at your page multiple times.
Source: Where people visiting your page are coming from.
Engagement
Post Engagements: Total number of likes, clicks, comments and shares your posts have received.
Post Clicks: Total number of clicks your post receives.
Page Likes: The number of times people liked your page during a selected time period.
Actions on Page: Total number of clicks to your contact info page or your call to action (CTA).
Hide: The number of people who have hidden one of your posts in their News Feed.
Report as Spam: How many times your posts have been reported as spam by Facebook users.
Unlikes: How many times your posts have been unliked by people who had previously liked them.
Note: Since Facebook has both paid and organic traffic, each of these metrics can be broken out into paid or organic sources. For simplicity's sake we won't make that distinction here.
Getting Started
The first thing you need to do, after creating your business page, is to get 30 likes; Facebook Insights isn't available if your page has less. This threshold is generally easy to reach by just asking people to like your page. If you find yourself really struggling, buy promotions on Facebook. Once you've reached that number, click on the Insights tab at the top of your business page to access the dashboard.
Front and center you'll see a summation of your engagement for the last seven days (you can change the time period to the current or previous day, the last week or the last month). There are graphs for total page actions, views, likes, total reach, engagements, and video views (only views of at least three seconds count here). If you don't know what any of that means don't worry. We'll explain these terms below.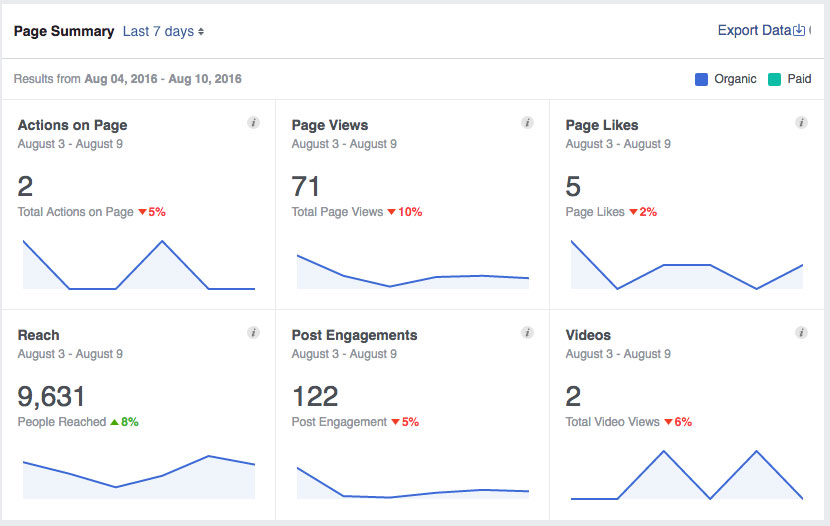 Below the summary is a little overview of your last five posts. This isn't terribly useful for drawing conclusions about your overall audience engagement, but if you're in the midst of a campaign this part will be insightful. This overview shows you:
Date published
Post type (video, link or image)
Audience targeted
Reach
Total engagement (clicks, likes, shares, etc.)
As with Twitter's Dashboard, you need to drill down a little bit to get to the really good stuff.
Likes
Check the likes page to see how your page likes are increasing (or decreasing) over time, and where those likes are coming from. The graphs here are really useful tools. They're interactive, so you can highlight the time period you want to look at, and you'll see a breakdown of likes by source.

Sources of likes are your page and posts, any paid ads you've run, Facebook search results, pages suggested to users by Facebook and Facebook's API.
You can switch views between likes and unlikes to find where you're losing likes from as well.
Reach
The Reach section tells you how people are finding your posts. The Post Reach graph at the top is helpful if you're running a PPC campaign alongside an organic campaign. Are you reaching more people with your paid posts, or organically? If your paid campaign isn't reaching significantly more people than your organic reach, reconsider it. Click or drag on the graph to see how your posts during a time period have influenced your reach. Are you reaching more people with link posts, images or videos?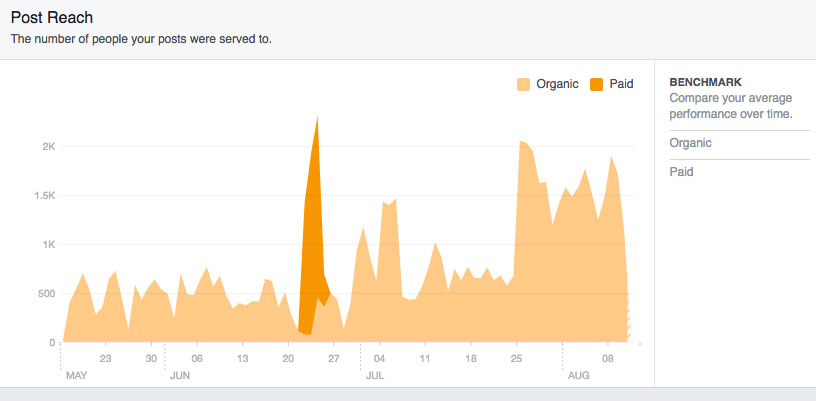 The Reactions graph works in a similar way. Click or drag to see the posts published on a certain day, or between two dates. Which ones are driving engagements? Engagement and reach make up a positive feedback loop: engagement expands the reach of your posts, which means there are more people who can interact with them. If you find you aren't able to achieve the reach you want, consider paying to boost your post to get it in front of your audience.
Actions on Page
How are people interacting with your Facebook page? Find which actions are most popular: clicks to get directions, clicks to find your business phone number, clicks to your website or clicks on your CTA. Even better, you can see age, gender, location and device information for users who completed each type of action.
Posts
Earlier, while talking about Reach, we briefly touched on how you determine which types of posts drive the most engagement and which have the widest reach. Well, you can do this a lot easier in the Posts section. This section is generally the most useful information you'll find in Facebook Insights.
The 'When Your Fans Are Online' tab of the graph is pretty self-explanatory: find the best time of day and day of the week to post a new link, image or video. Choose peak hours to maximize your reach with your fans. The data is based on your local time, so no need to worry about working with different timezones.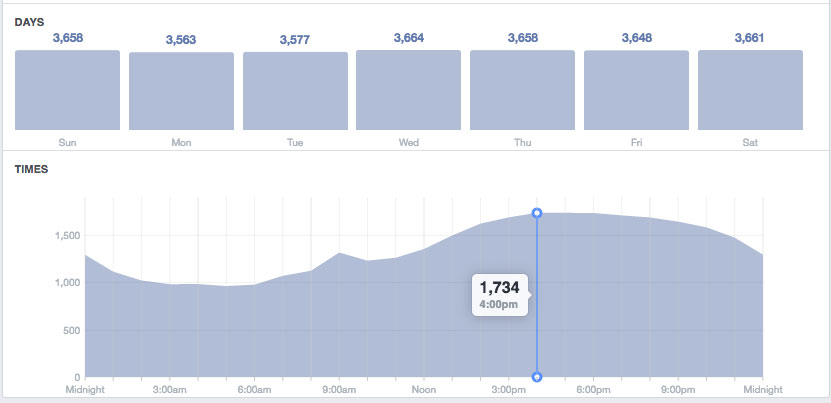 The Post Types tab is where the value is really added. It shows the reach and average engagement of each type of post: photo, link, status or video.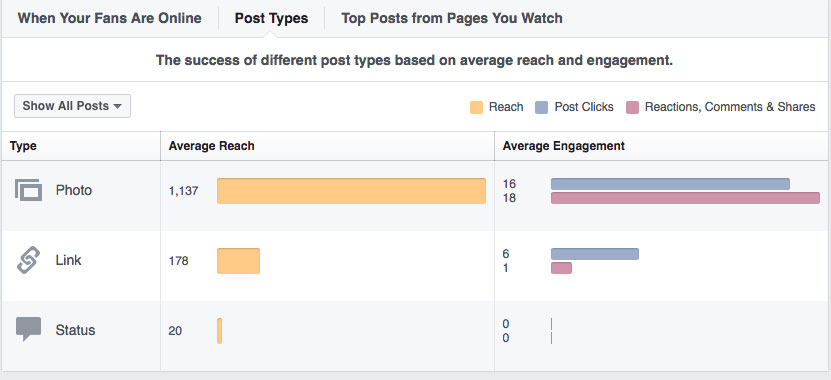 You should already be following your competitors on Facebook to keep tabs on what they're doing. If you're not, start following them now, so you can use the Top Posts from Pages You Watch tab to do a little competitor research. What posts from your competition have the most engagements? If they're getting a lot more than you, try to leverage some elements from their posts into your own.
The features we've just gone over in this piece will get you well on your way to optimizing your Facebook page to expand your reach and audience engagement. But don't get started with Insights quite yet — there are a few little-known Facebook features that even social media vets don't know about.
The first little gem technically isn't part of Insights, but is really useful. Depending on your page, you can invite email contacts to like your Facebook page. Click Invite Email Contacts under the "…" button on your business page and pick your email platform to integrate your contacts. You can reach up to 5,000 people, all for free.
Unfortunately, it appears that this feature isn't available to all Facebook pages, and they don't really give an explanation of who gets to use it and who doesn't.
If you don't live in the same timezone as the majority of your fans, or if your fans are accessing Facebook outside of normal business hours, it can be very difficult to maximize your reach and engagement rate. To get around this, many marketers use third-party platforms that will post on Facebook in the future. Using Facebook's Publishing Tools lets you schedule a post for later without the use of third-party software. You can also save your posts as drafts, perfect for teams where the person responsible for creating content isn't the same person who targets and launches campaigns.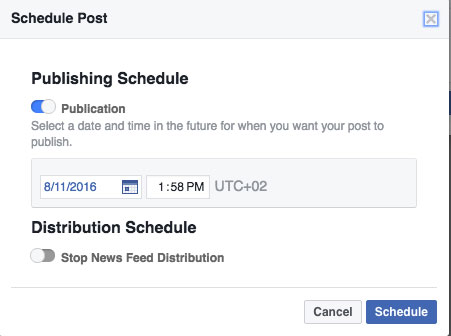 We briefly covered competitor research in the Posts section of Insights. However, there's another, better way to keep track of the competition on Facebook. The Insights Overview page has a Pages to Watch section. Add your competition, partners, vendors or anyone else you'd like to keep track of to see how your performance compares. Are they getting significantly more engagements? Do they post a lot more or a lot less than you? Are their number of likes rising or falling?
If they're blowing you out of the water, head over to the Posts area to see what they're doing so successfully. And don't worry about getting caught snooping — they'll see that someone is watching their page, but they won't know who.
Conclusion
Even if you don't use Facebook much in your personal life, it's been established that you need a presence for your business. However, it's not enough to just have a page, especially if you conduct any of your business online. Fortunately, Facebook Insights gives you the ability to test, track and optimize your Facebook content to find the best time and post type to achieve maximum engagement with your audience, which is crucial to driving sales.
What have you learned about your Facebook posts using Facebook Insights? Have you been able to improve engagement with your audience?