Adobe Browserlab Gets An Update
Adobe released an update to Browserlab today. The application first became available in June 2009 and is a web hosted service which allows designers to test designs on multiple browsers and operating systems.
Screenshots can be viewed in a single view, side by side view, or as an overlay view with variable transparency. Each viewing option features a zoom function. We've also added measurement tools like Rulers and Guides, custom Onion Skin Registration, as well as the ability to move quickly to specific areas of a screenshot. You can also save screenshots in 1-Up or 2-Up views. Browser Sets allow designers to customize, edit, and save a combination of browsers to test.
Based on feedback from the original beta release, Adobe have made a number of enhancements. In a nutshell, the new features in this release include:
New browser support with Chrome 3, Firefox 3.5, Safari 4 and Internet Explorer added to the list of supported browsers.
Screenshot delay which lets users to delay the rendering of a screenshot for up to ten seconds to allow content to load.
Move and Pan allows users to move around to any part of the screenshot.
Rulers on the x and y axis for additional precision and movable guides.
Onion Skin registration allows the user to line up two views on top of each other to allow precise layout.
The ability to save screenshots locally in 1-up or 2-up views as jpegs.
If you are a Dreamweaver CS4 user you might also be interested to hear that the update includes Dreamweaver extensions allowing users to test local content and different states of interactive pages.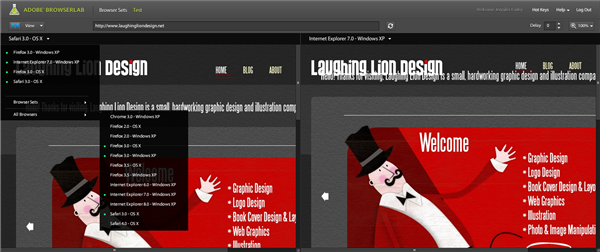 You can sign up for a free trial of Browserlab here.
Have you been using Browserlab?  What other tools or methods do you use for browser testing?