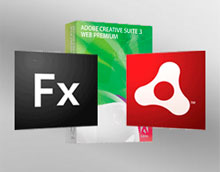 We've had a number of requests to extend the deadline for this competition, so we're doing just that.
The amount of effort required to write an article for publication is substantial, so we empathise with those of you who have struggled to get your submissions completed in time. We're therefore extending the deadline by two weeks to Sunday May 18. Hopefully this should give some of you enough time to get your article finished and submitted.
If you've already submitted an article to this competition, but would like to use the two week extension to update your article or make changes to it, you're welcome to do so.
If this is the first you've heard of this competition, you now have two weeks to write an article about Adobe AIR or Adobe Flex and win a copy of the Adobe CS3 Web Premium software package.
I look forward to reading your masterpieces!

Matthew Magain is a UX designer with over 15 years of experience creating exceptional digital experiences for companies such as IBM, Australia Post, and sitepoint.com. He is the co-founder of
UX Mastery
, and recently co-authored
Everyday UX
, an inspiring collection of interviews with some of the best UX Designers in the world.