A Survival Guide for ASP.NET Developers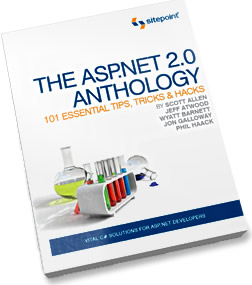 I'm very proud to announce the availability of our latest release, The ASP.NET 2.0 Anthology: 101 Essential Tips, Tricks & Hacks.
If you're wading through lines of ASP.NET code every day — or even if you just dabble occasionally — then this book is a must-have companion for trekking through the ASP.NET jungle.
It features some of the biggest names in ASP.NET, and I can guarantee that these guys know their stuff. I should know — I was the technical editor for the book. They show you the most practical features, the best approaches, and help you get off the beaten path — in short, the stuff that matters.
Of course, if you enjoy stumbling through pages of pointless reference material, then by all means shop around. But if you're looking for an ASP.NET book with truckloads of easy-to-use ASP.NET solutions, make sure you check it out.