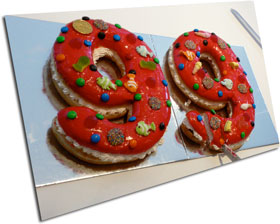 It's an emotional moment when a child grows up and leaves home for the first time. The parents fret about whether their little baby will be able to fend for themselves on their own. Undeterred, the child throws himself, wide-eyed and fearless, into the big, wide world.
Today, Lachlan, Mark and Paul officially separated SitePoint Contests from the family to launch 99designs.
The launch is only the first stage of the 99designs re-branding — some of the features are new, such as user pages and the credit purchase process. The really cool stuff, however, will be rolled out over the next month or so.
As a bonus, the credit balance of any former participants in SitePoint Contests has been copied across to 99designs, effectively giving users a stack of free credits that they can begin using immediately. See the official 99designs blog for more information.
On behalf of the team at SitePoint we wish you guys the very best of luck, and we look forward to watching 99designs grow!