9 Ways to Put Site Screenshots in Your Web App
Free JavaScript Book!
Write powerful, clean and maintainable JavaScript.

RRP $11.95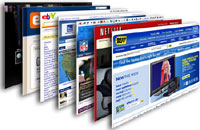 If your web site or web application links to outside web sites, providing screenshots to those sites may be a good way to dress up the links. Screenshots provide a visual cue for your visitors and give them a taste of where they're headed before they click on a link. But manually creating screenshots for your outbound links is a time consuming process and completely infeasible if you want to create screenshots on the fly. The nine services below will automatically create screenshots for your site or app via an API.
Did we miss any? Let us know in the comments below.
Before joining Jilt, Josh Catone was the Executive Director of Editorial Projects at Mashable, the Lead Writer at ReadWriteWeb, Lead Blogger at SitePoint, and the Community Evangelist at DandyID. On the side, Josh enjoys managing his blog The Fluffington Post.
New books out now!
Learn valuable skills with a practical introduction to Python programming!
---
Give yourself more options and write higher quality CSS with CSS Optimization Basics.