9 Ways to Put Site Screenshots in Your Web App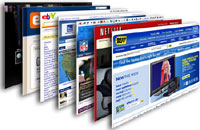 If your web site or web application links to outside web sites, providing screenshots to those sites may be a good way to dress up the links. Screenshots provide a visual cue for your visitors and give them a taste of where they're headed before they click on a link. But manually creating screenshots for your outbound links is a time consuming process and completely infeasible if you want to create screenshots on the fly. The nine services below will automatically create screenshots for your site or app via an API.
Did we miss any? Let us know in the comments below.