When you see a time and date like that, you have to pause for a moment and reflect. It seems profound, important somehow.
It doesn't have to have any deep meaning, of course, it's just a beautiful alignment that is both rare and inevitable. I can understand why people choose it for something like a wedding ceremony. It's certainly memorable.
When it occurs smack in the middle of the Annual SitePoint Christmas Sale, it also gives us an excuse to go a little crazy.
To celebrate this auspicious date, we're re-opening all previous deals in the Sale … for the NEXT 12 HOURS ONLY. We even built you a special link: http://www.sitepoint.com/launch/spxmas-12-12-12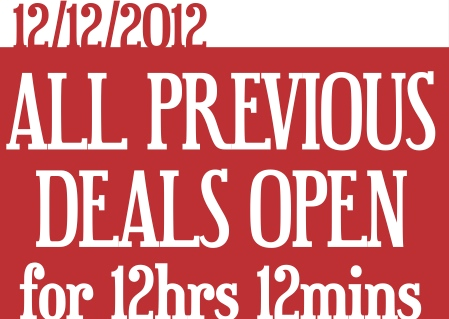 To refresh your memory, here's a list of all the deals so far:
Make sure you only order one deal at a time, to maintain the correct discounts in your cart.
And feel free to share your thoughts on the date in the comments here.
Did you arrange anything special for 12/12/12?