10th Birthday Special: Buy One Kit, Get One Free!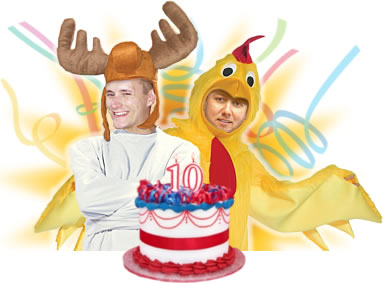 I'm live-blogging the madness here at SitePoint HQ.
Earlier today I took a photo of our normally conservative and professional Co-founder, Mark Harbottle, for today's article, where he looks calm and relaxed. Yet just now I saw him strutting around the office, clucking like a chicken! And I just got off a phone call with co-founder Matt Mickiewicz that I barely understood — what words I did make out made no sense anyway! I could swear I heard both of them rambling something about a ridiculous never-to-be-repeated sale…
It must be something to do with SitePoint turning 10 years old!
Yes it's party time at SitePoint as we celebrate our 10 year journey from webmaster-resources.com to sitepoint.com. To make sure this is a party to remember our co-founders Matt and Mark are offering one massive deal on all of SitePoint's kits.
I think they've gone crazy, but their madness is your gain!
Here's the deal: for the month of April…
Buy 1 SitePoint Kit and Get 1 FREE!!!
In addition to this offer, both kits will be shipped to you free, worldwide!
The party will be over at the end of April, so don't miss your chance to own a SitePoint kit at a never (ever) to be repeated price.
Shoot me, I feel like I'm selling carpets — the madness must be infecting me too! Argh!