10 jQuery Tumblr Plugins – we have shared Facebook and Twitter plugins with you guys. Now, it's time for you to check out this cool jQuery Tumblr plugins. Have fun!
1. jquery-tumblr

A plugin that retrieves a tumblr feed and outputs markup.



Source
2. Tumblr Post Map

Insert Google map in your Tumblr blog and show all your posts in the map. You only need to insert the gps coordinates while writing each post and the map will be generated automatically.



Source


3. Use jQuery in your Tumblr Theme

If you want to use the power of the jQuery JavaScript library in your Tumblr theme and you don't want to host the jQuery library on your own server then you should consider the Google AJAX Libraries API.



Source
4. jTags

This plugin enables to handle an input tags field in a nice way, like tumblr does. This is an alpha version without any customization included.



Source
5. Kill-Photoset jQuery Plugin for Tumblr

A plugin that kills the flash slideshow and pulls in your images via the API. It also allows you to display your HighRes images which for some reason is lacking in text posts with photos as well.



Source
6. jTheme

A Tumblr theme with the sweet flavor of jQuery.



Source
7. Parsing Tumblr JSON using jQuery

Now uses jquery namespaces instead of just js global vars, see $(document).ready at the top of tumblr.js for what you should modify. Added ability to change default size of videos, also made images in post smaller.



Source
8. Tumblr RSS jQuery Plugin

The Tumblr RSS jQuery plugin makes it easy to retrieve RSS information from Tumblr and display it on a page using all client side code. The plugin makes a request to Tumblr by way of JSONP, by default applies a template to the retrieved content, and then injects the content into the context element.



Source
9. Tumblr-like tagging with jQuery – Tagedit

The plugin allows Tumblr-like tagging.


Source
10. Customize your tumblr theme html CSS jQuery

Learn in this video tutorial.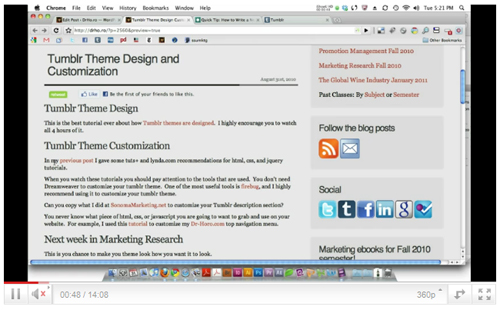 Source